WHRB's Guide to Pitchfork Fest 2023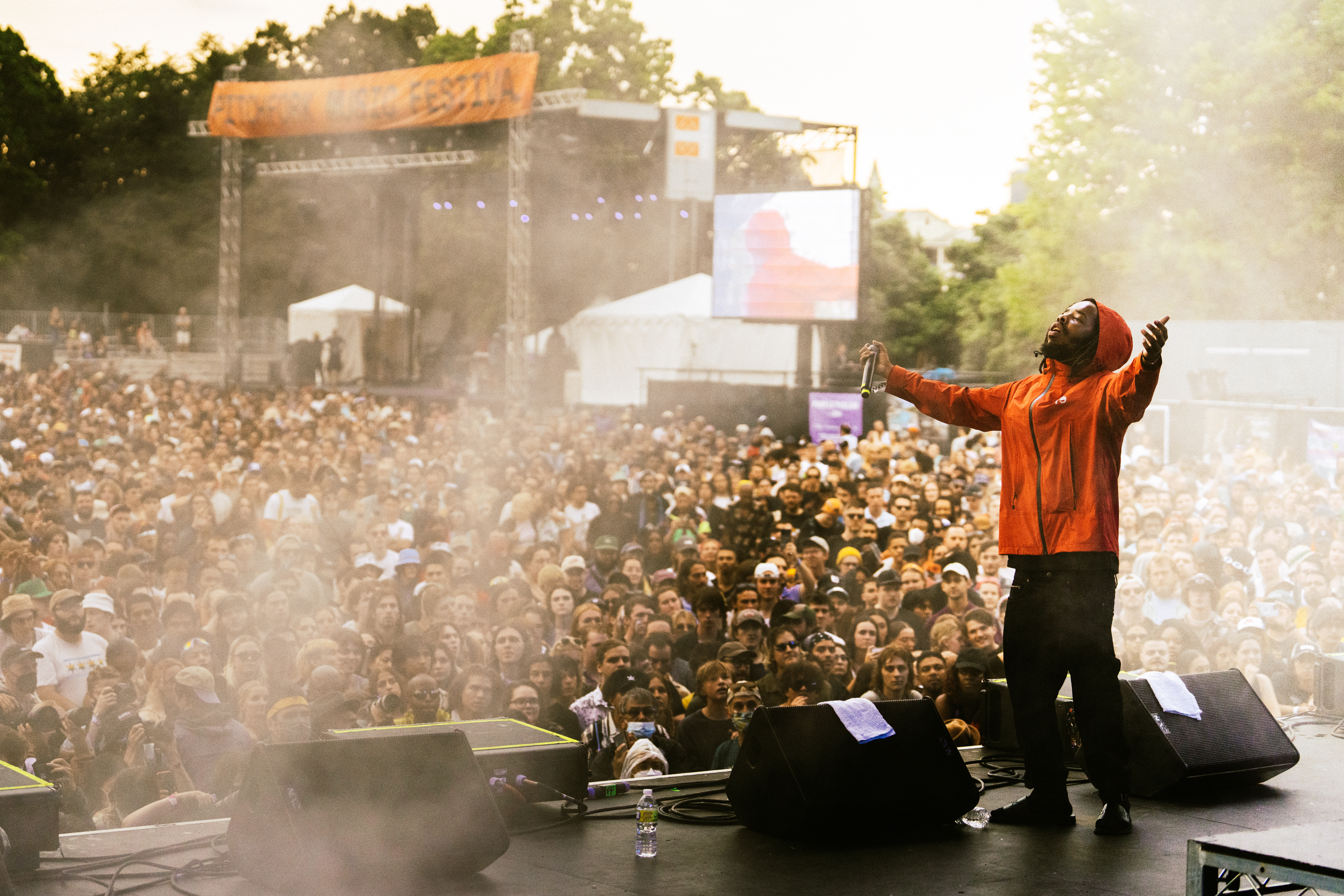 // Earl Sweatshirt plays Pitchfork Festival 2022. Courtesy of Pooneh Ghana
Pitchfork Music Festival runs from July 21 to 23 in Chicago, and we'll be covering the whole thing. Don't know which acts to see? WHRB DJs byeby and naiad share some of their picks.
FRIDAY, JULY 21
Nourished by Time: Green Stage, 1–1:40 p.m.
Erotic Probiotic 2, singer/songwriter/producer Marcus Brown's debut album, comes fast and loose. The Baltimore native melds dance, R&B, pop, and countless other influences with wildly creative production choices. Listen to "Daddy," a thumping banger that washes its anticapitalist critique in layers of humor and longing, or to the way Brown's vocals split and multiply across dimensions in "The Fields." After Pitchfork, Nourished by Time will open for Strange Ranger on their tour this fall. —Bea Wall-Feng
MAVI: Blue Stage, 2:45–3:30 p.m.
MAVI played Somerville's Crystal Ballroom in May; lucky for us, because 2022's Laughing so Hard, it Hurts is a coronation. The Charlotte rapper's second album weaves dense rhyme schemes through hyperchromatic lofi production, but he trades the genre's famous opaqueness in for a piercing vulnerability. What results is one of the most surprising, inventive albums of the year, from the bruised sweetness of standout "3 Left Feet" to the blown-out overflow of "Baking Soda." —Bea Wall-Feng
Grace Ives: Red Stage, 3:20–4:10 p.m.
Grace Ives's Janky Star, from 2022, falls just under half an hour long. Its 10 pop songs are tightly packed but they don't feel that way — crisp and subtly sparkling, they create room within themselves for humor and storytelling. Ives's vocals are conversational and complemented by a playful variety of synth tones and patterns. A standout track from Janky Star, "Shelly," is about a crush. In my favorite lyric, Ives sings, "I wanna one two three four five her." —Mika Simoncelli
Youth Lagoon: Green Stage, 4:15–5:10 p.m.
Youth Lagoon, the solo project of Trevor Powers, returned last month from an eight-year hiatus. If 2011's The Year of Hibernation, a beautiful album in its own right, evokes a dream state, 2023's Heaven is a Junkyard is awake and feeling everything. Powers's vocals live in a quiet falsetto, unsteady yet guiding us through lyrics that are starkly honest about the subject of death and also boldly imaginative, full of vivid imagery. We're excited to see how this intimate album will translate to a festival setting. —Mika Simoncelli
Leikeli47: Blue Stage, 7:45–8:30 p.m.
Lekeili47's music embraces the fullness of everyday life in nail salons and hair salons, subways and sidewalks where Black communities congregate. My favorite song of hers is "Hoyt and Schermerhorn" from 2018's Acrylic. It's a delighted, sweet love song that takes place on the subway, named for a station in Brooklyn. "The brakes make us move back and forth just like we're dancing," she sings, and, brakes or no brakes, we can't wait to dance too. —Mika Simoncelli
SATURDAY, JULY 22
700 Bliss: Green Stage, 2:30–3:15 p.m.
700 Bliss combines the forces of poet/rapper Moor Mother and producer DJ Haram to stunning effect. The duo's debut album, Nothing to Declare, is in turns militaristic and fluid, shattering Moor Mother's visionary rapping across dark, provocative club beats and bursts of clattering abrasion; somewhere, the line disappears. Their music is noise as protest as catharsis, and we can't wait to see it live. —Bea Wall-Feng
Yaya Bey: Blue Stage, 6:30–7:15 p.m.
Yaya Bey's most recent album, Remember Your North Star, and its companion EP Exodus the North Star — the latter of which came out this year — flit through jazz, neo-soul, and hip-hop as easy as breathing. The singer-songwriter's sound has expanded since the lo-fi days of 2020's Madison Tapes, but she's still searching, in dusty pockets of melody and all across Brooklyn, for love and the peace to claim it. After playing Pitchfork on Saturday, she'll be in San Francisco in August for Outside Lands. —Bea Wall-Feng
Charlotte Adigéry & Bolis Pupul: Blue Stage, 7:45–8:30 p.m.
My favorite song on Charlotte Adigéry and Boris Pupul's Topical Dancer is "HAHA," which is entirely built around the sound of Adigéry laughing. The laugh is clipped and digitally arranged, skipping in time with thumping synths, then turning towards something more like a whimper — the tail end of a really good laugh that begins to sound like a cry. The song is one of a kind while including all of the ingredients that make the whole album so lovable: bouncing, addictively danceable synths combined with lyrics that are surprising, personal, and euphoric, with rhetoric that breaks the fourth wall. In the only verbal lyric in "HAHA," Adigéry says, "Guess you had to be there." On Saturday, we will. —Mika Simoncelli
Big Thief: Green Stage, 8:30–9:50 p.m.
Big Thief has come a long way. Much has been written about their journey to ubiquity on the indie rock circuit and near-total adoration by critics, but what you need to know before Pitchfork Fest is that the band's four members make a unit that is both rock-solid and experimental, closely connected and free-flowing. 2022's Dragon New Warm Mountain I Believe in You could be an 80-minute victory lap, but instead it is melodic, strange, introspective, and loving. Big Thief has the headlining slot on the biggest day of the festival and we can't wait to see what they'll do with it. —Mika Simoncelli
SUNDAY, JULY 23
Rachika Nayar: Red Stage, 1:45–2:25 p.m.
Rachika Nayar's 2022 album Heaven Come Crashing made the experimental guitarist's earlier work bigger and darker, crashing into heaven as much as the other way around. Her newest single, "hawthorn," layers wisps of hazy guitar into a soaring post-rock track that suggests something huge on the horizon. It's the first preview of the upcoming expanded edition of her 2021 EP fragments; on Sunday, we're excited to see what she does with the place. —Bea Wall-Feng
Jockstrap: Red Stage, 3:20–4:10 p.m.
Georgia Ellery and Taylor Skye perfectly complement one another to make the experimental, indie-electronic act Jockstrap. Skye's production creates spaces that feel delicate and open, and then, seconds later, crushingly loud — both modes that Ellery's crisp, emotionally versatile vocals and violin are at home in. The duo will be arriving from sold-out shows in New York and Cambridge to take the stage at Pitchfork. —Mika Simoncelli
Soul Glo: Blue Stage, 4:00–4:45 p.m.
Soul Glo's vision of punk takes an aging genre and blows it wide open. On their 2022 album Diaspora Problems, the Philly hardcore band careens across 12 tracks and a score of collaborators without taking a moment to breathe, from the incendiary "Gold Chain Punk (whogonbeatmyass?)" to the triumphant closer "Spiritual Level of Gang Shit." Their music is a whirlwind of searing humor and genuinely radical rhetoric; listen to "Driponomics," one of the hardest tracks to come out this decade. —Bea Wall-Feng
Illuminati Hotties: Blue Stage, 5:15–6:00 p.m.
illuminati hotties give an electrifying live show. They've graced Cambridge's own Sinclair twice in the last couple of years, and both times we were blown away by the boundless energy and charisma of frontperson Sarah Tudzin, lifted by the band's tight playing and easy chemistry. illuminati hotties' self-described "tenderpunk" songs bounce easily from romantic to mischievous, as in the standout track "Pool Hopping" from 2021's Let Me Do One More. —Mika Simoncelli
Hurray For The Riff Raff: Blue Stage, 6:30–7:15 p.m.
Alynda Mariposa Segarra's newest album, LIFE ON EARTH, adds synths, drums, and spoken word to the core of their folksier early work. The result is a kaleidoscopic odyssey through wilds and across borders; revelatory, liberatory; music you can dance to. Hurray for the Riff Raff is playing one of the last shows on the last day of Pitchfork, and we can't wait to see their new sound on the festival stage. —Bea Wall-Feng
// Mika Simoncelli '23.5 and Bea Wall-Feng '25 are DJs and staff writers for Record Hospital.