Habibi is Ready to Dance Again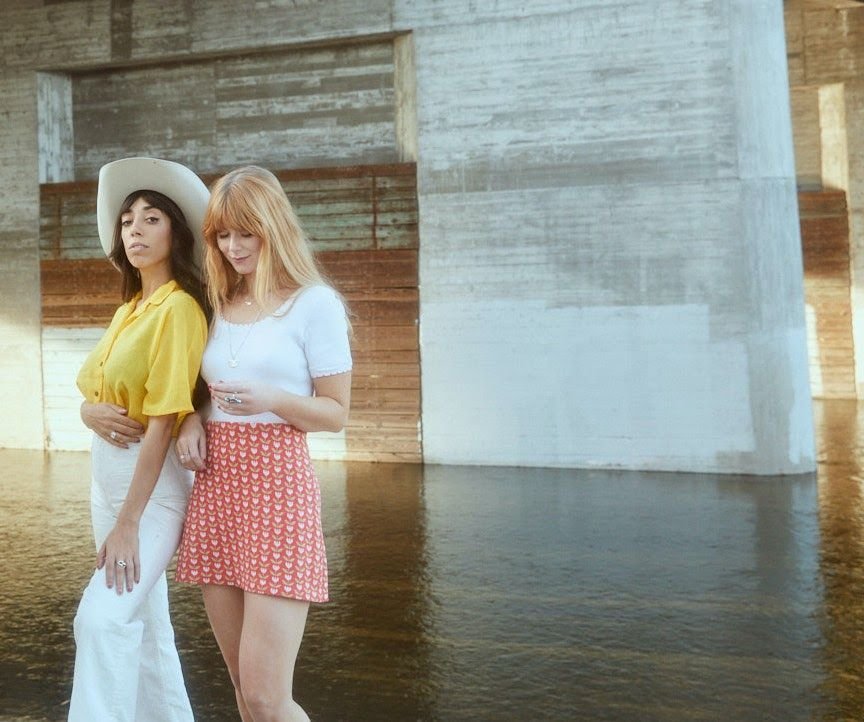 // Image courtesy of Bailey Robb.
_Anywhere" class="redactor-linkify-object">https://habibitheband.bandcamp.com/album/anywhere-... But Here by Habibi
_
Almost a year after the release of their last album, Anywhere But Here, Rahill Jamalifard and Lenny Lynch of Brooklyn-based Habibi, an all-girl group that mingles the harmonious spirit of 60's pop with elements of the Middle East, talk to WHRB about new projects, embracing different identities, and the power of music. (Edited for clarity.)
On their upcoming, quarantine-born pop tracks:
Lenny Lynch: I don't know about you, but I used to dance probably every week. When you're on tour, there's always a dance party after a show... dancing was such a part of my life. It's sad because that's been a very drastic change-- you know, you can do this by yourself in your room (I kind of do that sometimes) but it's not the same, the whole energy of a dance floor. So [with our new songs], we wanted to do something that we've never done before. Having more dance disco on these two songs is really exciting.
Rahill Jamalifard: We're both super fans of the disco, but we've never recorded anything that was like it. We did participate in performances like Insta live, but the dancing thing is just not the same. So being able to actually sit down and play music and go off of each other's ideas and stuff was just really, really great. And I think that you can hear it; I think it benefited the music because we were so excited to be doing it.
On how Anywhere But Here has aged during COVID:
LL: We had no clue how much we would want to escape. One of the perks of job (if you're the type of person that wants to be gone all the time, like I do) is that you're gone all the time-- you're constantly traveling around to other cities, there's new sites that you see, there's new places that you eat at every day, there's new parts of the country or of the world. Especially when you are going through tough times, it's a great escape. And so this year… did not turn out that way. We already were like "I just want to escape--" I was going through a heartbreak with Anywhere But Here. There's personal stuff that we were going through in our lives that we wanted to escape from, but then this year, it was like, wow, you have to really have to face it right now. It's just gonna be you. So the album: we didn't know that it would resonate, but I think it seems to be resonating with a lot of people.
On the importance of embracing different identities:
LL: There are going to be young girls that are Middle Eastern coming to the shows and being like, "oh, that's awesome! I get to hear Farsi and this speaks to me, and I can do this, I don't have to be ashamed of who I am, I don't have to be ashamed of my family or my language." You can be yourself. I'm not very nationalistic, but that to me is being an American. You know, we're human.
RJ: I think it was important 10 years ago, and it'll be important 10 years from now, to celebrate differences and recognize that America is a place of many different cultures-- and especially cultures that are under constant attack. Not understanding different cultures translates into fear, which translates into hate. The question is: why are people paying attention now? Why weren't they paying attention before?
**On the power of music:
**
LL: It connected me and Rahill when we first met. Every girl in the band, we were connected through music, too. Not just like: "oh, can you play this?" or whatever, but like "yeah, I love this. Do you dig that?"
RJ: Music is cosmic relief. And it's remedial in such a way that is one of the few ways that I know, besides medicine, that is universal and it doesn't know language. That is a common denominator amongst all of us (like, all of us) across the world. You hear an inflection in somebody's voice, and you can understand what they're saying without having to understand what they're saying, you know? You don't have to speak Italian to hear an opera singer and know she's suffering, and relate.
LL: Music is like food. It's something we can all come together on. And just like with food, it's the first entry into understanding a culture, it's like your first friend, and then it all doesn't seem so foreign anymore. When you travel somewhere, it no longer scares you. It's all about that understanding. A lot of our generation is determined to travel and get out of here. We might not have 401 K's or plans of ever buying a house, or maybe even having children because of this stupid economy, but we're constantly like, let's get out, let's see the world. Let's make these new friends. Let's make these new experiences. And let's listen to this music.
RJ: It's a healing and an enlightening source. Like from my father to me: it's so much of what we love and the bond we have with each other. It's a safe place; a place where you can truly seek refuge. I think that's what makes it so holy, and makes it so universally loved and protected. Any culture that's ever had hardship, I promise you they have some incredible music, you know? I would never be like "oh, I'm adding to the healing," but I would be so happy to know if something I've ever written has comforted somebody because I know as a listener how much solace you can get from listening to music.
// Rachel Mehler '24 is a contributing writer for Record Hospital.