Hannah Wicklund is a Young Rockstar with a Veteran's Experience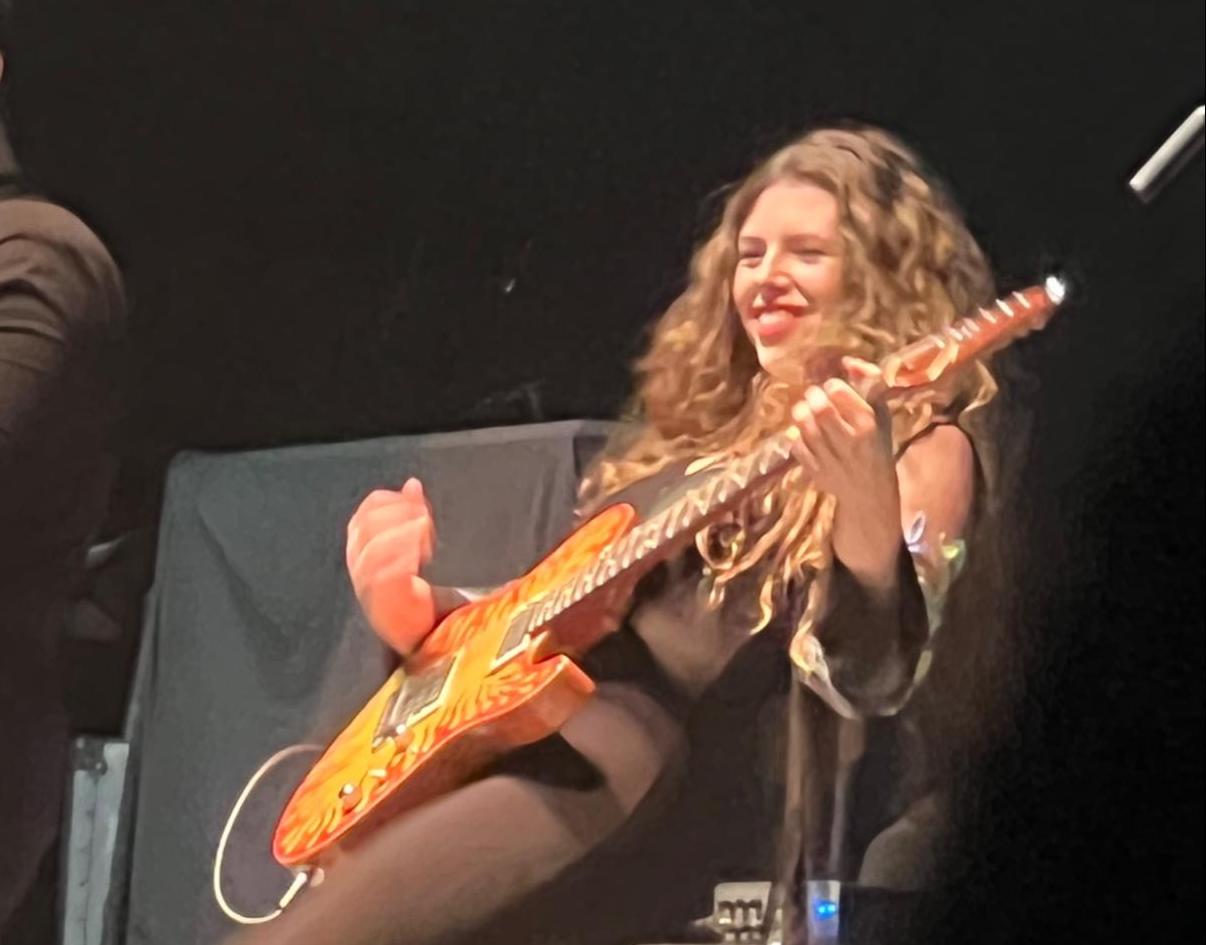 // Image courtesy of Finnegan Glew.
This winter, I went to a concert in the middle of nowhere—just outside Jim Thorpe, Pennsylvania. I had driven over an hour and a half to see one of my favorite artists, Marcus King, a young guitar virtuoso whose reputation is growing as one of the greatest young blues artists alive. I'd been anticipating this concert for months, so when they announced that an opening act would be coming out first, I was mildly frustrated, especially since nobody else was listed on the ticket. Little did I know, this mystery opener was about to be the most memorable live performance I'd ever seen.
Hannah Wicklund, 24, strode onstage with a rockstar's swagger. With no introduction from the venue, Hannah, backed by her drummer and bassist, exploded into a distorted guitar solo on her yellow flame-patterned telecaster. I looked left at my two friends with an eyebrow raised–are you guys hearing what I'm hearing? Hannah's skill on the axe was so impressive that I couldn't tell that she wasn't the virtuoso we had come to see.
Born on Hilton Head Island, South Carolina, to a musical family, Hannah began playing live rock and roll shows as a kid. Her father, who played in a band himself, shaped Hannah's music taste. Hannah and her dad would listen to classic rock together, and as he taught her about his favorite rockers, Hannah began to dream of taking the stage herself. At just eight years old, she began to organize band practices with her friends. They played their first show at a Relay for Life "road race," playing Neil Young's "Rockin' in the Free World" for a crowd of no less than 30 people. At the end of that year, they were playing house parties for $300 a night. By the time she was twelve, Hannah knew she was going to dedicate her life to rock and roll.
// Image courtesy of Finnegan Glew.
As the youngest sibling of three, Hannah had to learn to stand up for herself at a young age. Her record "Bomb through the Breeze" is Hannah's "personal anthem." It's about being self-reliant and standing up for oneself. After dealing with everything from bullying in school to having to defend herself against strange men as a sixteen-year-old woman on tour, this song is rich with passion, ferocity, and just a little bit of revenge. To anyone needing a boost of self-confidence, someone to look up to, or even just a bad-ass workout song, it's worth a listen.
Hannah describes her music as "rock and roll, plain and simple." On stage, Hannah channels the spirit of legends like Nirvana and The Jimi Hendrix Experience, blending the energy of these great rockers into a unique, powerful performance. As the openers for Marcus King, Hannah and her band set the bar high. From the first song, Hannah and her band were "in the pocket"—a phrase used to describe bands with near-perfect chemistry and top-tier groove. It's no surprise the three have played over 2,000 shows together.
The bass and drums created an auditory spotlight under which Hannah's skill shined. As I watched her fingers race up and down the neck of her guitar, I felt like I was witnessing an homage to the great rockers of history. Although I was still excited to see Marcus King, the artist I'd come to see, It was a shame to watch Hannah's trio leave the stage after just one hour.
Hannah now lives in Nashville and continues to tour with her band. This summer, you can see her open for Greta Van Fleet on their "Dreams in Gold" tour. Check out Hannah Wicklund on Spotify, Apple Music, and other streaming services. My favorite song is "Strawberry Moon" on her record, "Hannah Wicklund and the Steppin Stones."
//Finnegan Glew '25 is a guest writer for the Blues Department.