The Harvard College Open Campus Initiative: A Conversation with Conor Healy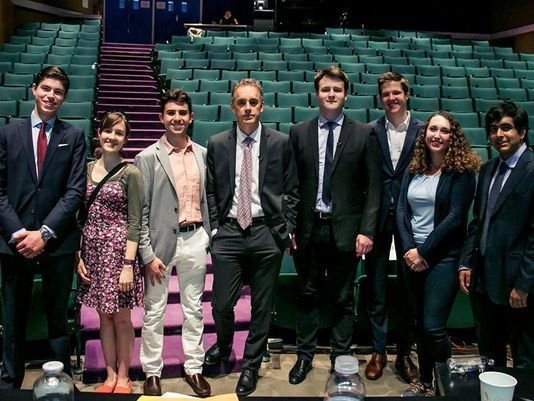 Listen
Aaron Fogelson sits down for a conversation with Conor Healy '19, the founder of the Harvard College Open Campus Initiative (HCOCI). Conor speaks about HCOCI's goals, the controversy surrounding its recent events, and the state of free speech on college campuses nationwide.
On lessons learned rolling out the initiative:
"We've definitely made mistakes. I think my biggest regret is that the two speakers we've had so far have been seen as sort of cut from the same cloth. I don't know if that's necessarily accurate. Professor Jordan Peterson from the University of Toronto, a psychologist, and Dr. Charles Murray, supposedly described as a sociologist — although a variety of labels have been used. I mean they are quite different in terms of what they talk about and what their political views are and what-not. But a lot of people have seen them as cut from the same cloth and that has bothered me a lot. I think if we're going to stay true to this non-partisan, apolitical message we need to think a lot about the next year and how that can be accomplished with the people we bring in in the future."
On the protests that surrounded Dr. Charles Murray's talk:
"There will always be people who see the Murray event as a negative thing. My view is that Charles Murray's talk a few weeks ago reflected quite well on Harvard's campus. And that's a view that's being expressed by a number of people online, in various articles, and also by people I've spoken to who have said you know, it's really important that Harvard was able to more or less without any kind of interruption or disruption pull off that event. That was for some people a win for academic freedom. Should the university have had the right to shut it down? I mean, that kind of question you get into a fundamental difference that's not talked about enough, between legal first amendment issues and issues that pertain to or affect free speech but are not legal issues. So legally, does Harvard have the right to do that? As far as I can tell, yes. As far as I can tell, as a private institution that's within their rights. Harvard chooses not to do that, and they established guidelines in 1990 that made a compelling case as to why they choose not to do that."
On the absolutist nature of the First Amendment:
"Should the First Amendment be absolute? I think so. Does hate speech exist, and does incitement exist? It's a question I don't think I've answered for myself yet, to be honest."
On HCOCI's goals:
"We want to bring people to this campus who might have something to contribute, who broaden what's available ideologically. And everyone is welcome at the Open Campus Initiative. You'll have to take my word for it, but we're a pretty diverse group, and I think that the issues we're dealing with are really important. Not only do I think it's important to have these discussions on Harvard's campus but I think students here can do a lot for the nation's academic spheres. And come out to our events and meetings! To those who want to hold counter-events, if you could please do them afterward so I can go to both — because one of the frustrating things about the Charles Murray talk was that I would have actually been really fascinated to go to the counter-event."
Aaron Fogelson is a correspondent for WHRB News. WHRB News' As We Know It program airs Sundays at 12:30pm.