"If I Die Today, I'll Be Grateful": IDLES at Roadrunner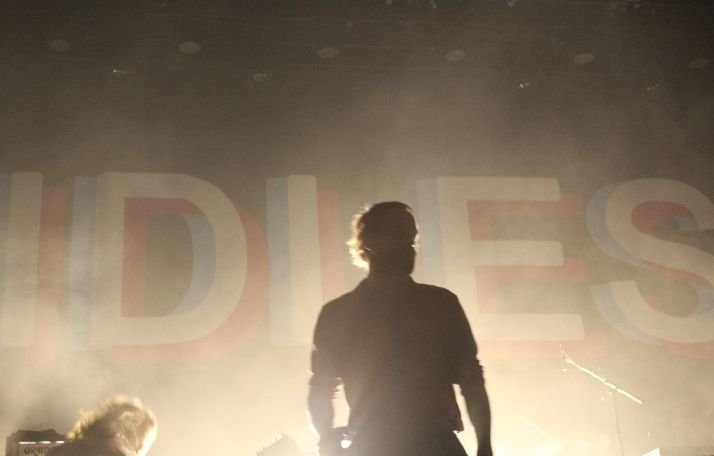 // IDLES at Roadrunner. Photo by Amber Levis
On the last day of their US tour, IDLES frontman Joe Talbot growls: "Are you ready to look after each other?"
His tone does not seem out of place in this crowd. Dyed and shaved heads bop to the music, a few people surf the crowd, and someone outside is on a quest for a lighter, yelling, "Does anyone still smoke? Anyone?"
And yes, Talbot's banter is affectionate, even if it's aggressive. But that too does not come as a surprise considering this is a band that made it with an album called Joy as an Act of Resistance. Their most-streamed song, "Never Fight a Man with a Perm," is indeed a fight song, but it ends with "I'll shut my mouth / Let's hug it out."
Rewind about an hour. Opening act Injury Reserve is stunning, working through the death of rapper Stepa J. Groggs with grace and ferocity. The overheads dim to a single spotlight — not on Ritchie with a T or Parker Corey, but behind them — and Ritchie holds up the microphone to the light in supplication.
// Injury Reserve at Roadrunner. Photo by Amber Levis
Overlapping waves of grief buoy their performance of "Top Picks For You," which interrogates the computer algorithms that persist even after a user has gone. The group's experimental hip-hop is not technically all that similar to what we're about to hear, but their vulnerability sets the tone for the night.
IDLES comes on. Talbot spits and sings low to the ground, one foot on a riser at the edge of the stage. "Fuck the king," he says early on, which is about the size of it. This band sounds huge. On opener "Colossus," more so than in the studio version, Jon Beavis's drums are like a ticking time bomb. Lee Kiernan's guitar and Adam Bowman's bass are in conversation, one aggressive, the other restrained. They explode into the swaggering "Car Crash," from their newest album Crawler, which came out last November. The euphoric ethos of their early music is still very much alive, though both their sound and their audience have expanded..
They turn the house lights up several times to get a good look at the crowd. "We see some familiar faces," Talbot says in his trademark Welsh accent.
// Photo by Amber Levis
The hardships of Talbot's life –– his mother's paralyzation, the death of his stepfather, and the birth of a stillborn daughter –– have shaped the violently loving persona we see on stage. "Love yourself, love yourself, love yourself," he snarls in "Television." He says "fucking" and "beautiful" a lot between songs. Subtlety is discarded for exhortative brutal joy: This is post-"post-punk."
The lighting team is working hard tonight. Each song has a completely different lighting scheme, each equally dramatic. Roadrunner is lit up with swirling rainbow colors for "Danny Nedelko," the penultimate song and one of the band's most instantly recognizable; it flashes cop-car red and blue during the seething, anti-fascist closer "Rottweiler."
This will be the last IDLES show for a while. After thanking his mother, Talbot thanks the audience. "Every single one of you is a gift," he says, "if I die today, I'll be grateful."
// Photo by Amber Levis
// Amber Levis '25 and Bea Wall-Feng '25 are DJs and writers for Record Hospital.