Interview with Hatchie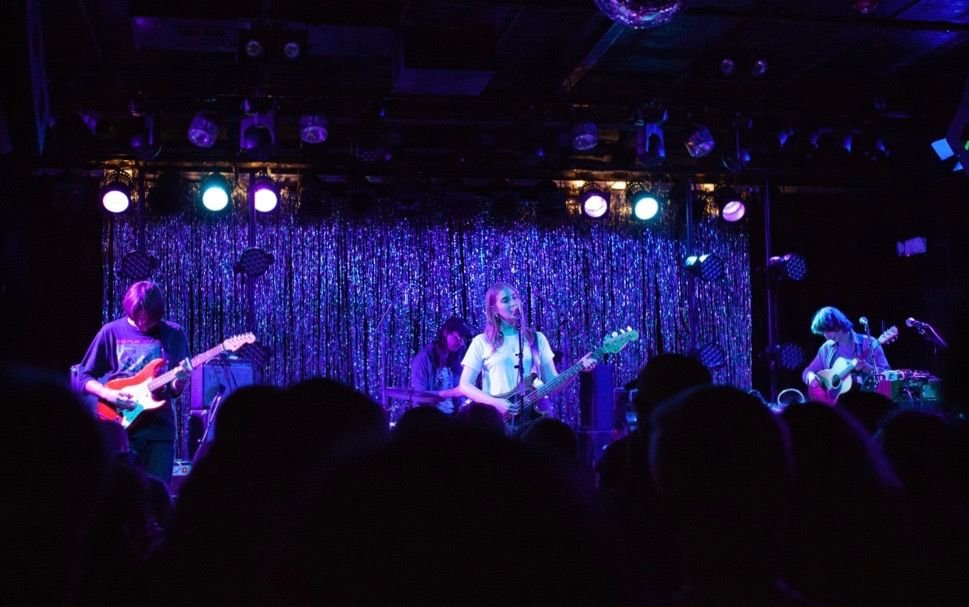 Sugar" class="redactor-linkify-object">http://hatchie.bandcamp.com/album/sugar-spice">Sug... & Spice by Hatchie
On a rainy Tuesday at the Paradise Rock Club, I sit down with Harriette Pilbeam, the 25-year-old songwriter behind the Australian dream pop outfit Hatchie, which just released their debut EP Sugar and Spice this May. Recalling the sound of Cocteau Twins and The Cranberries, Hatchie's lush melodies are infectious and filled with longing. Tonight is the first night that Hatchie plays as an opener for Snail Mail and Alvvays, a star-studded indie pop lineup that does not disappoint.
We chatted a bit about her musical interests, her upcoming debut album, and life on tour! Check out the interview below, which has been edited for clarity:
Thanks for taking the time to interview with WHRB! Is this your first time in Boston?
Yeah, it's my first time in Boston ever!
How are you liking it?
I actually don't mind the weather! We haven't been able to see much of Boston at all yet. Hopefully we'll see a little tomorrow before we drive out, but it's been good so far!
I listened to your set with Morning Becomes Eclectic that you recorded before you played Beach Goth in LA, and I liked the new song you premiered there, "Without a Blush". It's a lot different from the stuff on the EP, and I loved the grittier, darker sound!
Totally, thanks! I think that one will be out next year on my album.
Oh, sweet! So the new album's coming out sometime next year?
Yeah, next year! I don't have a date that I can say at the moment, but we're aiming for halfway through the year. I have a single coming out with Adult Swim's single series soon, like in the next month or two, so that'll hopefully buy me some time and keep people happy while they're waiting for an album! We're touring so much it's hard to work on very much, but I've started recording for the album and I'm still writing a bit more and finishing up a few tracks.
On the subject of sound and style, you've mentioned that Hatchie is one specific project you have. Are there are musical styles or genres or themes you'd like to explore in a different project?
Not at this stage—I'm already in another band that I've been in since I was a teenager, so Hatchie was the new project that's like the new, different stuff. I think I've definitely got my plate full at the moment, *laughs*, so I can't imagine starting anything else. Maybe in a couple years I'll start something different, but I'm pretty preoccupied right now, which is good!
Yeah, you've been flying all over the place for the tour. How's it been? What's the most memorable or weirdest thing that's happened?
You know we've been in a new place almost every day or every second day, so it's hard to keep track of everything. Everything kind of blurs into one. We've done a lot of long drives—we had a 14 hour drive like the day after we flew in, which was a 24 hour travel experience by itself (the flying). But we had a really fun time right at the beginning when we played Hopscotch festival in North Carolina because we had a day off. It was really nice, especially with jet lag, you could just kind of do nothing and walk around. We were in Raleigh in North Carolina, which was really pretty, with really perfect weather. Especially because it's winter in Australia at the moment, so coming over to the heat was actually kind of nice. So we just had a fun day doing nothing, a really fun day off!
On the subject of days off and waiting, I read one of your NPR diary entries talking about all the waiting you do on tour. What's your favorite thing to do to kill time?
At the moment, a couple of us are listening to a bunch of podcasts. It kinda changes every day—I try not to just spend all my time on the Internet!
What's your favorite podcast?
Myself and my drummer Ritchie, we're both listening to this one about that cult, NVXIUM, that got uncovered this year or last year. It's really wild – I was listening to it all day today. That's the newest thing that's been taking up our time.
About your music itself: a lot of people on the Internet have been describing your music as shoegaze and dream pop. I think it leans toward the dream pop side, but are you thinking of moving toward a shoegazier, noisier sound?
Yeah, kind of, with some tracks! Something I want to do in the future is have all the tracks on a long release be a bit different and not just kind of all one genre or one sound. I don't want to get too stuck in a genre and then have to figure out how to go beyond that—I want to start off by having all different branches. So, there's definitely a couple songs which are super loud and guitar driven that I've started recording. But there are also a bunch that are poppy or dreamy.
I've read that you're a huge fan of like Carly Rae Jepsen, and you did a Kylie Minogue cover during your MBE set which was really great. Is there a Carly Rae Jepsen cover in the works? I'm also a big fan of hers, and would love to hear your take!
No, but I would love to! I would love to cover Carly Rae or Charli XCX, we're all big Charli XCX fans too.
You also mentioned last year when you were still getting traction that it felt weird to be posting to your fans on FB, who were mostly friends or family. How has that changed after your rise to popularity?
It's funny, I kind of feel less nervous about it! I'm kind of more like "oh, whatever!" I feel less worried about looking cool or being funny. I'm more casual about it now, because it's thousands of people that I don't know. Whereas when it was only like 100 people and it was everyone I knew, it was like "is this really lame?" But now I'm like "oh, f*** it, it doesn't matter", *laughs*.
Earlier in the interview you mentioned that you want to branch out into different genres. What kind of sounds are you exploring right now?
I'm trying not to think too hard about like aiming for something in specific, but we're playing around a lot more with different guitar sounds and synth sounds—drum sounds especially, because I think that can really define a song, what the drums are like. We've a couple of 90's ones, more breakbeat kind of stuff. And little bit of industrial stuff as well, and things influenced by Depeche Mode for example. I'm not saying my music will sound like that, but it's got influences on the sound, like a little sprinkling of spice. So yeah, we're just playing around a lot!
You've also mentioned that you're aware of not wanting to be put into a box of "a female singer songwriter writing love songs". How's that been shaping up for you?
It's been good! It's been like, I've been trying to challenge myself to write about just myself and not relating it to a romantic relationship or making it more about a friendship or more my thoughts and feelings with nothing to do with love. Because it's really important to me that it doesn't just center on love. It's been good, and I'm still writing.
It reminded me of a Pitchfork article about Mitski and how she's been typecast as this "sad artist" and her desire to push back against that and be recognized as an artist.
Yeah, totally! Ah, I should read that! Yeah there's such a danger, especially with female solo artists.
So what have you been listening to in 2018?
I loved the new Beach House album, it was really good! I been listening to heaps of Snail Mail and Soccer Mommy, and yeah, lots of Charli XCX tracks. I don't know, I can't remember what came out this year, that's most of the stuff that comes to mind straight away. I'm always really slow with listening to new stuff—everyone will be talking about an album for ages, and then like 6 months later I'm like "Ah, I guess I'll listen to that album", and everyone else is like "Yeah, we already listened to it"! Like everyone's already done!
I had the same thing with Snail Mail—I was pretty late to the party too! Speaking of Snail Mail, this is your first show playing with Snail Mail and Alvvays, how are you feeling?
I'm so excited! A bit nervous—it's cool that the shows are sold out, so even if there's hardly anyone watching us, there's gonna be a really good vibe, there's gonna be loads of people coming in. It's nice being the first of three bands—there's less pressure and you can learn a lot from it and not have this crazy pressure you have when you're a headliner. We've just done a bunch of our own headline shows which were really fun, but now we're kind of flipping it and playing first, so it's nice to be able to do both!
---
Hatchie's new EP Sugar and Spice is out on Double Double Whammy Records. Check it out!
James is a DJ for the Record Hospital and The Darker Side. His RH show is weekly on Friday mornings from 12-2am.