It Was Drake: Camp Flog Gnaw Day 2 Recap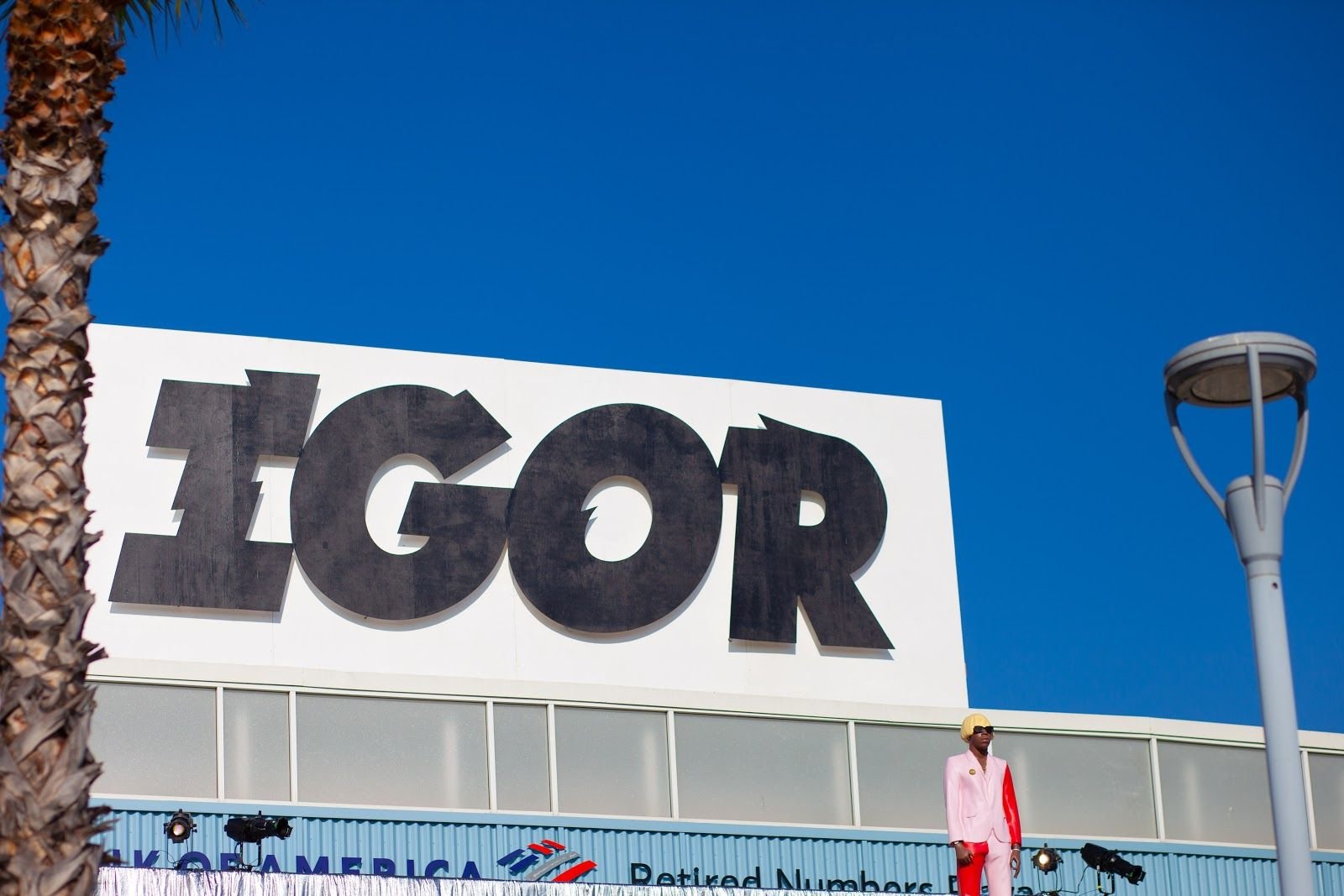 If you've been on Twitter, you already know what happened: Drake arrived, Frank fans were mad, and the festival ended without ceremony. With the Internet up in flames over the night's unfolding, relive the rest of the star-studded day at Dodger Stadium during the second day of Camp Flog Gnaw 2019!
DAISY
DAISY brought the sun, in their color palette, their attitudes, and their delicious jazz pop jams. Singing songs befitting a sunny Sunday afternoon, frontwoman Daisy Hamel-Buffa was a ball of light shining down on the Flog Stage crowd. Their song "Day Off", is dedicated to a dreamy boy working at Trader Joe's--as she put it during her performance, everyone relates to that experience. Clearly, this crowd did, or else perhaps they were just vibing to the music. Ending their set with a breakdown straight out of a punk show, DAISY left the stage to overwhelming cheers.
Santi
Santi brought his unique flavor of Afropop to the Gnaw Stage, singing over smooth beats that the crowd couldn't help but sway to. With the sun beating down hard, the Nigerian singer/rapper kept his cool with his laid-back dancehall rhythms. Highlight of the set was "Rapid Fire", from his newest album Mandy and the Jungle, evoking a night in the club with its round synths and trap-influenced beat.
Clairo
Apparently moshing to Clairo is a thing. Though some (mostly white dudes) in the crowd were certainly forcing it for their lo-fi queen at Flog Gnaw, others simply sang along and swayed. Shifting playfully and unassumingly around the stage, she did what she does best: charming the audience with her soothing croon.
FKA Twigs
Twigs, our queen. Bathed in a blue fog, FKA Twigs graced the Camp Stage with her mystical, gossamer-thin falsetto. This was a complete audiovisual treat: her beautiful voice coupled with various ornate costumes and a crew of dancers swaying to the wobbling bass and drum hits. It's a wonder how Twigs can move her body so fluidly while singing to a crowd of thousands. Preceding "Two Weeks" was a remix of her vocals in the song, so distorted that the only tell was the general timbre of the vocal samples. As soon as the chopped samples lined up with the visceral opening synths of the song, the crowd's hearts collectively melted.
BROCKHAMPTON
As promised, Brockhampton was a party and a half. Sporting their signature orange overalls and ever-so-sweetly asking if the crowd was okay throughout their set, the Texan boy band-cum-hip hop collective romped across the stage to their magnificently moshable music. Though the set was great, for the first half of the set I kept wondering what the less relevant, non-performing members were doing sitting at the top of their set, but they left before long. Having committed the cardinal sin of not following BROCKHAMPTON's music too closely, I was surprised when Justin Bieber came out for "SUGAR", only to find out later that it was Ryan Beatty. White teenage heartthrobs aside, BROCKHAMPTON were at their finest during their banger "BOOGIE" and R&B heartmealter "BLEACH".
???
A$AP Rocky. Drake. Frank Ocean. Overhearing fans speculate about the headliner this weekend, I heard a clear favorite in the mysterious and elusive OFWGKTA-associated R&B singer, Frank Ocean. Names like Drake were thrown around almost as jokes. Turns out, it was everyone but Frank--Tyler brought out a few of his "friends", first Rocky, then Lil Uzi Vert, and finally Drake. Hope was palpable in the air when the crowd realized Rocky and Lil Uzi were just there for a few tracks, warming up the stage for the true headliner.
When Drake came on, the hype was still there, as people thought he was still warming up the stage for another performer; as his set went on, some started to leave, realizing that he was the headliner. Playing throwbacks like "Energy", "HYFR", and "The Motto", Drake kept the crowd moving for a while, but the mood soured as Frank fans began to boo. Asking if the crowd wanted more, the people around me were still hyped for Drake; however, the fans at the front who'd pushed, squeezed, and sweated for hours hoping for Frank were not as enthusiastic. Thanking the crowd and walking off stage unceremoniously, Drake ended the weekend abruptly.
While we're disappointed too, both because I love Frank and because Drake ended his set early, seeing the world's most popular artist booed off a stage by thousands of people was honestly kinda funny. It's a bit surreal to have been to an event that Twitter pundits everywhere are chiming in to comment, but at the end of the day, Drake and his $150 million net worth will be fine.