Jambinai: Redirecting the Korean Wave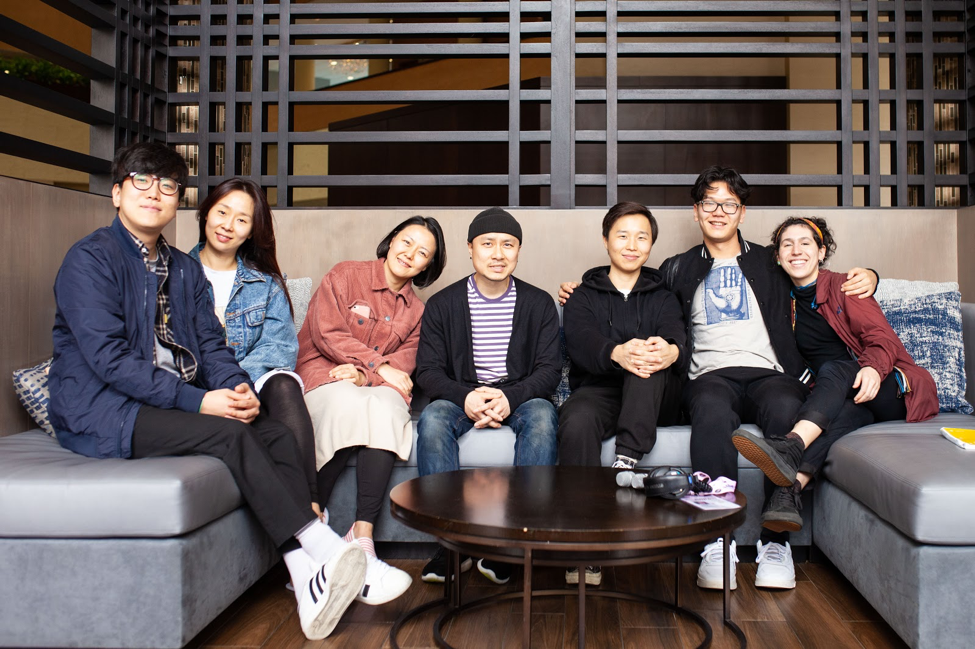 from left to right: Yoo Byeongkoo (bass), Sim Eunyeong (geomungo), Kim Bomi (haegeum), Choi Jae-hyuk (drums), Lee Ilwoo (guitar/piri/taepyeongseo), James Gui (WHRB), Lana Harris (WHRB)
---
_WHRBies James Gui and Lana Harris chatted with the members of Jambinai at SXSW 2019, their third appearance in Austin. Much has already been said about this groundbreaking band, but they've stayed quiet in recent years. Read on to learn about what they've been up to in the past few years (hint: it's a lot).
_
Differance" class="redactor-linkify-object">http://jambinai.bandcamp.com/album/differance">Dif... by Jambinai
Back in Austin for their third SXSW, Jambinai have little left to prove. The post-rock/heavy metal/gugak band have released two albums to critical acclaim, performed at the 2018 Winter Olympics alongside an orchestra of young geomungo players, and now have returned to the US to kick off a tour that includes dates at Coachella and Primavera Sound. Their music is at once visceral and earth-shaking, combining angular geomungo rhythms with hair-raising guitar riffs and booming drums. With their third album, Onda, coming out in June, Jambinai are paving a new, more uplifting sonic path. Meaning "to come" in Korean and "wave" in Spanish, the new album is sure to create ripples in the Korean music scene.
Breaking the Mold
Jambinai began as stereotype-shattering graduates of Hongik University's music school, but they've found themselves penned in by their own innovation. "We really tried to break the stereotype of Korean traditional music, because many people think the Korean traditional sound is very boring," multi-instrumentalist and vocalist Lee Ilwoo tells us. But after two albums, audiences have begun to stereotype the band's sound itself. To the uninitiated listener, Jambinai are just another loud, angry "heavy metal" band—and this characterization is true, to an extent. With their first two albums infused with anger, frustration, and political themes, Jambinai's music could be placed in relation with the Korean concept of han, which loosely translates to grief or resentment in response to oppression or hardship. The term was originally popularized by scholars to describe Korean feelings about Japanese occupation. But now, Lee wants to push back against characterizations of Korean musicians as brimming with han, and he also calls out traditional Korean musicians for also propagating this stereotype by overemphasizing their expressions of han in their music. Lee clarifies: "In my opinion, han is a little bit exaggerated to other people. I think han is just sorrow and sadness. We just have sadness not just as Korean people, but as a universal feeling."
"We are not just a heavy metal band!" Lee adds. And he's right: the band sees themselves as a continuation of Korean traditional music, not creating "fusion" music but rather breaking new sonic ground. Lee describes their upcoming album as "lighter and smoother", with "happiness and grace… it's a little bit different" and featuring more vocal tracks. The inspiration for this new direction came, as inspiration often does, from a road trip.
Lee's story behind Jambinai's newfound optimism is stirring: "Until the second album I was really angry because I was an office worker. So I was really stressed. After second album I became a freelancer, a full time musician. So the stress was gone. But money was a problem, money became a stress to me. Two years ago we had a tour in the US—New York, Chicago, and LA—and after the tour I had a chance to explore LA and the Grand Canyon. The great nature changed my mind. If I still worked in an office, I couldn't have toured in the US. So at that time I felt like the grand Mother Nature told me 'You are doing really well. Don't get stressed about money or your band, you're gonna be great!'". The new album, inspired by this experience, conveys messages from the Earth as transmitted by the band. In Lee's words: "Come to my heart and take a rest. Your pain is going to be changed with shining stars."
Kicking Up and Winding Down
Perhaps the most exciting recent experience for the band as a group, however, was performing at the 2018 Winter Olympics in Pyeongchang. "I feel like it was a miracle," haegeum player Kim Bomi recalls. They played with around 80 young geomungo players in high school and university—"they were so cute!" drummer Choi Jae-hyuk adds with glee. It turns out that the arrangements for the orchestra were all made by the director; Jambinai were completely surprised by the addition. Sim Eunyeong, Jambinai's geomungo player, felt especially moved: "I was happy to play with so many geomungo musicians!"
With the next generation of gugak musicians, Jambinai shook up the big stage in Pyeongchang, expanded their audience, and most importantly, bonded as a band. "It was really cold, but it was really great time to get closer to each other. We drank a lot of alcohol every night—after rehearsal!" Lee reassures us. Each bandmate has their own alcohol of choice: Lee prefers beer and whisky; Choi—the self-proclaimed "older brother" of the band—sips on soju and makgeoli; Kim drinks makgeoli and whisky; Yoo enjoys somaek (soju mixed with beer); and—saving best for last—Sim downs vodka mixed with ice cream.
Taking Inspiration
Almost as diverse as their alcohol preferences is the band's musical and creative inspirations. Lee, the main songwriter, has been looking to global trendsetters like Kendrick Lamar and James Blake—one of his all-time favorites—for musical inspiration recently. Though city pop has been enjoying a resurgence in popularity in South Korea, he says it's "actually not [his] type." In his spare time, he's also been reading Umberto Eco and Haruki Murakami, saying Murakami is "really good to relax and empty [his] brain."
The other bandmembers also weigh in on their favorite music. In a clever plug, Choi says his favorite new band H a Lot, which after a bit of searching we discover to be the other band he plays in. He also loves BTS, as his girlfriend is in the "Army", praising "their lyrics, their thinking, their concept, and their mind [which are] very different from any other boy band." On the other hand, Kim listens to classical and traditional Korean music, name-dropping Nils Frahm and IU as other modern favorites. Sim also listens to classical, and has recently been listening to Anissa Galante's version of "Ave Maria". With such impeccable and eclectic picks, it's no wonder that they're itching to move on with their own sound.
Forging Onward
Performing to a crowd of diehard K-pop fans waiting for Chung Ha and iKON, Jambinai put to rest any doubts about their new musical direction. The new songs they debuted at the performance carried the same weight and intensity of their old music. What changed is the emotion. The easy comparison to make is to Lift Yr Skinny Fists-era Godspeed You! Black Emperor, or early Explosions in the Sky: majestic, cathartic, nurturing. Swapping angsty metal breakdowns for sweeping crescendos and layered rhythms, Jambinai's new sound channels the spirit of the earth. We're stoked for their new album, and you should be too.
Thank you to Hyunggun Kim and the members of Jambinai for making this interview happen! Jambinai will be playing at Coachella before embarking on a summer Europe tour. They will return to the United States in September and October for another 2-month US tour (dates to be announced).
---
James Gui is a DJ for the Record Hospital. His show airs every Wednesday from 11pm-12am. Lana Harris is a WHRB graduate currently based in Berlin. The Record Hospital has air weekdays from 10pm-5am. Tune in!