Kaumakaiwa Kanaka'ole Brings Aloha to Harvard Square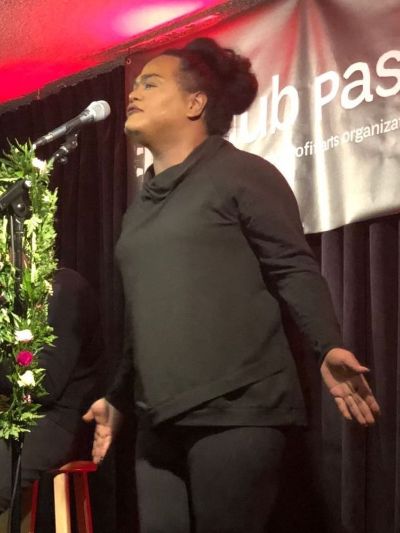 Listen
On a frigid winter night in Harvard Square, it's easy to long for the warmth of a tropical paradise thousands of miles away. Perhaps you're looking back nostalgically on a family vacation from years gone by, or maybe you've never been before and you'd like to experience an exotic tourist adventure. Whatever the case, even the mention of a place like Hawaiʻi is sure to conjure up ideas of an idyllic heaven-on-Earth, an idea produced by decades of American cultural exposure and interpretation.
Within the first few minutes of her February 9th show at Club Passim, however, Kaumakaiwa Kanakaʻole, along with guitarist Shawn Pimental, makes it clear that her beloved homeland is so much more than these preconceived notions. For her and her fellow Native Hawaiians (in the Hawaiian language, Kānaka Maoli), Hawaiʻi is "a state of mind and of being": eight islands intrinsically tied to their identity as a people.
As Kaumakaiwa proceeds through her setlist of Hawaiian folk music and original compositions, almost all of which is sung entirely in ʻŌlelo Hawaiʻi—the Hawaiian language—she ruminates extensively on the state of Hawaiian identity in 2020, 127 years after a coalition led by foreign insurgents and non-Indigenous citizens overthrew the last ruling monarch of the independent Hawaiian Kingdom, which was annexed by the United States five years later. Before using her powerful voice to begin a song about the ʻea, or sovereignty, of the island of Lanaʻi (97% of which has been privately owned by Oracle CEO Larry Ellison since 2012), Kaumakaiwa notes that Kānaka Maoli have long faced the "dichotomy of existing in a world where we have to...assimilate and, at the same time, maintain our identity." In her view, that hasn't proven easy in a society that views land as "transactional", where the highly lucrative tourism industry paints misleading pictures of a Hawai'i of "grass skirts and coconut bras" in order to attract guests—often at the expense of native ecology and culture.
These issues are intensely personal for Kaumakaiwa, who weaves her own intimate narratives into her music and her interactions with the audience as the night goes on. With a song originally composed for the coronation of Queen Consort Kapiʻolani, she pays tribute to the women in her ʻohana (family), who have long been involved in the defense of Hawaiian life: her great-grandmother Edith Kanakaʻole was a musician and major figure in the cultural period known as the Hawaiian Renaissance, while her Ph.D-holding grandmother was recently arrested for protesting the construction of the Thirty Meter Telescope currently being built on the sacred mountain of Mauna Kea. In recalling her ancestors' efforts to establish the first Hawaiian Studies Program at the University of Hawaii, she defiantly proclaims: "we refuse to see ourselves in the interpretation of another." Indeed, she describes her performance style, which "reaches back into the primal past" to borrow from ancient chants and dances, as a method of combating these othering perspectives: going on tour and performing for audiences, she says, is more about "outreach" and "exposing what it is to be a Native Hawaiian in the 21st century." It's holding ritual on stage, "restoring the human condition to its natural environment" by way of the natural resource that is music. (The use of this resource has earned Kaumakaiwa and Shawn five Nā Hōkū Hanohano Awards, the modern Hawaiian equivalent of the Grammys.)
When Kaumakaiwa tells these important stories and speaks on the realities of modern Hawaiian life, she is deadly serious. But Kaumakaiwa also brings levity, warmth, and happiness to her performance, mostly due to her informal and jovial personality. She is perfectly happy to "talk story" with her audience, cracking jokes about Spandex, attractive men, and the cold Cambridge winter. This is perhaps most evident when she and Shawn launch into their version of "Hiʻilawe", a classic folk song and the quintessential example of Hawaiian slide guitar. Throughout the song, she takes care to pause and translate the intricate Hawaiian words for her audience, painting a picture of a controversial love triangle wherein an already-betrothed man meets a new lover at the Hiʻilawe Waterfall in the Waipiʻo Valley on the Big Island of Hawaiʻi. The big takeaway from this piece, according to Kaumakaiwa? "If you're gonna have shenanigans, don't do them on a small island where you can't leave and everyone finds out pretty quick."
It's a night of beautiful song and dance that informs, elucidates, touches, and revitalizes. After such an engaging show, you might be forgiven for wanting to discover Hawaiian culture all over again, replacing old memories and preconceptions with new, genuine experiences of Kaumakaiwa's Hawaiʻi. You might want to see this place once more, hoping to develop a love for these islands that is as strong as the love that Kaumakaiwa has for her home—the love she demonstrates so beautifully through her music.
But you don't have to go anywhere, she says. "Wherever you plant your feet, wherever you root yourself: that's your Hawaiʻi." After tonight, she wants you to look at your home a little differently: she wants you to nurture it, care for it, and treat it in a way that is more than just transactional. She wants you to treat it with aloha.
After all, she says, "we could certainly use more aloha in the world."
// Emmanuel Calivo '21 is a DJ for The Blues Hangover, on air 5 a.m. - 9 a.m. on Saturdays and 7 a.m. - 11 a.m. on Sundays EST