The Knight and His Companion: Yo-Yo Ma Performs Don Quixote with the BSO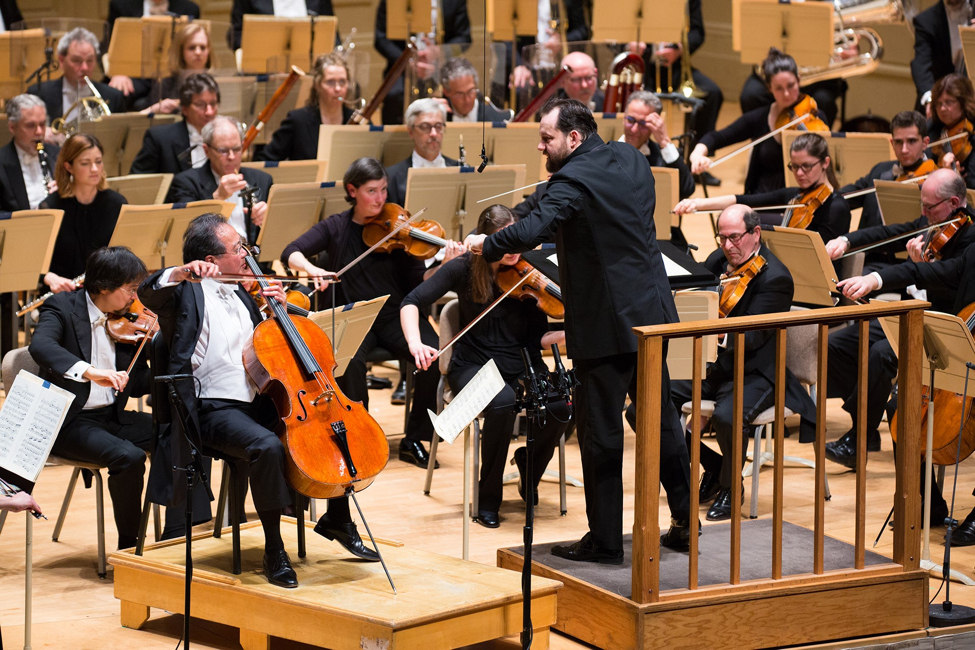 Courtesy of Robert Torres
On March 31, Yo-Yo Ma returned to collaborate with the Boston Symphony Orchestra for the first time in nearly a year. This time, the work was Richard Strauss's symphonic poem Don Quixote, a musical narration of the legendary Spanish knight's adventures. The program also featured Mozart's Symphony No. 23 in D and the American premiere of Jörg Widmann's "Partita," Five Reminiscences for Orchestra.
Scored for two of each oboes, horns, and trumpets in addition to a full string section, the Mozart symphony lasted merely ten minutes. But those ten minutes were well-spent, for the BSO's rendition was joyous and clear; the oboe solos, played by John Ferrillo, were exceptional. The light-hearted symphony served as an appetizer of sorts for the weightier Widmann piece, which was co-commissioned by the BSO and the Gewandhauserorchester Leipzig, and completed earlier in the month.
Widmann's "Partita" consists of five movements, each named after a different style of dance. Unlike Don Quixote, there is no explicit narrative to the piece, but the subtitle — Reminiscences — leads the listener to imagine the work as a collection of mental fragments from the past. One might envision a person in old age, recalling the days of his youth. The various movements of the symphony hark back to the Baroque era in name and style as well; throughout the piece, Widmann pays homage to musical giants including Bach, Mendelssohn, and Brahms. Though it is distinctly a product of the contemporary age, "Partita," Five Reminiscences for Orchestra never quite leaves the past behind.
Stellar as the performances of Mozart and Widmann were, there is no doubt that Don Quixote was the piece everyone had been waiting for. The anticipation was palpable as the audience settled in after intermission. When Yo-Yo Ma finally walked onstage, it was with characteristic warmth and charm. The audience chuckled at his excitement as he embraced principal violist Steve Ansell, who would be playing the part of Don Quixote's companion Sancho Panza. It is striking how Ma was able to establish a friendly rapport with the members of the orchestra — especially with his fellow soloists — before the music even began.
Perhaps it was this charisma that allowed him to demand one hundred percent of his fellow music makers' focus, making the performance into an incredibly effective storytelling experience. As much an actor as he is a musician, Ma truly stepped into his role as Don Quixote. Even during long periods of rest, he breathed with the musicians who were playing and swayed with their changing dynamics; every movement of his body, every line in his face, was a vehicle to convey the story. The experience was as much visual as it was auditory. Principal violist Steve Ansell also brilliantly played his role as Sancho Panza. With humor, wit, and grace, Ansell was able to communicate beautifully with Yo-Yo Ma and the audience through his playing.
Among performers of his stature, Ma's utterly relaxed stage presence is something special. It allowed him to turn a hundred-piece symphony orchestra into an intimate chamber music ensemble, so that together they could relay Don Quixote's tale with equal parts humor and heartbreak.
---
Joyce Lu and Karissa Huang are Producers for WHRB Classical. You can hear classical music on WHRB on Mondays-Fridays 1pm-10 pm, Saturdays 1pm-9pm, and Sundays 2pm-midnight.