Kumanta, Sumayaw, Makibaka! - Sing, Dance, Solidarity!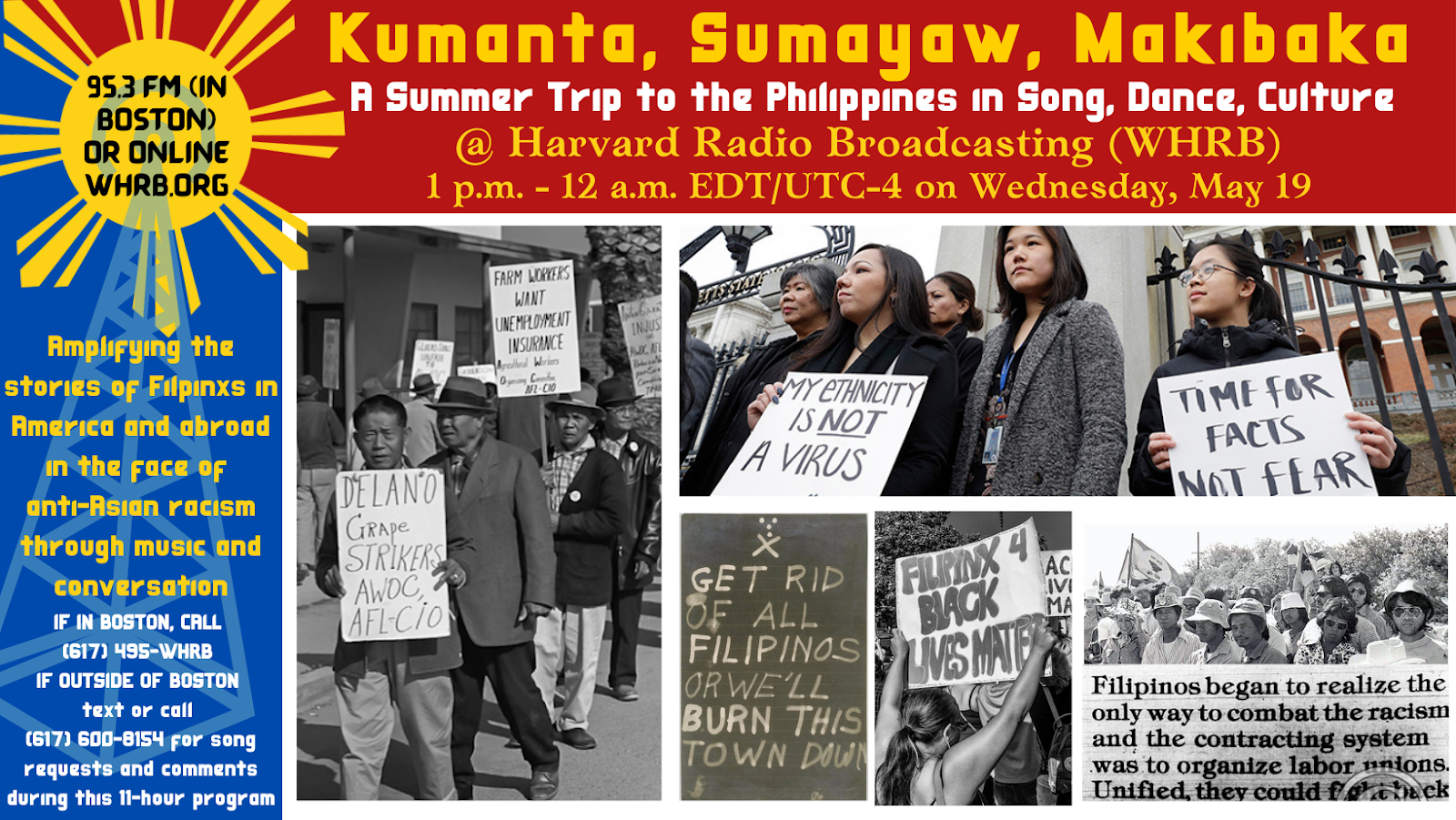 // Image courtesy of Jeromel Dela Rosa Lara.
The COVID-19 pandemic began in early 2020, but the pandemic of anti-Asian racism has existed for generations.
On March 29, 2021, Vilma Kari, a 65-year old Filipina woman, was on her way to church in New York when a man beat her to the ground. Multiple people witnessed her being assaulted but did not do anything. From January 19 to 23 in 1930, Filipino migrant workers working in the lettuce fields of Watsonville, California, had their homes burned and themselves shot, beaten, and thrown into the river by a mob of 500 white men.
You probably have heard of Asian people, like Filipinxs, being attacked in our present day because of their Asian and/or Pacific Islander identities. But have you heard of the Watsonville Riot of 1930? Have you heard of the Philippine-American War from 1899 to 1902 where America committed the genocide of killing 200,000 Filipinxs for the crime of the Filipinxs not wanting to be colonized by the United States?
// Photo of Jeromel and his mother in the famous and historic city of Antipolo.
This is why I, Jeromel Dela Rosa Lara, '23, curated this WHRB Orgy®. I am a Filipino immigrant to the United States. I was born, raised, and lived in the Philippines for 11 years. I lived in Cogeo Village near the famous city of Antipolo which has its own iconic song that is included in this Orgy®. My mother and I arrived here in America in 2011. My mother is a certified nursing assistant doing the job of domestic caregiving, which is the arduous and literally back-breaking work that many Filipino immigrants do abroad. The Philippines are the biggest supplier of nurses worldwide.
The life of OFWs, or Overseas Filipino Workers like my mother, is a life of survival as Filipinxs work abroad to help relatives in the Philippines. OFWs, especially women like my mother, endure the pandemic of anti-Asian racism manifested by the fetishization of Asian women, the exploitation and commodification of Asian labour like Filipina women in caregiving roles, the physical attacks against Asian people, and the failure to recognize OFW stories and presence. In California, three out of five registered nurses who have died from COVID are Filipinxs. In the entire country, one out of three nurses who have died from COVID are Filipnxs even though Filipino nurses make up just 4% of America's nursing population. In the United Kingdom, Filipino nurses working in the National Health Service (NHS) are dying disproportionately yet they are not considered a separate ethnic group so their deaths are not even tracked even though there are NHS hospitals where around 70% of their nurses are Filipinxs.
The pandemic of anti-Asian racism is taking a toll on OFW, Filipino diaspora communities in the West. Yet it seems that no one bothers to listen to our stories. It is just like when the first person in the world from the UK received the Pfizer vaccine back in December, many Western media outlets proclaimed white British woman Margaret Keenan's name, story, and photo. The photo that Western media outlets chose to publicize this historic event was Keenan getting her COVID vaccine administered by a nurse where only her back appears in the picture. That nurse was a Filipina. Her name is May Parsons. There were other press photographs that were taken where her face can be seen, but what Western media outlets chose to use was the photo where her face is not visible. This is a metaphor for what being Asian, being Filipinx, is like here in the West. The West depends on the care of Filipinxs for the well-being of its people. Yet, they would not care about our stories and presence.
Yes, the news reports incidents of Asians being attacked. But it's always under the banner of another COVID-related story. But what about the pandemic of anti-Asian racism that has existed for generations. With the brief stories I recounted above, ask yourselves whether you have heard them before?
Filipino music is a testament to these stories. This Orgy® is just an introduction to the many more stories of Filipinxs and other Asians and Pacific Islander communities that need our care. I hope this will be the beginning of further action to look for these stories and to change the discourse of American "miseducation," as renowned Filipino historian and public intellectual Renato Constantino would describe it, where these stories are treated as invisible which stems from the pandemic of anti-Asian racism.
**This Orgy®—Kumanta, Sumayaw, Makibaka! Sing, Dance, Solidarity: A Summer Trip to the Philippines in Song, Dance, Culture—aims to amplify through music the stories of an Asian community, the Filipino community, whose immense contributions to America and its well-being have yet to be recognized. Stories that have been overlooked and unrecognized in America and the West.
**
From kundiman love songs to the wide array of genres in Original Pilipino Music (OPM) to the voices of movements affirming Philippine cultural identities from Manila to California, 11 hours of Filipino stories through 11 hours of Filipino music. Please check out the Spotify playlist above to listen to the songs of this Orgy® which I provided commentary and context during its airing on Wednesday, May 19 from 1 p.m. to 12 a.m. Eastern Time.
There are over 4 million Filipinxs in the United States such as myself. The month of May is Asian American and Pacific Islander Heritage Month in the U.S. This Orgy® is in honor of Filipinxs in the diaspora where I, myself being part of that diaspora, can share our stories that you probably have not heard of or realized. The music in this Orgy® are both songs that I have grown up with and songs that I have just discovered or have been recommended to me by others.
The commentary and context that I provide during the Orgy® for these songs come from my own personal stories and from my own work to explore more of the stories of the Filipinxs who came here abroad before me and to amplify them at Harvard. For five weeks during this spring semester, I taught a class open to the Harvard community that was supported by Cabot House called Over 7,641 Reasons Why: America in the Philippines, Filpinxs in America. You can click here to find the syllabus and access the materials of the class as well as how we engaged with them.
Every class session, we would listen to multiple songs, and we would talk about their lyrics and what they are revealing, expressing, and alluding to that speak to Filipino stories in the face of American systemic racism and white supremacy. This Orgy® has a similar structure as that class where art, such as music and performances, is experienced and listened to in order to value the stories of Filipinxs—both in the Philippines and immigrants abroad.
In your listenership, please also consider donating to these organizations who are doing work to value the presence and stories of Filipinxs in diaspora:
https://www.gofundme.com/f/help-and-support-we-are-with-you-vilma-kari?utm_campaign=p_cp_url&utm_medium=os&utm_source=customer → Vilma Kari—the Filipna woman mentioned who survived being attacked while on her way to church—and her family are raising money to support seven organizations advocating for AAPI communities. Her family made this GoFundMe to support the medical costs of Vilma Kari's treatment after the attack and to support organizations fighting for AAPI people in this anti-Asian racism pandemic.
http://fanhs-national.org/filam/ → The Filipino American National Historical Society (FANHS) works to make sure that the history of Filipinxs in the United States is told. They manage the National Pinoy Archives in Seattle, Washington, which collects, preserves, and makes accessible historical material of the history of Filipinxs in America. It is open to the public.
https://www.filipinomigrantcenter.org/ → The mission of the Filipino Migrant Center is to "address the needs of Filipinos in the South Bay cities of Southern California" through "a Filipino immigrant-led organization who aims to educate, organize, and mobilize low-income, working-class Filipino families."
Harvard Philippine Forum (HPF) has an ongoing fundraiser where you can donate below to raise money to support a home for the elderly and an orphanage in Zamboanga City, Philippines, when resources are hard to come by due to the COVID pandemic:
HPF's Youth and Senior Care COVID Relief Fund - GoFundMe Page (https://gofund.me/c99e7c44)
Maraming salamat (Thank you very much) po for your listenership and support!
// Jeromel Dela Rosa Lara, '23, is a reporter for WHRB News and the curator of this Filipino music Orgy©. He is from the Philippines who immigrated to the United States in 2011 and has a lot of stories to tell. Follow him on Twitter @jeromellara, and he can be reached anytime to continue the conversation further.