Les Miserables in Boston off to a Triumphant Start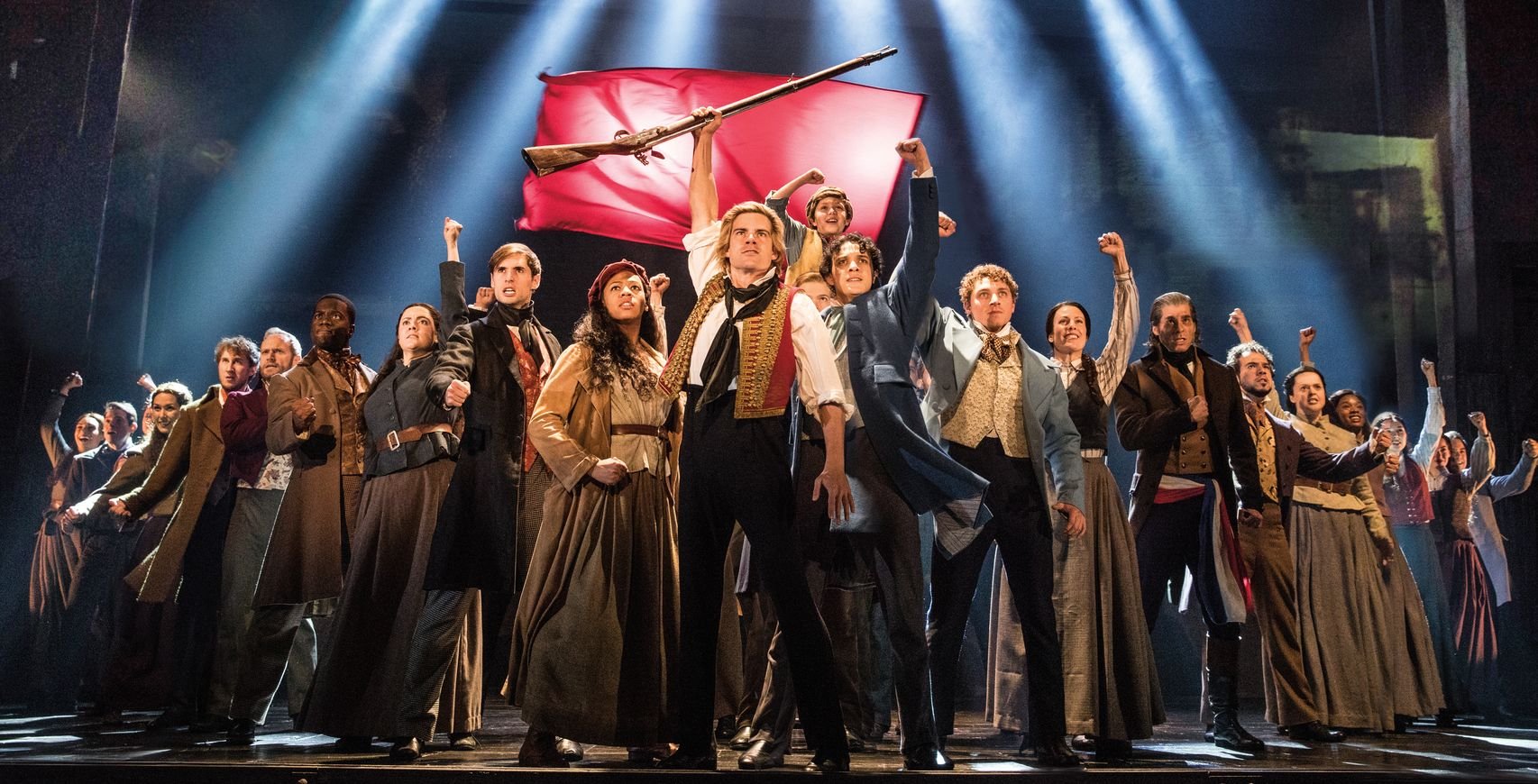 Listen
The company of LES MISERABLES performs "One Day More." Photo: Matthew Murphy
---
There comes a time in every young musical theater lover's life when Les Miz is everything. Close your eyes, and all you can see is the blood of angry men. Walk into a room, and "Empty Chairs at Empty Tables" floats unbidden into your mind. Les Miserables, running now through April 28 at the Citizens Bank Opera House, is sure to make audiences both seasoned and new feel the absolute wonder and glory of hearing Les Miz for the first time. Boasting one of the most dazzling ensembles of vocal talent in recent memory, it positively bursts at the seams with energy and drama.
Allison Guinn and J. Anthony Crane deliver charmingly wicked performances as Madame and Monsieur Thenardier, and Jillian Butler is the perfect Cosette. But Nick Cartell's transformation through the stages of Jean Valjean's life is beyond compare; not only does his appearance shift scene by scene, but his voice, at first sharp and youthful, weathers masterfully as he matures. Especially memorable is Fantine's (Mary Kate Moore) death scene, followed by the epic confrontation between Valjean and Javert (Josh Davis). While "I Dreamed a Dream" deserved the rousing applause it received, Mary Kate Moore did not truly flash Fantine's steely edge and unleash her full capacity to make the audience feel until Fantine was at the very depths of her despair.
But it would be criminal to allow the scenic and light design to go unsung. The set, newly designed by Matt Kinley for the revamped production and inspired by the paintings of Victor Hugo himself, made use of animated projections to allow for graceful scene changes and was a delight to gaze upon. Importantly, however, it retreated into the background when necessary. Les Miz is not Mary Poppins; its purpose is not to offer the most spectacular special effects or surprise the audience with pomp and pageantry. Translucent fog, tastefully suspended on stage for most of the show, faded away the Paris streets and gutters. In doing so, the audience was allowed to focus on the heart of the musical: the people of Paris, their faces turned toward salvation, their chins set defiantly in the face of certain death.
The lighting design was especially adept at drawing parallels between scenes, highlighting critical moments in a musical of three hours with a large cast of well-fleshed characters. Both Valjean's "Who Am I" and Javert's "Stars" saw the introspecting soloist elevated and backlit, anguished and alone, their surroundings fallen away as they grappled with the depths of what was in their minds.
If complaints must be leveled, it is true that the cast's French accents could greatly benefit from a few visits to Paris ("mon-sore"). But imperfect accents are a small price to pay for a night of loyalty, rebellion, and redemption.
---
Joyce Lu is a reporter for WHRB News and a DJ for WHRB Classical. Les Miserables is running now through April 28 at the Citizens Bank Opera House. Purchase tickets ($40-$250) at boston.broadway.com!