Lewis del Mar: The Ebb and Flow of Inspiration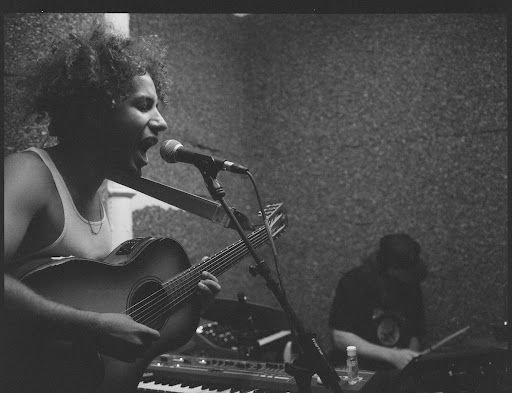 // Image courtesy of Lewis del Mar.
Lewis del Mar is an experimental pop-rock group from Rockaway Beach, New York City. After receiving attention for their single "Loud(y)" in 2015—described by Rolling Stone as "a beachside dreamscape with acoustic guitars and electronic drums washing up on shore." The group has gone on to release a self-titled album Lewis del Mar in 2016, their sophomore AUGUST in the summer of 2020, and most recently BOUQUET, an EP featuring tracks drawn from their AUGUST recording sessions. After a pandemic year of no live shows, Lewis del Mar hit the road again this fall with their AUGUST/BOUQUET U.S. tour, making a stop in early October at Cambridge's own The Sinclair. We spoke with Danny Miller, Lewis del Mar's lead singer and guitarist, to hear his thoughts on the group's latest releases, their 2021 tour, and what's to come.
Interview has been edited for conciseness and clarity.
What is Lewis del Mar? How would you describe your music?
Danny Miller: I think Lewis del Mar is a musical project that is very inspired by folk music, by Latin and Caribbean rhythms, by percussion, by sampling, and overall by the idea of collage. It's just something that aims to create with intention.
Sounds like you're bringing together a lot of different elements to create the sound of Lewis del Mar. From where do you draw your musical influences?
DM: All over the board. Certainly, yeah, I'm influenced by a lot of the things that make up the music of Lewis del Mar, but that varies. I think it's part of the role and job of being an artist to find new inspiration. The things overall that make up the composite, the project, are parts that feel very fundamental to my musical identity. But I'm always inspired by new music and new ideas and new artwork. It's kinda ever-evolving. I think the project is just something that ebbs and flows, and takes the shape of whatever I'm interested in at that moment.
What's an artist that you're listening to now that has maybe influenced your music lately?
DM: I'm most into the Cocteau Twins. That's who I've been listening to the most this year. And this group Injury Reserve, I think they've put out my favorite project of the year so far.
Tell me about the EP BOUQUET, your latest release. What's some of the thinking behind the tracks?
DM: BOUQUET was really an extension of our album AUGUST that we released in 2020. It was sort of loose seeds that we had pulled together during the sessions. I just felt really strongly about the material and I felt it fit really, really well together in the end. But the tracks kind of evolved separately throughout the process of making AUGUST. And then I pulled them together and finished them with our friend Andrew Maury who served as our mixing engineer for all the projects up to date.
What's your favorite track from BOUQUET?
DM: I really like "Delusion." I'm gonna say that's my favorite song. I wrote that in Rockaway in 2018.
Let's jump back in time a bit. What was it like for you to move through quarantine, as a person and as an artist? What did the creative process look like then?
DM: It was interesting, because we released our album in August of 2020. So, right as we were going into lockdown in March of that year we were putting the finishing touches on the project, mixing it, sequencing it, mastering it. This meant we entered into quarantine having just given birth, having just finished this album. So, for a long time last year I really didn't feel very creative. I had a lot of questions about whether I wanted to keep making music, actually. I put together BOUQUET during this time, and went to Panama where I made a photography and poetry zine. And I wrote a lot of music during that time, but none of it was really that strong because I just feel I haven't had the experiences that lead to good writing. But I've worked with a lot of people and now I'm finally tapping in with a couple of folks that I think is going to lead to what will become the next album. But a lot of just sifting and experimenting with stuff.
// Image courtesy of Julian Li.
Now after that, you've been back on the road again and just wrapped up your AUGUST/BOUQUET tour. How was the tour, and what's it been like for you to be performing live again?
DM: It was really incredible. An incredible experience. I just feel immensely grateful that we were able to return to such wonderful audiences. It's a big part of my identity as a musician; I grew up playing live and in bands and onstage, in basements and whatnot. Even something as simple as loading in and loading out of venues is all part of the ritual. It's a very special and sacred thing to me. I just feel lucky to get to participate in it again, I'm glad everybody was able to do it safely. I'm really proud of the show that we took out after all this time and after what the project has been through, and what everybody's been through.
Any personal highlights from this tour?
DM: There were lots, but there was a really good moment in Boston. Someone yelled at me to play this song called "Live That Long." And so I played it for the first time on the tour. Everybody in the venue was singing all the words to the song and it was just very, like, life-affirming. It just felt so wonderful. I hadn't played the song on the tour yet, but I played it pretty much every night after that. Just such a good reminder of the idea that music is supposed to be a place for healing.
What is it that gets you to the studio, gets you on the road, and makes you want to make music?
DM: It's a great question. It's really just that I imagine it. It already is a part of my life and what I imagine. And so I just sort of pursue that impulse. I try not to let it be too thought out, because that's where most things become difficult or lead to some sort of thought spiral. What keeps me interested in being creative is that I just imagine this music when I'm living my life. I'm interested in pursuing it as an idea and getting better about it, and I'm out here doing it because it seems to fit me and who I am.
So you're done with the AUGUST/BOUQUET tour, and you're headed back to the studio. Are there any projects in the works? What should people get excited about coming from Lewis del Mar?
DM: We just cleared our schedule out sort of indefinitely to finish this project that is being started right now. And I feel excited about that. I feel excited to take some time to process everything from this year, the experiences from it, and obviously, the good fortune of the tour and then just sit with that information. From there I want to bring something to light that's honest, and it doesn't need to be anything else. It just needs to be honest. People can expect that we will continue to explore the things that excite us and to try to make honest music about that. We'll be active, there'll be more dates, there'll be more iterations of the show, and there'll be more music. That's what I'm excited about.
// Julian Li '25 is a DJ on and a guest writer for the Record Hospital.