​A Lineup of RH Faves in San Francisco – Vansire // Loving // High Sunn // BOYO at Slim's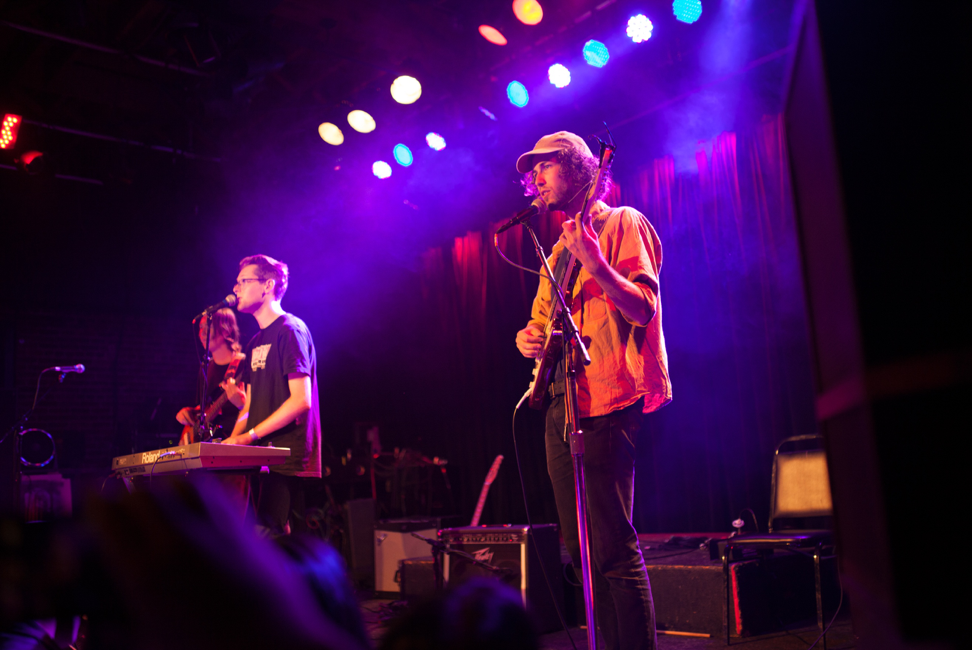 While some were gearing up for Outside Lands, others gathered at Slim's on August 6 for a lineup of rising indie stars. Hot on the heels of their latest release Angel Youth, Minnesotan dream pop outfit Vansire have been touring the West Coast with Canadian dream pop band Loving. Tonight, they're joined by SF locals High Sunn and LA-based BOYO, making a formidable lineup of almost entirely RH Playlist artists.
I get to hang out backstage with Josh and Sam of Vansire before the show, and we chat for a bit. Josh has his knees deep in the creative process, making electroacoustic soundscapes for his music degree at Oberlin during the school year, pumping out wistful pop songs with Vansire over the summers, and crafting Dilla-inspired beats in the time he finds left over. Sam, a rising college senior studying architecture (after having switched from Computer Science, no less), collaborates with Josh during the school year, communicating primarily via WAV files.
Missed" class="redactor-linkify-object">http://highsunn.bandcamp.com/album/missed-connecti... Connections [LP] by High Sunn
The order tonight is High Sunn, BOYO, Loving, and Vansire in that order, shifting from raw, upbeat, and lo-fi to chilled out, slick and dreamy as the night progresses. High Sunn, led by 18-year-old Justin Cheromiah, plays pure youthful passion. with up-tempo guitar riffs, gravelly vocals, lyrics tinged with heartbreak and angst, it's easy to get swept up in their energy. With songs titles like "Ramen Waitress," "Banh Mi," and "Polaroids," High Sunn evoke the unique Bay Area culture and sound. Their latest album Missed Connections is the focus of their set—released on April 13, it's High Sunn's most polished record yet.
After High Sunn finish up, BOYO take the stage and dial the energy down to a more lackadaisical SoCal pace, but keeping the lo-fi aesthetic. In addition to his smooth vocals, BOYO frontman Robert Tilden exudes a humorous stage presence, muttering the classic Metro Boomin' producer tag "If Young Metro Don't Trust You…" before one of his songs drops. If High Sunn's sound conjures the confusion and feelings of high school, BOYO's sound is redolent of the nostalgia and wistful longing felt during college and beyond. Tilden also demonstrates his vocal range during "Mantra," belting out a respectable falsetto over a funky, psychedelic instrumental.
LOVING" class="redactor-linkify-object">http://loving1.bandcamp.com/album/loving">LOVING by LOVING
Loving
Next on the bill is Loving. Their sound reins in the energy even further, shifting from lackadaisical to lethargic, entrancing the audience with their downtempo melodies and soft vocals. Their synths are like ambrosia to the ears, washing over the crowd like a pleasant daydream. I'm personally not as familiar with their music as the other bands on the bill, but their excellent set tonight encourages me to search them up immediately after. The Canadian psych poppers haven't released anything since their 2016 self-titled release, but hopefully this tour is a signal of things to come.
Angel" class="redactor-linkify-object">http://vansire.bandcamp.com/album/angel-youth">Ang... Youth by Vansire
Rounding out the night is Vansire. Named for an obscure type of mongoose, the band is both whimsical in their attitude and methodical in their music. Opting for pre-recorded drums and sounds because lugging drum equipment would be too much trouble and (to paraphrase Josh) "we're not playing shoegaze, we don't need to be that loud." My ears, plagued with tinnitus, thank them for that decision. Keeping the energy at a nice, laid-back level, Vansire fill the venue with a wave of reverb and yearning vocals that tug at the heart. They play "Driftless," a song informed by their unique backgrounds as Minnesotans in the Driftless Area, which (as they explain) is filled with rolling hills due to its lack of glaciation in the last Ice Age. After the short geography lesson, they play their rousing psych-pop track "That I Miss You," showcasing Josh's chops as a producer. Unfortunately, they can't play any of their songs with hip-hop features due to lack of personnel, but they do play "Nice to See You" with the help of an audience member (and friend).
Later, I discover via Facebook that Vansire cancelled the rest of their tour due to medical concerns, and I feel quite both lucky and saddened that this show was their last of the tour. You support Vansire (and the rest of the bands mentioned here) by purchasing their music on Bandcamp.
James Gui is a DJ for the Record Hospital.