Lisa Batiashvili's Szymanowski Violin Concerto: 'Romantic, Beautiful, Sensual'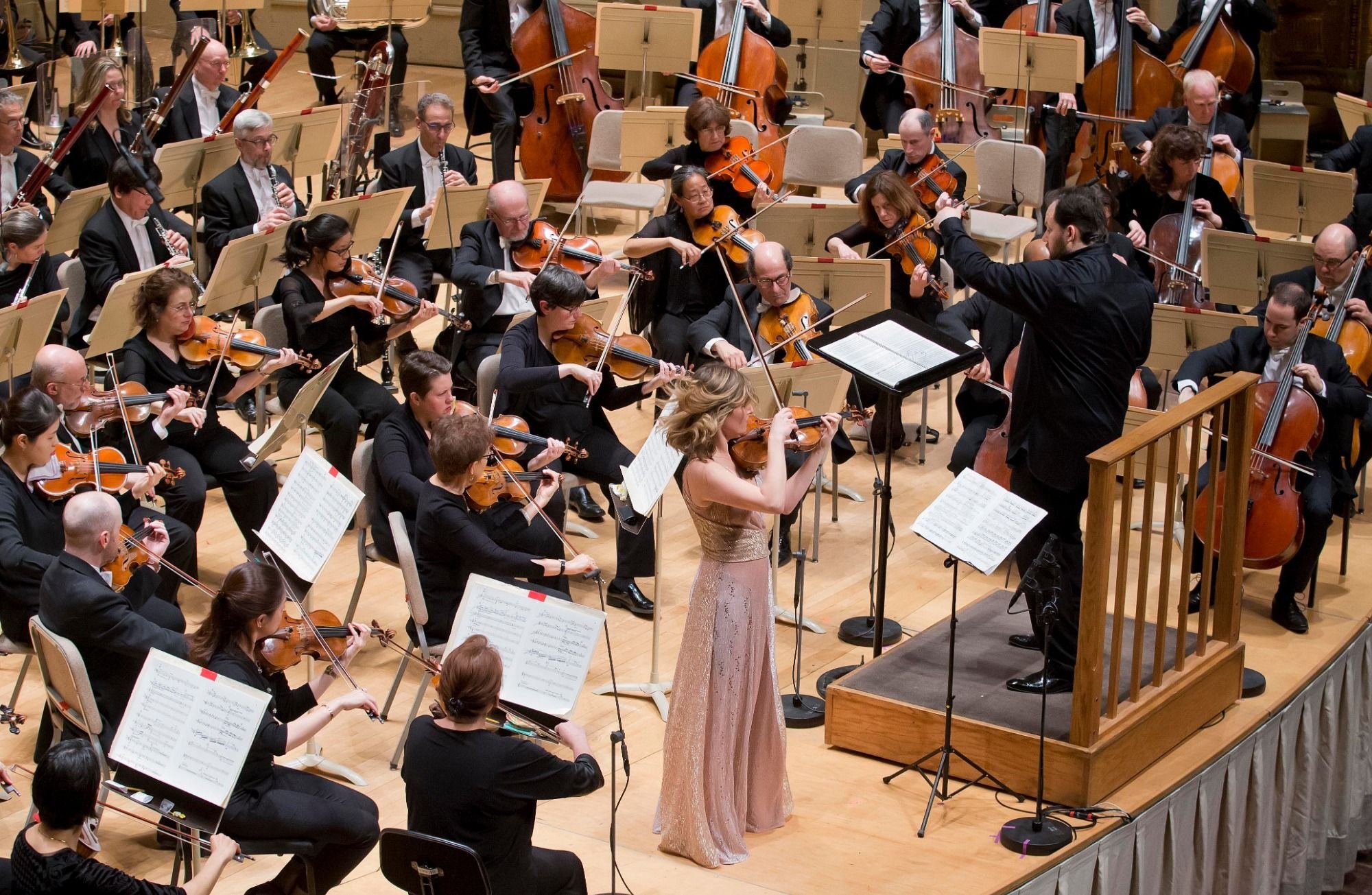 Update Required To play the media you will need to either update your browser to a recent version or update your Flash plugin.
The highlight of last Thursday's Boston Symphony Orchestra concert was definitely Lisa Batiashvili's performance Szymanowski's Violin Concerto, which was preceded by Wilson's Lumina and followed by Copland's Symphony No. 3.
Every violinist recognizes the Tchaikovsky, Sibelius, and Brahms violin concertos as the cornerstone of the solo violin repertoire. Concertos from the romantic era, including these three, are especially popular because of their memorable melodies, virtuosic passages, and most importantly, opportunities for the soloist to play expressively. The post-romantic Szymanowski violin concerto has all these advantages and more. As one, cohesive 25-minute movement, the piece shifts seamlessly between yearning slow passages and violent technical runs without the interruptions of movement breaks. Rather than repeating one or two beautiful themes ad nauseam as some concertos do, the Szymanowski violin concerto never seems to settle into a pattern, leaving the audience members perpetually on the edge of their seats. Batiashvili told me that Szymanowski's Violin Concerto is "a phenomenally surprising piece, because you don't know always what to expect. It is so romantic and so beautiful, and in some ways, very sensual. It's a lot about human fragility and tenderness and love, of course, and despair. It requires a huge capacity of expression."
During Batiashvili's performance, only when the opening, yearning theme returns at the very end of the concerto did the listeners breathe a sigh of relief, exhausted from the journey into the stratosphere (literally and metaphorically) on which Szymanowski and Batiashvili brought us. The journey upwards is literal in the sense that Szymanowski explores the uppermost ranges of the violin in a way that composers before him had never done, and Batiashvili played these notes with a graceful, sonorous, and projective tone that seemed nearly impossible to achieve – any slight change in bow pressure or speed and that perfect sound would have been lost. Metaphorically, the terrain covered in 25 minutes was just so varied – in terms of rhythm, harmony, timbre, technique, and tempo – that the listener was able to travel far beyond the soundscapes created by more traditional violin concertos. Sometimes the inhospitality of contemporary pieces prevents listeners from entering new soundworlds despite being bombarded with novel sounds. However, Batiashvili's interpretation of the Szymanowski always carried listeners along with her so that they were not lost. She never rushed phrases, and she was particularly adept at building suspense through long notes by refraining from vibrating the note until the latest possible moment.
On her day off between concerts, Lisa Batiashvili came to Harvard Square to first, speak with us at WHRB, and second, to see Harvard Yard! While she enjoyed Widener Library, Memorial Church, and the John Harvard statue, we'd like to think that her highlight was her time at WHRB. Listen above for the complete interview or stay tuned: the interview with Lisa Batiashvili will broadcast on-air and on our livestream on Sunday, March 3rd, 4-5pm along with a selection of Lisa Batiashvili's recordings.
Allison Pao is a Producer for WHRB Classical and Co-Program Director of WHRB. You can hear her feature Beyond the Stage on Sunday afternoons beginning in March 2019 (see the program guide for exact timings).