Little Feat Bring Southern Rock to Boston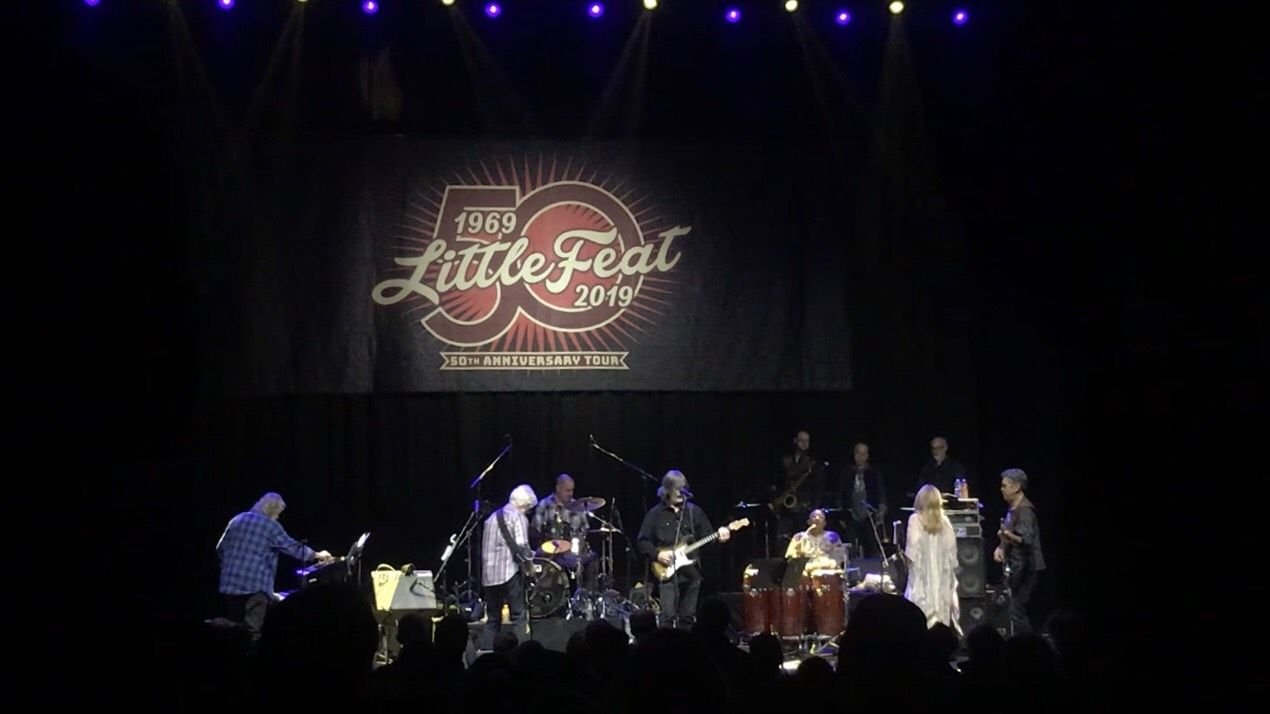 Little Feat's Oct. 23 concert at The Orpheum in Boston proved to be a night of impeccable musicality across genres and time periods, always rooted in the comfort of southern-tinged rock. The band walked out to a stage dressed only in a massive poster emblazoned with the words "Little Feat 50th Anniversary Tour." With their legendary status as folk rockers, they needed no elaborate stage set up to capture everyone's attention.
Throughout the show, the band never missed a beat. From their opener "Tripe Face Boogie" to the closing track, "Oh Atlanta," the music was impeccable. Soaring guitar solos to complicated drum beats to a full-fledged horns section made each song memorable and every aspect of their performance stood out. It was obvious that each musician was endlessly talented in their own right, with multiple multi-instrumentalists and singers among them, leading to perfectly groovy and soulful melodies and beautiful 5-part harmonies.
"Yeah, Little Feat's made of, like, 10 differetnt bands all making different types of music. It's always been that way," said vocalist and keyboarding Bill Payne right before going into a particularly energetic rendition of "Rooster Rag." Throughout the song, and the whole concert, there was nothing to distract from their musical prowess. The stage was minimalistic with only colored lights, yet it never felt empty or boring. In fact, it was quite the opposite. It felt intimate, as though Little Feat was playing just for you.
Fan favorites like "Sailin' Shoes" and "Fat Man in a Bathtub" were greeted to thunderous applause bouncing off the walls of the small theater. It was clear that these were their big hits, as not a single person stayed sitting. It was impossible not to dance.
"I need your help for this next song alright, I want you to sign the choruses with us," said Payne right before the band fell into "Willin'," their biggest hit and the song that made Frank Zappa decide they had to be a band. All five vocalists crooned over the beautiful melody as the audience joined them all in unison. At this point, it was impossible not to fall in love with the band. Bathed in purple light, the performance was utterly captivating.
They ended the concert just as strongly as they started it, with the band breaking down into endlessly intricate solos during "All That You Dream" and "Dixie Chicken."
"I was really looking forward to this gig tonight. Thank you so much! It was the best!" said Payne just before their encore, "Oh Atlanta." A perfect ending to the show, the band let loose on stage, playing energetically and appearing to be having an overall great time, while their instrumentation remained just as impeccable as before.
Little Feat's Setlist at The Orpheum:
Tripe Face Boogie
Time Loves A Hero
Spanish Moon
Rocket in My Pocket
Church Falling Down
Day or Night
Rooster Rag
Six Feet of Snow
Sailin' Shoes
One Breath at a Time
Fat Man in a Bathtub
Willin'
All That You Dream
Dixie Chicken
Oh Atlanta (encore)
Sofia Andrade is a DJ for The Record Hospital and The Blues Hangover on WHRB.