Long Live Montero Tour Recap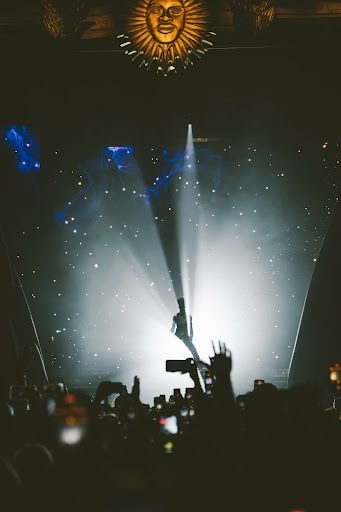 // Image courtesy of Aaron Idelson.
Sunday evening, 23-year-old Lil Nas X rocked the city of Boston on his "Long Live Montero Tour." Religious protestors outside the venue stood no chance against the gay icon and his lengthy queue of fans who were eager to air them out on Twitter. Once inside the venue, the concert was split into three acts and came with a full Playbill chronicling the breakdown and crediting all those involved in the production. The colorful pamphlet included a handwritten note as well as a Snapchat code that allowed fans to immerse themselves throughout the journey of Montero's rebirth.
Act I: Rebirth
Panini
TALES OF DOMINICA
SUN GOES DOWN
Old Town Road
Rodeo
A projection of a beautiful space goddess shone within the gold frame that encompassed the stage, announcing that we were all about to be taken on the journey of quite "a special soul." The curtains drew back to reveal Lil Nas X center stage. Surrounded by gold-clad backup dancers, he immediately commented on the energy in the room. "Y'all are f**kin' weird, this is one of my favorite cities!" A swell of pink lights served as a transition from "SUN GOES DOWN" into "Old Town Road," and fans were thrilled to sing along to the Grammy-winning hit. An interlude of "Pony" by Ginuwine alongside some cowboy-influenced gyrations seemed to send this crowd over the edge. Those standing in the pit started to similarly dance to the irresistible melodies until the conclusion of the first act.
Act II: Transformation
DEAD RIGHT NOW
DONT WANT IT
PURE/HONEY (Beyoncè interpolation)
THATS WHAT I WANT
LOST IN THE CITADEL
Lil Nas X returned to the stage accompanied by strobing blue lasers that drastically changed the tone of the show. The emotion of "DEAD RIGHT NOW" was felt by all, and the sea of light elevated attendees to an ethereal state before sharply dropping them back into a world of glamour and bounce. Now, in a fuchsia top with billowing sleeves, the internet-sensation and his crew dazzled us with Sean Bankhead's sharp choreography. The climbing energy of the show was overwhelming in the best way. As the act came to a close, another production number graced the massive monitors informing us: "You are Going to Hell." The skit consisted of the Georgia-born rapper dressed as a Southern preacher dressed in white, screaming a homophobic gospel about temptation to his congregation made up of a few celebrity cameos as well as a young Montero. After enveloping the venue with an overlapping chant that "the Devil is a lie," the screen cuts out and we are led down to a fiery underworld.
Act III: Becoming
MONTERO (Call Me By Your Name)
Down Souf Hoes
SCOOP
INDUSTRY BABY
The glittering Wizard of Nas appears one last time and lets us know that we have reached the final evolution of Montero. Lil Nas X emerges from a pod in crystal-encrusted armor and immediately moves into "MONTERO (Call Me By Your Name)." The performance is highly reminiscent of the music video and wraps up with a move out of Hell and into the butterfly-filled Eden that is Montero. The theme of acceptance offered in this paradise is highlighted when Lil Nas X paused the performance to invite fans from the pit up on stage for a little ass-shaking support. Following this display came a captivating demonstration during which each dancer was given a moment to perform a solo to their own song choice, ranging from Nicki's "MEGATRON" to Rihanna's "Pon de Replay." This compelling act was brought to a close with an extravagant rendition of "INDUSTRY BABY" that had attendees cheering for an encore before the song had finished.
The End of the Beginning
Star Walkin'
The encore performance was brought about after 3 minutes of fans chanting "Long Live Montero!" The pink, purple, and blue paper butterflies that rained down on the crowd signaled the completion of Montero's journey. Blowing kisses and waving goodbye, Lil Nas X departed, leaving all of us with a phenomenal sense of joy.
// Image courtesy of Aaron Idelson.
Lil Nas X's single "Star Walkin'" will be released this Friday, September 24th.
You can catch Lil Nas X on his world tour through the end of 2022.
// Olivia Carter '23 is a Staff Writer for The Darker Side.