With love, from your favourite Aunties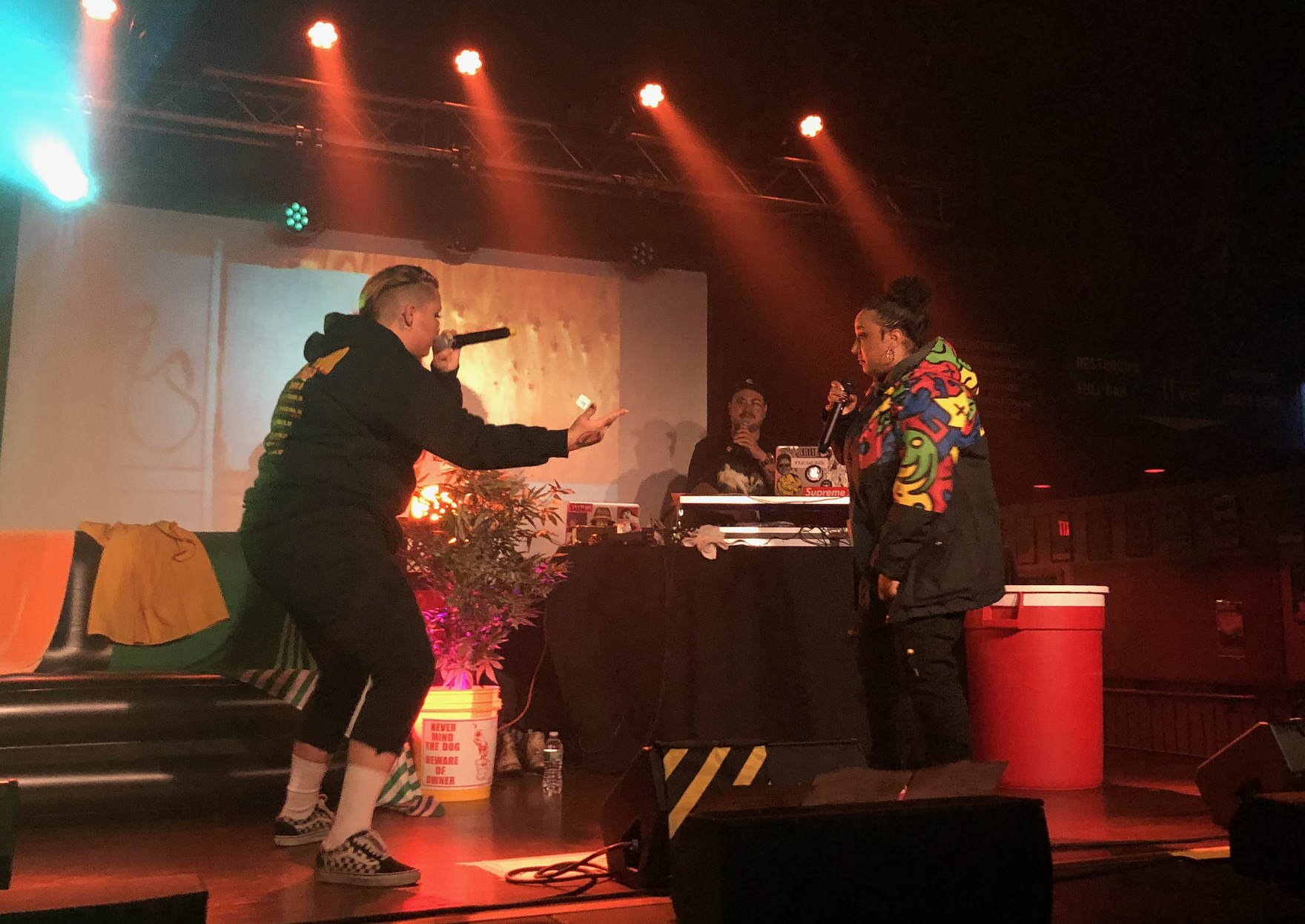 "Every black auntie has a rule, no one sets foot in the living room, it's just for looking" Gifted Gab announces as she and fellow rapper Blimes, together Blimes and Gab (B.A.G), take the stage. Auntie Gab and Auntie Blimes have invited us to their family barbeque at Brighton Music Hall, a pitstop on their East Coast Auntie Up tour, and they have made their house rules of respect and good vibes very clear.
In an interview before the show, Blimes tells me how the two of them met. "I saw Gab on facebook in a video she had done with my friend Gavlyn. I must have added Gab as a friend or Gab must have added me, and eventually, when I was rolling through Seattle for another job, I was like, yo, you want to work together? And she was like, you already know. The day we met is actually a hell of a crazy ass story. I'm from San Francisco, she's from Seattle, both very quirky towns with a lot of soul, a lot of art, but also just a lot of what the f*** moments and those moments kept happening when we were hanging out. We went all over Seattle, everybody knew who she was, I knew I was hanging out with the right girl. That night actually ended in a giant street brawl and we were both super hyped up off of it. I was drinking, she was smoking and after the fight, we got in the car to leave to go to an afterparty and a girl kicked the side of the car that we were in. I guess I wasn't having it, so I jumped out, chased her down and started fighting. She was a lot taller than I had anticipated and was holding me pretty tight by my bun. Right when I had gotten a knee or two to the face, somehow Gabby was there, tagged herself in and had my back. That was the first day we ever met. You fight with somebody, you become family with somebody."
Blimes and Gab are electric on stage, starting off with their hits "Nasty," "Un Deux Trois," "Feelin it" and "Come Correct," their first collab that skyrocketed them to fame as a duo in 2018. "The very first time we ever recorded together was Come Correct" Blimes says. "Gab was about to leave for tour so we only had two hours in the studio and kind of freestyled Come Correct, back and forth. It was a series of very organic events that led to that song's success that we couldn't have bet on. We had no idea that that was going to be the song that took either of our careers to the next level."
Blimes and Gab have been working together ever since and because they "clown constantly, it's naturally always a riot." Their calm confidence in one another that they show backstage continues to their onstage presence, where they connect with each other in an easy manner. When I ask about their creation process Gab says, "one of my strengths is being able to write anywhere and everywhere, at any time. Writing in the studio was never something I did because it's too expensive. One of Blimes' real strong suits is that she's able to lock in and write then and there in the studio, which makes the process easier, especially when we're building the beat together. You kind of see the words in your head, and once the beat is done, you put those words together."
"Gabby has an amazing voice so she carries a lot of the singing" Blimes says. "I really like to write hooks so maybe I'll come up with the hook melody, but she'll take it and interpret it and write harmonies to it. Outside of the studio, Gabby is strong at keeping connections with our network and socialising, whereas I'm more on the admin side doing things like our calendar and making sure operations is running. Luckily, we now have a bigger team which takes some of that off our hands, which is really exciting because we get to do more of the fun stuff, which is creating the music, video treatments, the TV show we're writing and the choreography for our sets."
Gab tells me that the TV show they are working on is "a scripted comedy about us and how we met. It'll have us navigating through the industry as women and about our lives both separately and how they conjoin now. We'll be writing it, acting it, scoring it." A lot of the media attention Blimes and Gab receive focuses on their identities and specifically their achievement of breaking identity boundaries in the rap world. Gab says "I think it's dumb. It diminishes what you do and who you are, why do I need that many [identity] titles when you could look at me and tell all those things? I know I'm black, female, these are obvious traits. When you put them in the forefront it gives people the space to not listen to you. If you're called a 'female rapper' people say they don't like female rap. They don't say local, black dude, rapper. Just listen and then base your opinions off of what you heard." Blimes feels "it's like saying this person's dope for a queer white girl. Can't I just be dope? I understand in an article where someone is trying to explain the adversity that you had to come through to shine, but it really isn't flattering."
After performing their collaboration songs, Blimes correctly points out that it would be a disservice to us if we didn't get to hear their individual work. Blimes plays songs off her album Castles which came out in 2019, such as the fiery "Snake Skin Boots" where she dons a pair to swagger around the stage, looking somewhat like an American revolutionary, and crouching down to the audience to look us eye to eye. She gives a tender turn for "Neon Dreams." As she passes out glow sticks with the house lights turned low, she talks about The Voice in our heads that tells us we are not good enough, and she reminds us to boo that voice. The whole audience boos and does a round of consensual hugs.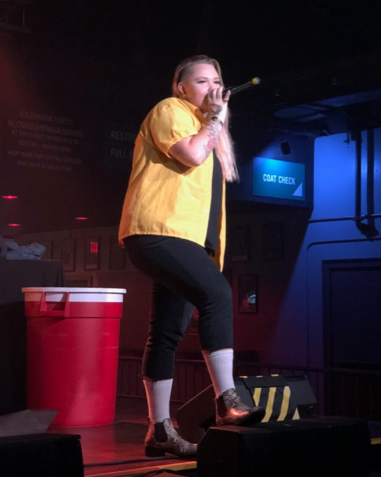 Though Blimes previously had a career in the Battle Rap scene, she tells me "it was draining, because it's not necessary. I can boss up and be tough, but I don't go there often. I like to handle things with communication. Battle rap was all about murder bars, disses to people's families and the most painful things you could think to call somebody. That's not really who I am at the core so for me it definitely got tiring to put on that persona and that's why I quit." For Blimes now, "when I'm not making music, I feel like I haven't had my medicine in a long time. I'll have a playlist that I go to when I'm having hella bad anxiety or I'm super sad or I'm at a very high point in my life. If I can be that for someone else, that is what motivates me doing it."
It's time for Gab to get up from the inflatable couch and switch up the vibe with some trap songs off of her album Cause and Effect released in 2019. She spits powerful bars and her singing is rich and strong. Her song "PSA" is an ode to weed. "I like the east coast for the food and the people but why can't I find weed? Why is your weed this expensive? Why is it so taboo? I don't think I could ever live out here."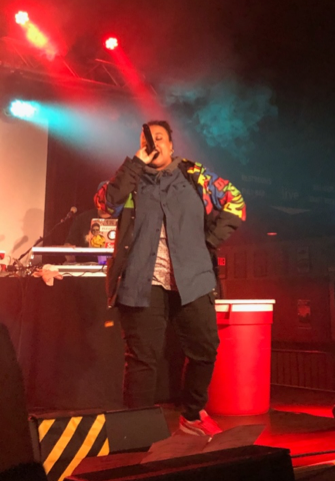 Gab is "a creative in all aspects. If I didn't rap, I would be making something else. I'm a visual artist too, I draw and paint. I like to create something from nothing. With writing, from a blank piece of paper or a note on your phone, you start with one word and then you have a whole production. The motivation of creating and not working for anybody is what drives me."
Blimes and Gab come together again to sing the incredibly sweet "I'd rather be hungover with you" before coming down to do a cipher. They've been doing ciphers at the end of every show on tour, where they "get down into the crowd, vibe with the community and share the mic with them." The audience circles up and cheers as members come forward into the middle to spit their bars.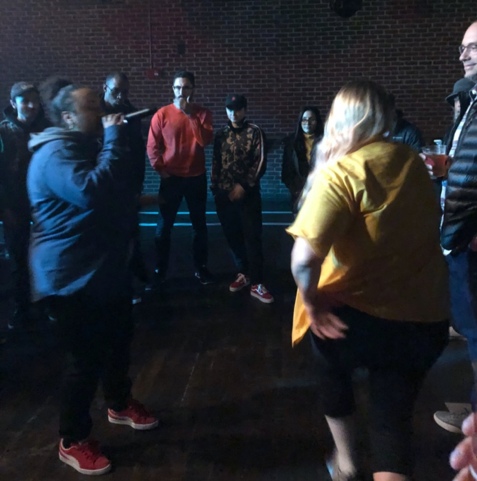 B.A.G's fans are a dedicated bunch, judging by the stories from tour. A fan in Detroit brought them a meal cooked by their grandmother with to-go plates for their whole team, people bring weed for Gab, their Philly show got cancelled so a couple hours before a fan found a closed down bar for them to play. These two Aunties have truly built a family.
//Angela Eichhorst is a DJ for Record Hospital. Quotes have been edited for conciseness and clarity