Ma WHRB's Crunchy Salad Sampler: SXSW 2019 Day Two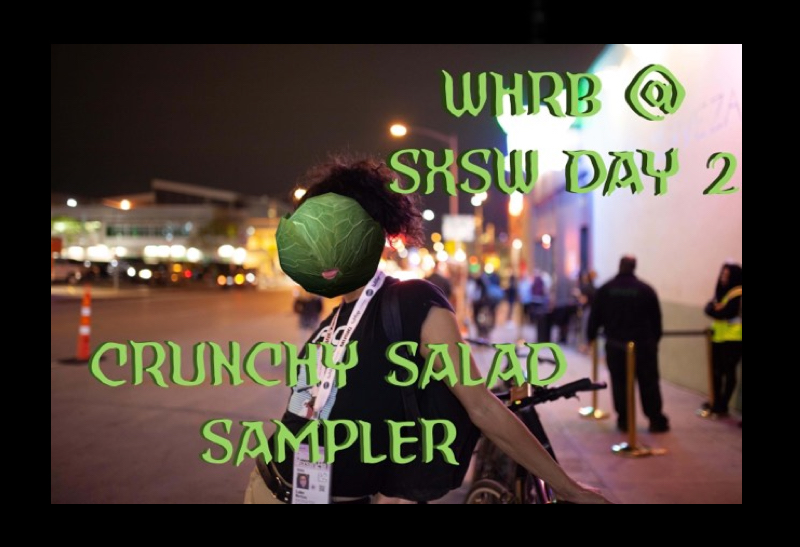 NUMB.ER
Melancholic poetry glides along thick sonic planks, easing into alignment as LA-based Numb.er. Atmospheres of gray smoke ooze over heads bobbing in a synth-laden sea. Jeff Fribourg and his lot drift through on a ship circling round the swirling center, dodging doom by a millisecond per cubic meter, gazing deep into the infinite eye of the storm.
Goodbye" class="redactor-linkify-object">http://numb-er.bandcamp.com/album/goodbye">Goodbye by Numb.er
BABII
Babii took the stage at Las Perlas on Tuesday night for an afterdark set of sculpted 808s and fantasy vocals. Her paper-light voice danced over her lean-meat production, guiding listeners to her fantastical world. Romance-laments rooted in custom-packaged plexiglassed peanut-pods, Babii's performance is sweeter than a sleepover cinema night with Princess Bride & Cookies n' Cream soup.
OTOBOKE BEAVER
Otoboke Beaver, name derived from a hotel where people book rooms to engage in long-awaited consensual yet frowned-upon sexual intercourse, bring their raunchy quadruple of unchained revelry to the unsuspecting post-headbangers of Austin, Texas. Hiking up their fruit-coloured skirts and diving into bass-undulating crowd surfs, Otoboke Beaver defy patriarchal ceilings and societal encasings with their explosive and rage-rectifying centripetal punk.
Love" class="redactor-linkify-object">http://otobokebeaver.bandcamp.com/album/love-is-sh... Is Short EP by Otoboke Beaver
KOKOKO!
The rambunctious Congolese quintet, armed with a tossed salad of percussive artifacts and electronic equipment, took the stage by storm at the Main on Tuesday night. Representing their home of Kinshasa, KOKOKO! plays with found instruments and something to say. The stage is their home and we were lucky enough to swing a visit.
Liboso" class="redactor-linkify-object">http://kokokomusic.bandcamp.com/album/liboso">Libo... by KOKOKO!
WARM HUMAN
"It's my dad, you know? I couldn't tell him 'no,'" says Warm Human re: the spacious trumpet solo amidst an otherwise dance-infested, soul-infused, parch-quenching thrill-ride of a set. She makes ya feel, she makes ya boogie, she makes ya bask in the bliss of ubiquitous unhappiness.
Ghastly" class="redactor-linkify-object">http://warmhuman.bandcamp.com/album/ghastly">Ghast... by warm human
ANNABEL ALLUM
Stepping out from amidst the Guildford greenery, Annabel, Emma, and Liam waltz into through your porch door. Dreams for the future, laughs of old friends, and last night's texts float through the air, pushed forward through clenched-teeth and bouncing off of emoting bodies.