Ma WHRB's Weekend Sweets: SXSW Days Five & Six
AWAKEBUTSTILLINBED
We Birded 25 mins to catch Luke's favorite emo songstress at the Pearl St. Coop's Saturday night showcase. Frontwoman Shannon Taylor played cuts from 2018's what people call low self-esteem is really just seeing yourself the way that other people is see you to a conglomerate of listeners. "Opener" – with its delicate, glass-breaking vocals was a particular highlight – a\ moment beyond words.
what" class="redactor-linkify-object">http://awakebutstillinbed.bandcamp.com/album/what-... people call low self-esteem is really just seeing yourself the way that other people see you by awakebutstillinbed
BBYMUTHA
The Chatanooga rapper served us up some space cowgirl realness and the girls were HUNGRY. The Undisputed Mother of Realness performed "RULES", "DIY", and some of her other hits for a crowd that came decked in Looks of their own.
PENELOPE ISLES
Blissed out introspection, conversational gratitude, comfortable recognition. Brighton-based four-piece Penelope Isles make bedroom-jam surf-pop —packaged with care, and played with incredible vigor.
Cut" class="redactor-linkify-object">http://penelopeisles.bandcamp.com/track/cut-your-h... Your Hair by Penelope Isles
LEDEF
Experimental producer, ballroom icon, and club deity Ledef took the Main II stage with the girls in tow. The Halcyon Veil affiliate dropped back-breaking edits while her collective-mate Manic Kenzo gave hands, dips, thrashes, and spins. The performance was part of the #Feelings showcase that featured more star-power electronicians like Ben Aqua, and the Range Emotion collective.
BRONCHO
A performance presentation tantamount to their latest release Bad Behavior, BRONCHO sent crazed fans into a crowd surfing pit of harmonious disarray. Bra sh and delightful, the art school three piece has rock n roll in their back pocket.
[Source: Jane Kardotzke]
Bad" class="redactor-linkify-object">http://broncho.bandcamp.com/album/bad-behavior">Ba... Behavior by BRONCHO
ARMY
[Photo credit: John Anderson]
The unquestionably coolest squadron in Austin (i.e. notorious punk band 'Army') took the porch-turned-stage of Austin's Beerland for an unabashed exposition of youthful rage. We hope these lads bring their boundless mind-blowingness to Boston sometime soon, and we welcome them with welcome arms into the depths of the Record Hospital's symbol-tagged walls of fame.
HER'S
Long-lost Liverpoolian's Her's make their way back to anticipating Austinites, gracing the opulently curtained Swan Dive stage with their lush acoustics and BFF showmanship. Special sickboy shoutout to Stephen—we hope those feverish chills have come to an end!
Dorothy" class="redactor-linkify-object">http://thatbandofhers.bandcamp.com/album/dorothy-w... / What Once Was (single) by Her's
GO FEVER
[Photo credit: Bobby Munoz]
Speaking of high-temperature sweats, Austin-based bedazzled-sunshade rockers Go Fever have got us ill-tempered with mocked-up anxiety and nightmare-ridden yet masochistically smitten with jangle-chorded romance-reminiscing.
CATBAMBOO
Amidst one of the coolest open-air house shows we've ever witnessed, Baton-Rouge-based Catbamboo stole the stage with their total-mastery funk-math rock—a blend of neo souled buttery chords, glimmer-edged waves of funky flow, and good ol' math-rock regulated insanity.
Catbamboo" class="redactor-linkify-object">http://catbamboo.bandcamp.com/album/catbamboo">Cat... by Catbamboo
CINDY CANE
Immerse yourself in a Nicolas Cage x Back to the Future mashup with a cheekbone-chilling soundtrack and you've got the full-bodied experience of NYC-based ghostriders Cindy Cane.
new" class="redactor-linkify-object">http://cindycane.bandcamp.com/album/new-york-stran... york strangers by cindy cane
VALLEY MAKER
Portland-hailing folksters Valley Maker took their hope-filling storytelling to the stages of Austin. Comprised of a live iteration of band members sure to charm even the sweetest Southerner, Austin Crane and friends transported the living room of Cheer Up Charlie's into lushly covered fields of tickling grass, twinkling dewdrops, and ambrosial rhododendron.
Rhododendron" class="redactor-linkify-object">http://valleymaker.bandcamp.com/album/rhododendron... by Valley Maker
MACHÍNA
Machína captivated a crowd of superstans at Cheer Up Charlie's outdoor stage. Her virtuosic live performance brought together angelic-soul-vocals, light-years-ahead-of-the-curve experimental techno beats, and an awe-inspiring presentness on stage that bolsters her place at the forefront of tastemakers' microscopes.
A DEER A HORSE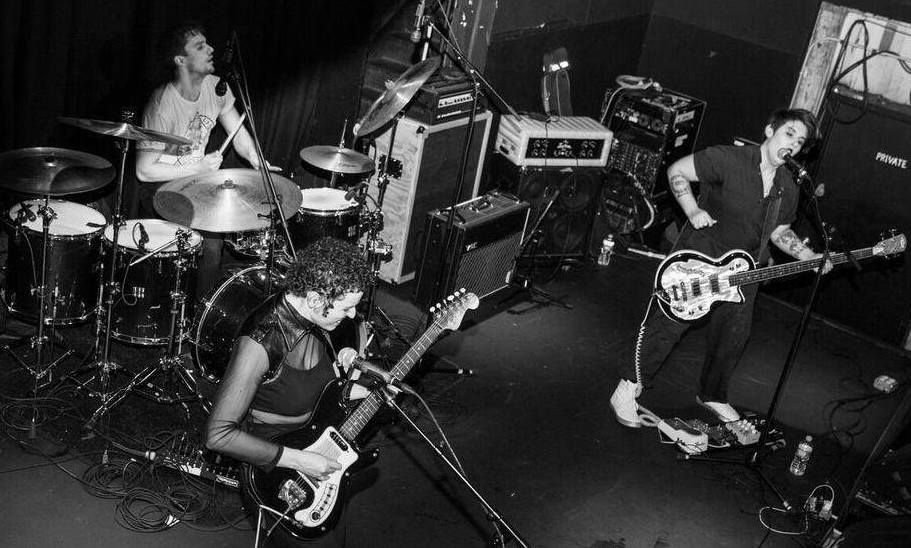 Hardcore homies A Deer A Horse brought the leather, the grit, and the glory to official stages of this year's SXSW. With commanding vocals from both guitarist Rebecca Satellite & bassist Angela Phillips along with eyebrow-raising percussive perfection from Dylan Teggart, A Deer A Horse has earned their charcoal-stained stripes and have let it fuel them further into the glistening eye of hard-hitting exaltation.
Double" class="redactor-linkify-object">http://adeerahorse.bandcamp.com/album/double-wide"... Wide by A Deer A Horse
---
For additional SXSW 2019 Coverage from WHRB, visit the Record Hospital, the Darker Side, and the News Department Archives.