The many personas of JiJi, guitarist of the 21st century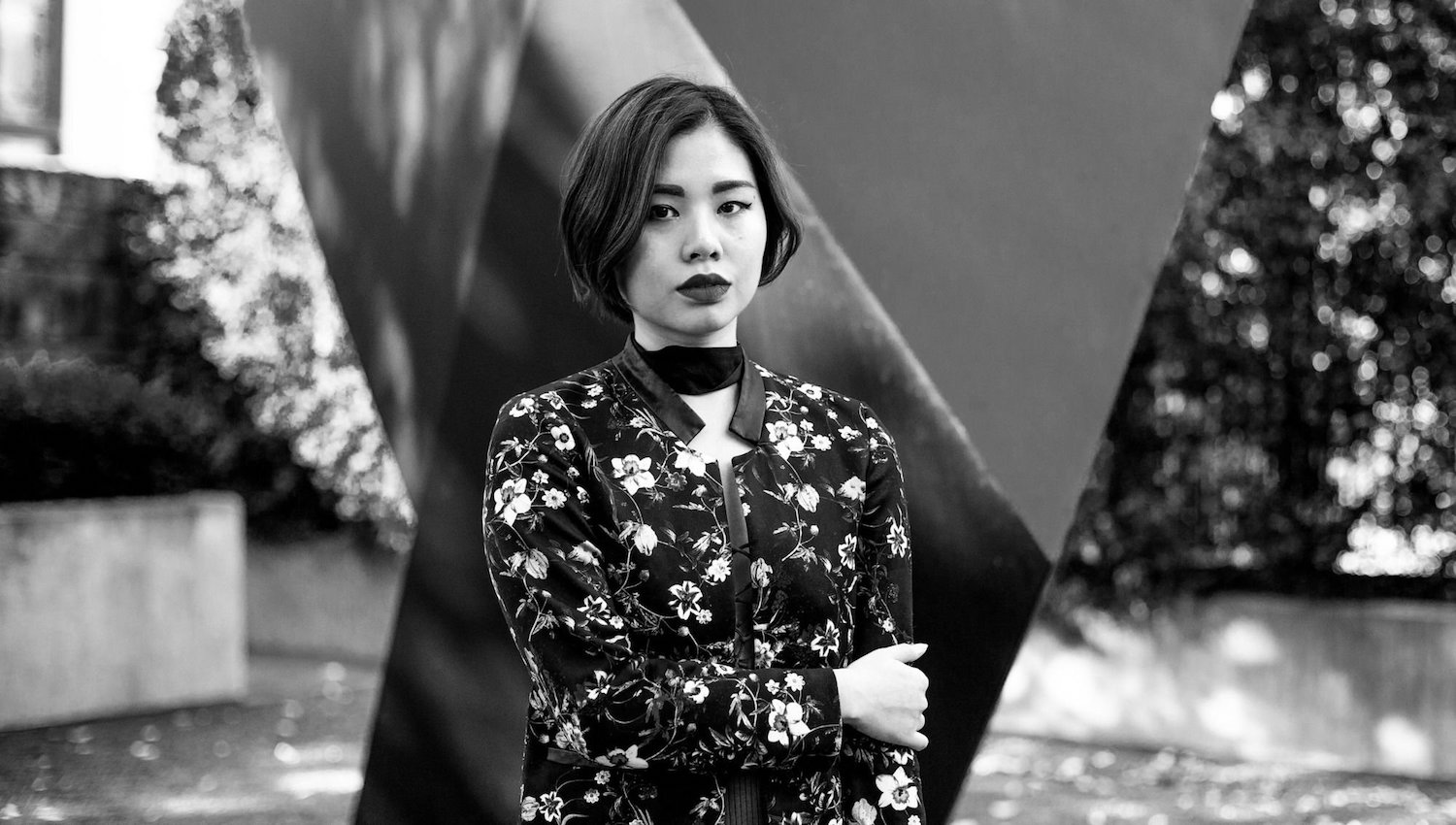 Update Required To play the media you will need to either update your browser to a recent version or update your Flash plugin.
The many personas of JiJi, the "21st century musician"
The ethereal, pulsating layers of sound from her electric guitar wash over you, her classically-trained technique flawless to the point of imperception. This piece, Dimmar Öldur Rísa (Dim waves rise), by Gulli Bjornsson, tells the story of one who capsizes into the ocean and is consumed by the ocean waves at dark. Press play to listen to JiJi as you read about her musical journey or listen to her full interview on 95.3 FM or whrb.org this Sunday, October 21, at 3pm (full interview will be posted here afterwards).
You were trained as a classical guitarist in South Korea. When did you first begin exploring non-classical musical styles?
This is a really funny story. I started playing the guitar when I was 9. I was first introduced to music because of my parents, and my parents used to buy me CDs of rock music and blues – Eric Clapton, AC/DC, Deep Purple. I actually wanted to play electric guitar. They took me to a music shop and I wanted to get an electric guitar, but they got me a classical one instead. They told me, why don't you practice for a year, and then we'll buy you an electric guitar! What's funny is they never bought me an electric guitar, I bought my own, many many years later. So I've always had an interest in non-classical music, but I didn't really get around to it until actually my second year of college [conservatory], when I began wanting to explore outside of my schoolwork.
And when did you begin composing and improvising? Around the same time, or later in your career?
Composing and improvising, I just kind of dabbled all throughout my guitar studies, but I became really serious when I was trying to compose when I was 19, when I began exploring non-classical music and also began songwriting. That's when I became more committed to improvising…I just tried to work at it every day, little by little writing pieces. I guess I worked hard for it. It was not easy at first – I was kind of like, "This idea is stupid, this idea is bad, I hate it."
What will you be performing in Highfield Hall, Cape Cod, this October 28th?
I like playing pieces that I love, and it doesn't really matter what century that's from or what genre that's from. So I've been touring with a set of pieces, I have pieces from the baroque period all the way to the 21st century with a piece that was written for me by an Icelandic composer, and a piece by Steve Reich which has a 14- guitar backing track called Electric Counterpoint with cool dance music influences – Steve Reich was really interested by African drumming, so you can hear some really cool beats in this music. And this Icelandic composer, he was influenced by his Icelandic upbringing, so this music kind of has this Sigur Rós [Icelandic avant-rock band] vibe to it, it's for electric guitar and this software which takes certain sounds and triggers another effect. There's a ton of things happening when I'm playing the electric, [the app] processes the sound through the laptop, through the software, in real-tie. It's kind of crazy.
Is it difficult switching from classical guitar to electric guitar?
It's definitely an adjustment. It's a different body, it's a different neck, it's a different instrument. I don't play like a classical guitarist on electric. I just have a different energy and persona. It's kind of like acting in a performance, it's theatrical. It's fun!
I've also heard that you enjoy DJing. What is that like? Has DJing contributed at all to your musicianship, or vice versa?
It's fun! It's again a different persona. When I think of JiJi as an artist, I think of someone who's a 21st century musician. I listen to a lot of different music, and I don't see any division, music is music. I don't know if it really connects with my guitar paying but it does fulfill what my interests are. It removes any borders in my music. I feel like a well-rounded musician. And I love DJing.
You can buy tickets to hear JiJi at Highfield Hall on October 28th here. Allison Pao is a radio host for WHRB Classical. This semester (Fall 2018), you can hear her on-air on Sundays 3-6pm.