Maria Schneider Brings her Living, Breathing "Organism" of an Ensemble to Sanders Theatre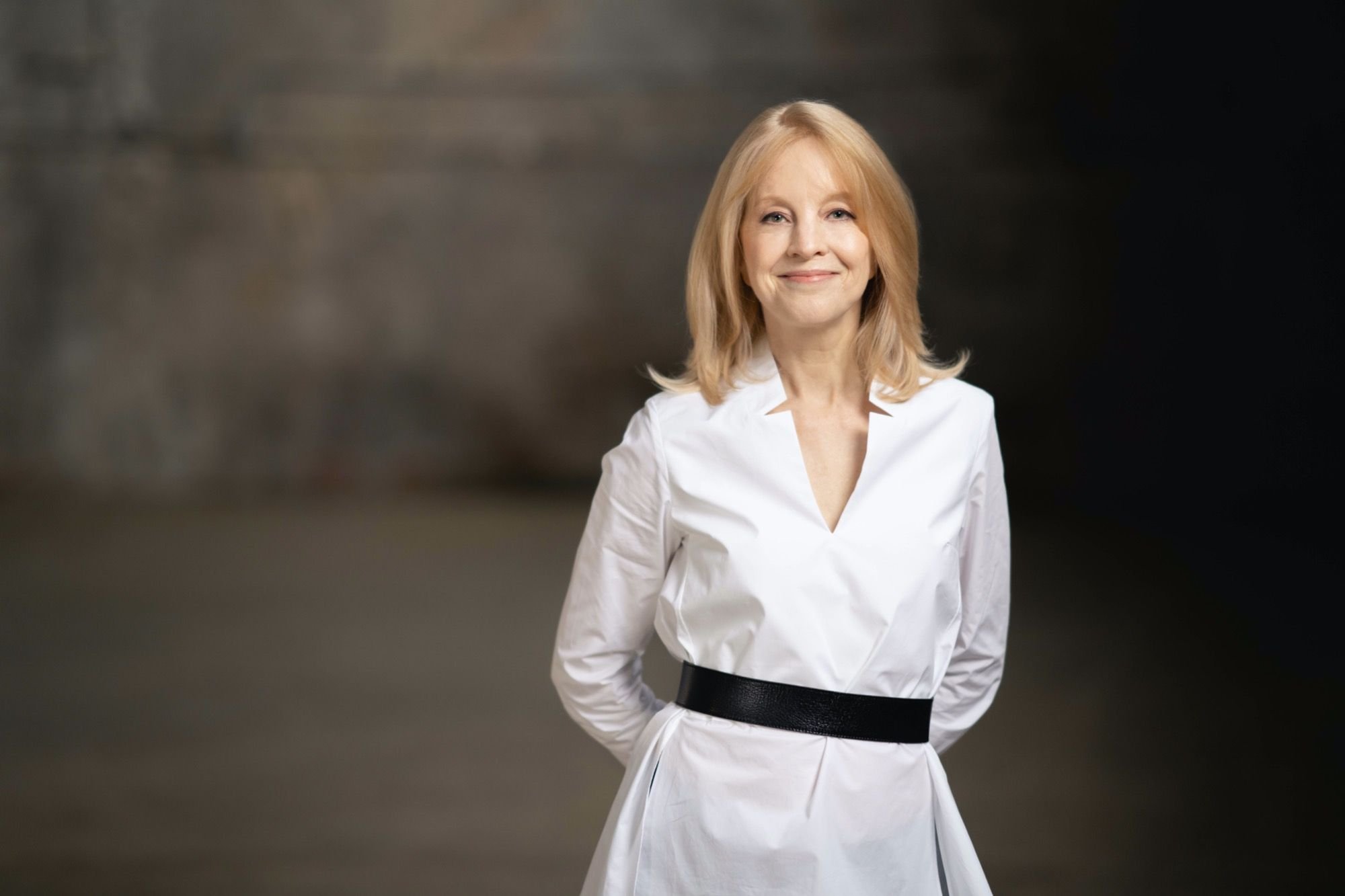 Photo courtesy of Briene Lermitte.
This week, WHRB spoke with Maria Schneider, an incredibly accomplished and insightful jazz composer and orchestra leader, in anticipation of her exciting return to Boston in a performance of Data Lords on Friday, October 7th, in Sanders Theatre for the Celebrity Series of Boston. She is a 2021 Pulitzer Prize Finalist in Music for Data Lords, described in the Pulitzer press release as "an enveloping musical landscape of light and shadow, rendered by the many personalities of a large jazz ensemble, reflecting the promise of a digital paradise contrasted by a concentration of power and the loss of privacy." Schneider's other awards include 14 GRAMMY-nominations, 7 GRAMMY Awards, the nation's highest honor in jazz, "NEA Jazz Master" (2019), and election into the 2020 American Academy of Arts and Sciences. Schneider is also a prominent voice for musicians' rights, testifying before Congress and speaking to the media about digital rights, music piracy, and the challenges of the digital economy for musicians and the public at large.
Presented by the Celebrity Series of Boston, Schneider brings her celebrated and prize-winning ensemble to Sanders Theatre for the Boston-area premiere of Data Lords, commissioned by the Library of Congress. The performance will be Friday, October 7th, at 8:00 pm. Tickets are on sale now here!
The transcript below has been edited for conciseness and clarity.
WHRB: First off, I'd like to congratulate you on becoming a finalist in the 2021 Pulitzer Prize for Music with Data Lords. That is a huge accomplishment.
Maria: Especially in the realm of jazz, to receive it for an album, was amazing.
WHRB: You had an incredible interview with the National Endowment for the Arts, for which you were named the 2019 Jazz Master, where you shared a bit of your backstory in music. Could you tell us about how you got into music?
Maria: I'm from a very small town in Southwest Minnesota, from a place where ordinarily you wouldn't encounter a teacher like I had. Her name was Mrs. Butler. She lost her husband and son from cancer within a month of each other, and she lived in Chicago. She was a very good stride jazz and classical pianist. She was so charismatic. The spark of life just explodes through her performance.
When I was about to turn six years old, my parents had a party, and she had just moved to my town with her daughter. I heard her play, and I just wanted to be like her. I wanted to be doing something where you could just see the joy of music making and what it did to everyone in the room. When I started lessons with her, I didn't just learn how to play the notes. I learned how to pull the emotional strings of the music, how the harmony is moving, how to analyze how the key changes were happening. It's extraordinary to be able to do that with a kid. I mean, for the very first lesson, she played a major triad and a minor triad. For the major triad, she sang "bright the day" and for the minor, "dark the night," to show the minor was darker. It was amazing.
WHRB: Setting that foundation is critical. How did you get into jazz and composition, then, from there?
Maria: Mrs. Butler's jazz was very old style. Windom didn't have record stores (they sold records in the clothing store), so I was not exposed to much in my childhood beyond the old Jazz albums. I didn't learn much about the development of music until I went to college at the University of Minnesota. Through public radio, then, I heard amazing music from the last two decades. I got so excited.
I started studying classical composition and theory, and my music became so influenced by jazz that my teacher suggested I watch a big band rehearse. I did, and I haven't stopped writing for the big band since — it's been over forty years now.
WHRB: It seems you've really found your calling!
Maria: What I love about jazz is that it is a listening art. More and more I've come to appreciate that the people in my band don't just come and play to improvise and have someone backing them up, but they are really communicating with each other. Each night is totally different, and though they're playing in the context of my music, they really make it different every time. It's very democratic and beautiful.
Nobody comes with an agenda. Our country, unfortunately politically right now, has everyone come with an agenda. Nobody can listen to an opinion that does not agree with their own, and nothing happens. But in the world of jazz, here… here is this big great world of vulnerability and listening.
Then, we turn to the big band, where I get an orchestra. I can compose with all these colors, thick and light harmonies, and I can have everything from one or two people playing to a whole powerhouse ensemble. It's so much fun to use a big palette and maintain the flexibility for my musicians, so that they don't feel penned in.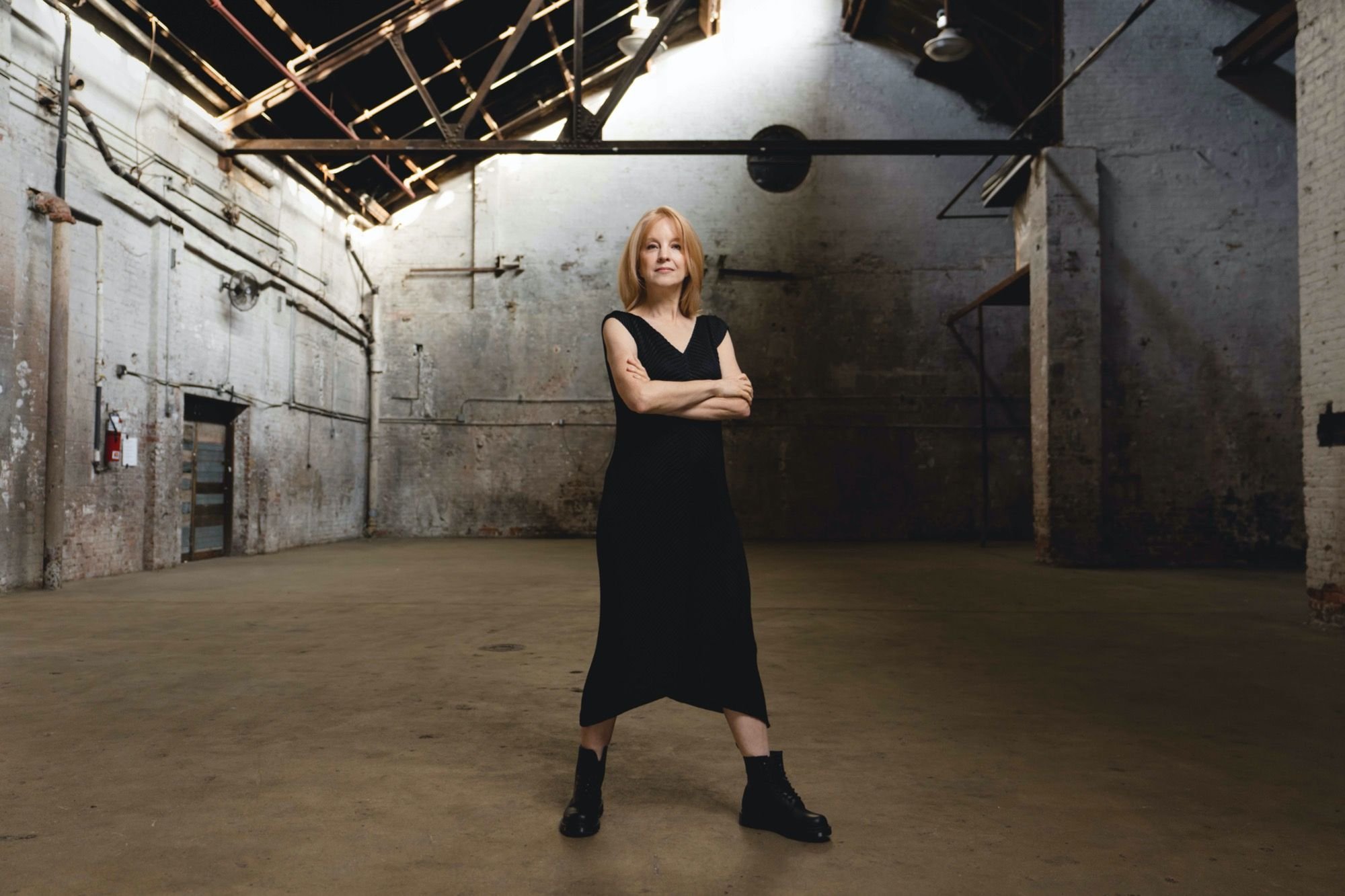 Photo courtesy of Briene Lermitte.
WHRB: Following up on your work with the big band, how do you make it just as intimate and welcoming a setting as your smaller ensemble?
Maria: That's the hardest part in the writing. How do you leave space? I want my music to have a sense of inevitability, but within that sense I want it to be able to be different every night. Part of it is creating something in the music, a focus of what happens next. These musicians are all so mature already in their conceptual understanding of the music, really. They know where they need to go, and they can stretch and see different visions for how to get there, which is just so fun.
Indeed, many of us have been playing together since the late 80's, and we really solidified as a group by 1992. Now, we're like an organism because we've played together for so long. We have such a great connection — we're a bit like the murmurations of starlings. Have you ever seen these formations move? When you see them, you think — wow, how can that not be chaos? It's just like that. Everybody moves together, and it's a beauty.
That being said, it is challenging to recognize that we are all getting older. I've unfortunately already lost two players. I've spent my whole career developing this beautiful ensemble that simply can't be replicated with another group, and if I lose a certain number of people, what will happen? That is devastating to me.
WHRB: It sounds like you really are one, taking and giving from one another in such a deeply connected relationship.
Maria: Yes. If people come to our concert, they will understand that what I'm talking about here is truly special. I don't even take credit for it, really. It's developed as we worked together, and I've had the opportunity to have these musicians really shape my music. I don't dictate to them. They shape me as a composer because when they bring their improvisations to my music, I come to the next piece I'm working on with a fresh new perspective on what I can do. It's beautiful that way.
WHRB: On that note, how have you developed your voice in composing? Have you found it shifts and changes with your ensemble, as you describe?
Maria: It's definitely changed, but I'm not conscious of it as it's happening so much. I usually recognize it after the fact, when I see just how much things in life have impacted me and what has changed in my music as a result. For example, I went to Brazil for the first time, and afterwards, I started weaving more joy and beauty into my music because I heard how powerful that is in Brazilian music. It really gave me the permission to not have to be that brooding, heavy, tense jazz musician, but be joyous and beautiful instead.
As for developing my voice, I had an amazing teacher, Bob Brookmeyer. He always asked me why I was writing my music a certain way. I started to see, then, that there are so many choices you can make. As you slowly start to figure out what you are capable of doing, your voice starts to emerge without you being conscious of what it really is.
The other biggest impact on my music is life, too. My music has always been attached to a dynamic of whatever I feel in life. The music might embody this 'thing' that I might otherwise have a hard time describing in words. This essence — maybe something I felt in childhood or something now.
There's a wonderful book called The Art Spirit, by Robert Henri, and it is my favorite book. He talks about art as the trace of the moment, the encounter that the artist has with themselves. When I make music, I want to get to that moment. That's the hardest part of writing, getting to that place where time expands. It's inexplicable and ineffable.
WHRB: Like the zone —
Maria: Exactly! Magic happens when we're in the zone. Then, what's important is you stay true to that moment and put it into words or music.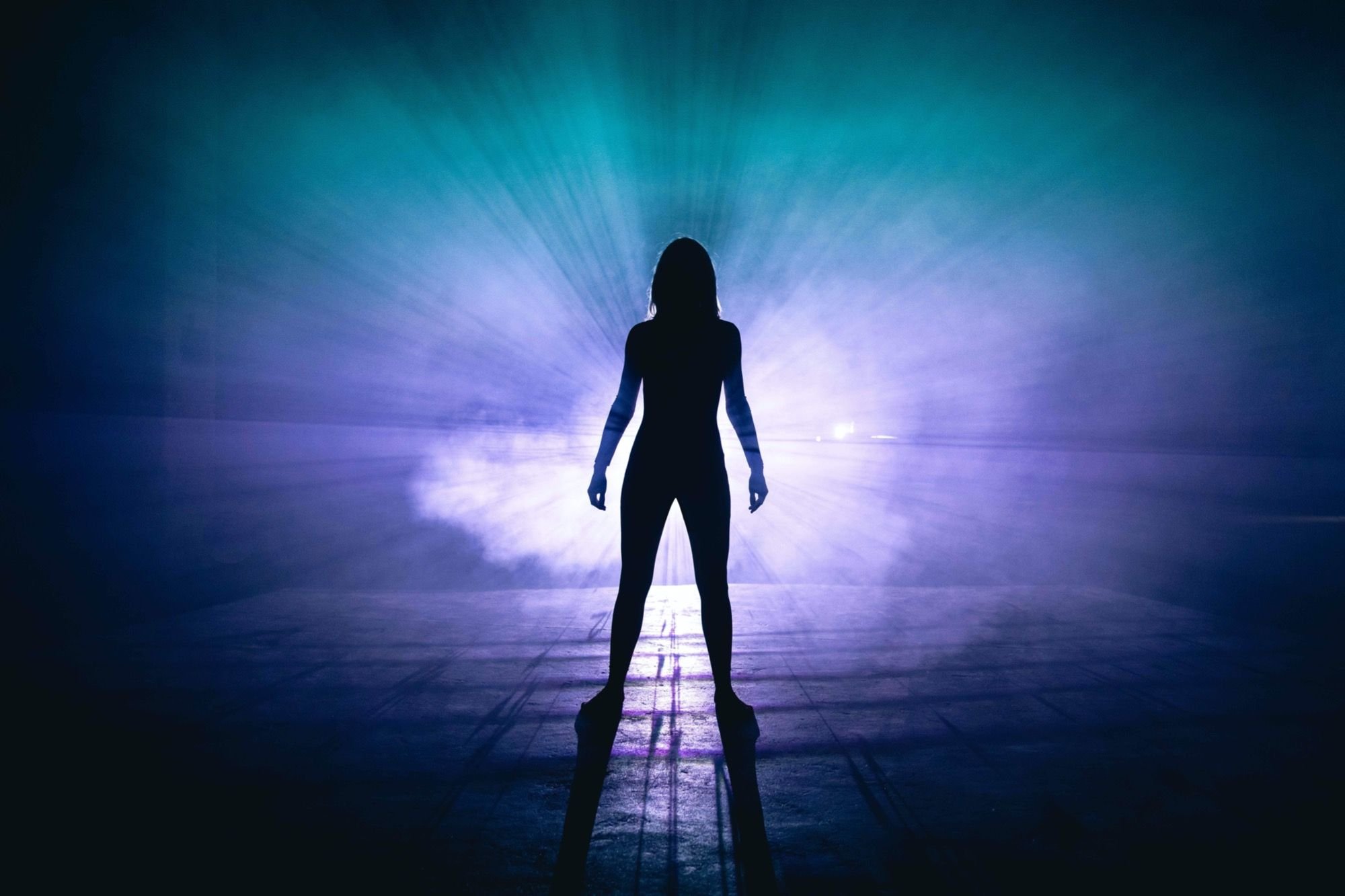 Photo courtesy of Briene Lermitte.
WHRB: Turning to your other passion, advocacy, could you speak a bit about your work on fighting data piracy, streaming, and big data? The struggle you face between the natural and man-made worlds?
Maria: I believe there's this great division between a world we are being sucked into, intoxicated by, and addicted to. It takes us out of ourselves and puts us into a space where companies want us to be so they can scrape our data and manipulate our thoughts in commerce, politics, or anything. Contrast this with nature or art, where you connect to your own sovereign place — that zone — and have your own ideas and imagination that happens in your own right, that happens in silence, that happens when you interact with people.
I have just been so frustrated with what happened in the music industry starting about fifteen years ago.
Companies started taking advantage of musicians and using us to attract people, to make people addicted and to gather data on users. They've used us as bait. Now, every single person is being used, not just musicians, and we're not conscious of it. We think we know so much because the Internet can tell us everything, but the problem is we don't even know ourselves, our minds anymore. People don't communicate, don't listen to each other! Everything I've talked about with music — the vulnerability on stage, that space — has disappeared in this world. Also during this time, I started working with David Bowie for a project. He wanted to take a really dark turn on a song — meanwhile, I had just returned from Brazil and was focused on lighter songs — so he brought out my dark side again. These two things came together, and the result was Data Lords. I had this evil, dark world with other pieces inspired by gardens or pottery or poems.
When I looked at these two types of pieces I had written of opposite worlds, I realized they don't go together. But that's the point! The music was showing me my life — there are these two separate worlds. Ultimately, art reveals something about ourselves that we don't even know when we're going through it.
WHRB: How do you now balance those two worlds in your own life, especially as society ties us to the digital but you yearn for the natural?
Maria: It's definitely been difficult. This last year especially has been crazy busy with rescheduled performances after COVID had canceled many of them, and I've been feeling that I really need to spend more time in the natural world. I actually just worked in Iceland, and my husband and I took a few days at the end just driving on our own, hiking and exploring. It was mind blowing — I cried a few times because I realized I needed more of this in my life.
So much of my life is just about chasing the next piece, the next performance, but as I've gotten older, I've realized this is my life. I need to steer my ship and make time for myself. As an artist, if you keep farming the field again and again year after year without letting the soil and the compost really rebuild, you have nothing to say. This year, I plan on taking a little bit more time in my life.
WHRB: That's incredible that you are coming together to play here in Sanders, then, as you are all so busy! What are you most excited about for the upcoming concert?
Maria: Yes, it's like the stars aligning to get all my musicians in one place! I always love playing in Boston, because so many musicians and people that have supported my music live there. The Celebrity Series is such a great series, too, and it's very much an honor to be a part of it and play in Sanders. I've never been there, but I've heard it's a wonderful theatre. Every time, really, that I have a chance to be with these musicians on stage making music… it is just an unparalleled joy. If people come to hear the band, they'll see that the band just enjoys each other so much. Every time is unique and special.
// Felicia Ho '23 is a producer for the Classical Music Department and the Director of Online Content for Classical Music.