Mashrou' Leila at the Sinclair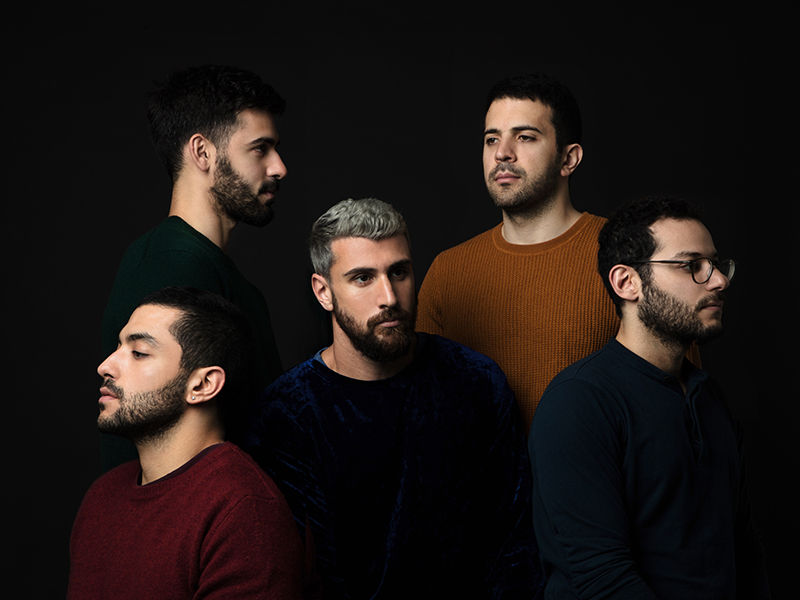 It's 8:00 PM on a Wednesday night, but the crowd outside of the Sinclair is buzzing. Cigarette smoke fills the air and Arabic words fill the space. People kiss each others' cheeks with they reunite, as if this isn't Cambridge, but instead maybe a bar in the Middle East.
And the nightlife in Beirut is what Mashrou' Leila sings about. Their name translates to "The Night Project." Their latest album, Ibn el Leil ("Son of the Night"), is thirteen tracks about the life, love, and politics associated with living, partying, and sometimes just surviving in a place where going to a nightclub can be very political.
We reach out to Firas Abou Fakher, Mashrou' Leila's keyboardist and guitarist, to talk about the songwriting process, coming back to Cambridge for their Wednesday, September 12th show at the Sinclair, and the songs they're listening to at the moment.
You've been coming back to Boston; you were here in Cambridge, at the Sinclair, around the same time last year. Why Boston, and what brings you back here? How does playing a show in the US compare to playing a show in the Middle East/North Africa regions?
Cambridge is one of the centers of our tours here in the US. Apart from the concentration of thought and education and the large amount of international and foreign students, we have strong connections to the history of architects and artists who left significant footprints on the city.
Playing a show anywhere is different every time, I would even say that each show in Boston has been different. Playing shows to non-Arabic speaking audiences, in a non-Arab country definitely has strong connotations, especially in a time where there is rampant misrepresentation and misinformation, and so in a sense there is definitely a particular dynamic when it comes to playing shows in the US.
Is there a specific way that you would like others to perceive/interpret your music?
I wouldn't say that there is a way that we intend people to interpret things. I think that songs that trigger curiosity and get people to invest their time in listening and in deciphering them are much more powerful than songs that shout their messages down your ear. And songs sometimes take a life of their own, and take on meanings and messages never intended for them at inception.
Do you think that your popularity has affected similar bands, and if so, how?
It's always nice to hear from younger musicians and artists that we showed them a possibility of sustaining themselves through their art. We didn't set out with expectations or ambitions to be honest, and we just kept facing the challenges as they came to us, and there were a lot of challenges. We were emerging at a time of extreme infrastructural void for cultural and artistic projects, and our support system was like-minded people with similar intentions. So, in a large part, the biggest compliment is that we unknowingly gave strength and determination to younger artists.
How do you write your music; has the way you write your music evolved over time?
The writing method is complicated and organic, and it changes regularly and regresses as much as it progresses, so it is hard to pinpoint a particular way. For me personally, a lot of the early ideas come from one of two ways; often it's listening to something that I don't understand or that seems like something I wouldn't have thought of (usually in its simplicity) and trying to learn that and being inspired to use similar approaches. Or it's sitting around on my piano in the mornings or before bed, and trying to get a feeling out. But it changes, and recently I've been more attracted to writing things quicker, on a laptop, with a limited tool set, which means ideas have to be stronger and more direct to translate, I guess.
What are you listening to right now? Any music recommendations?
Currently listening to the latest Kanye West productions, the new Jungle record, Khalid, the new Blood Orange, and a regular does of Classical, and recently, Rai and Gnawa from North Africa.
---
Alicia Chen is a DJ for the Record Hospital. Listen to her show on Saturday mornings, 1-2am.