Maurizio Pollini at Symphony Hall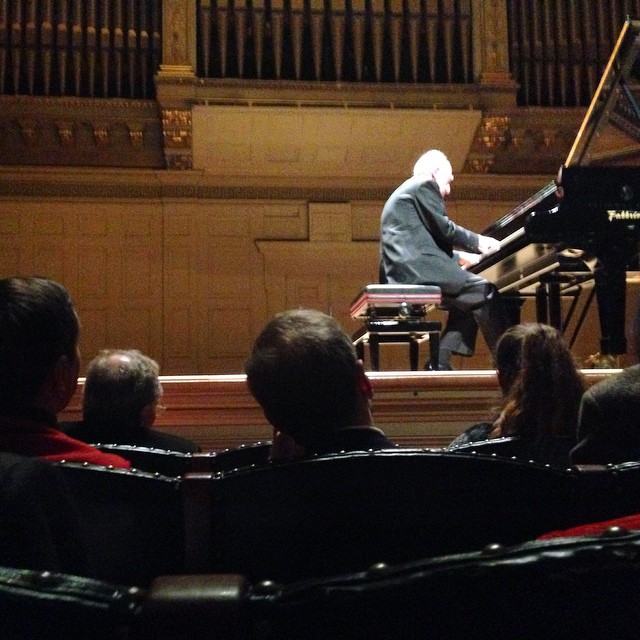 Layla Siraj '16.
Maurizio Pollini is no stranger to the concert halls of Boston; he made his debut in Boston's Celebrity Series in 1980 and performed here most recently in 2010.
Pollini opened his concert with Schumann's Arabesque in C, followed by Kreisleriana from the same composer. While his performance was far from technically immaculate, there was a deep soulfulness, a feeling of struggle that really represented the personality of Schumann, that Pollini brought to the music that was missing from his technically brilliant recordings of the same pieces merely a decade ago. Schumann had two personalities: the wild, stormy extrovert, whom he named Florestan; and the soft, dreamy side, whom he named Eusebius. Schumann's pieces often convey the struggle between the two, and Pollini's performance truly was able to convey the pain and difficulty Schumann was grappling with in his music. As he played the last notes of a soft, dreamy passage, Pollini sighed, knowing that, for Schumann, this brief moment of beauty would soon be interrupted by manic moods and stormy passages. The brilliance of feeling behind the piece created true magic.
The second half of the concert consisted solely of Chopin, opening with his Sonata No. 2 in b-flat, Op. 35 (also known as the "Funeral March" Sonata), followed by the Berceuse in D-flat, Op. 57 and ending with Polonaise No. 6 in A flat, Op. 53 (Héroique). Polini is known for his virtuosic performances of Chopin's music, and he certainly did not disappoint. Every single note demonstrated the large scale of architecture and line for which Chopin is so well known and for which Pollini is uniquely and perfectly known for evoking in his music. Rather than overdramaticizing the piece's title movement, Pollini let the funeral march speak for itself, ensnaring the audience with its tragic, floating trios and soaring melody. The brief berceuse, which is traditionally a child's lullaby, was instead transformed to a surreal, fanciful landscape with gorgeous running lines and rubatos everywhere; a departure from the traditional interpretation, but a lovely one to be sure. Finally, Pollini rounded out the program with a fantastic, proud, and truly heroic Polonaise, bringing the crowd to its feet before the piece even finished. He came out for two encores, playing first a Chopin Nocturne and then a Scherzo, both met by wild applause. 
Layla Siraj '16 is a Classical DJ. Join her for her feature, "Composers of Boston," Monday evenings 6-7pm.