Maycee Wieczorek '24 on the Magical Music of BachSoc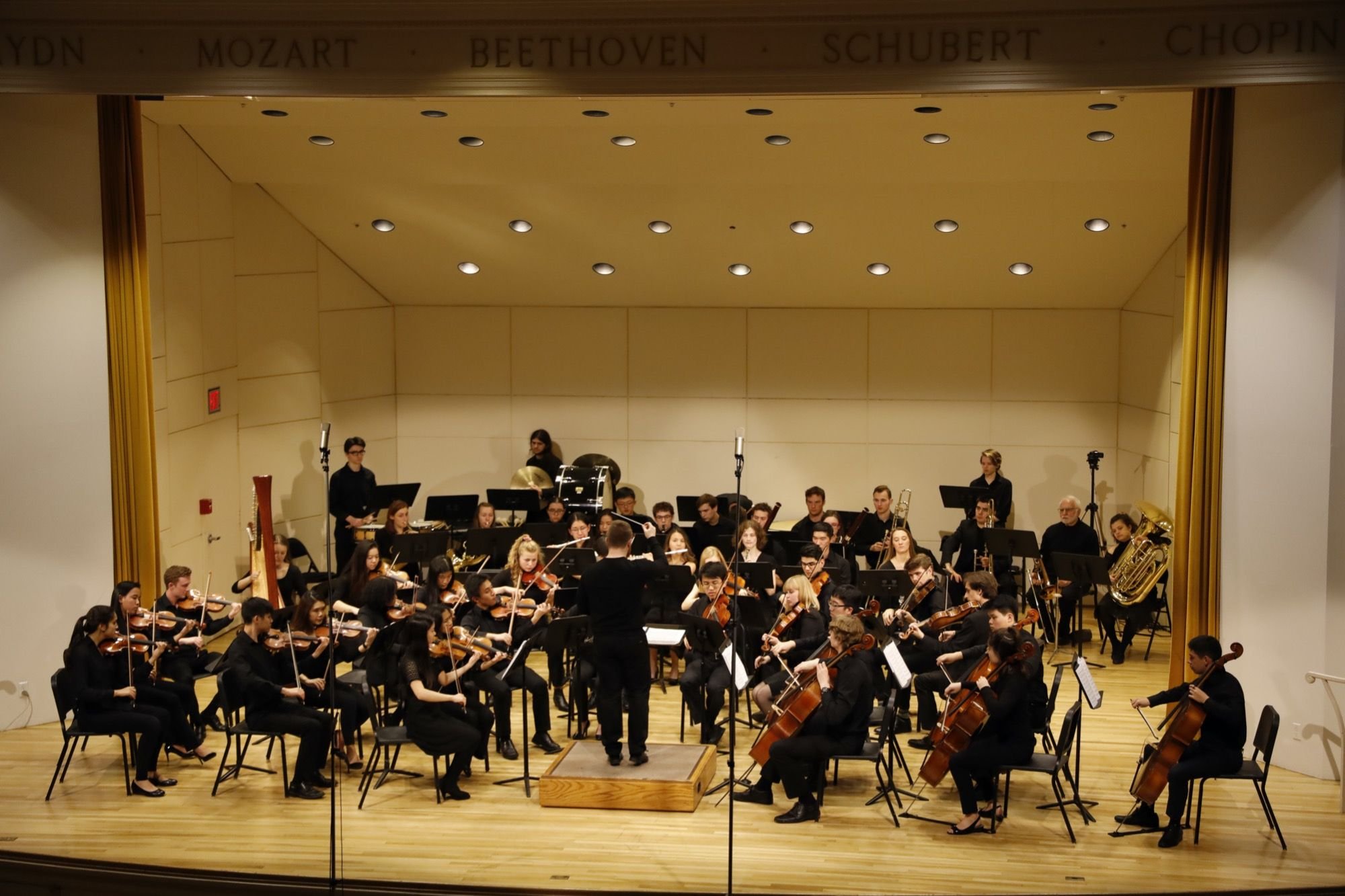 Photo courtesy of Jacqie Ho '20.
This year, we will be featuring incredible musical student groups on campus producing amazing music for the Harvard community and beyond. We'll be speaking with directors, musicians, and more in these interviews to learn more about how they got involved with classical music, how they've grown with the student organization, and what they're excited for in the year ahead.
Maycee Weiczorek '24 is the External Relations Director of the Harvard Bach Society Orchestra and a violist in the orchestra. She has been an active member of the orchestra and staff since her first year, and she is excited for the season ahead.
The Harvard Bach Society Orchestra is Harvard's largest student-run orchestra staffed, managed, and conducted by undergraduates. It features free concerts and diverse programming to grow a welcoming and supportive classical music community on campus and beyond.
The transcript below has been edited for conciseness and clarity.
WHRB: How did you first get involved with classical music and orchestra?
Maycee: I started playing classical piano when I was about four. Neither of my parents played instruments, and both regretted this, so my older sister and I started playing when we were pretty young. I had the same piano teacher nearly my whole life — she immigrated here from Russia, and though she is strict, she is incredibly passionate about music and really instilled that in me.
When I was in fourth grade, I started getting involved with the orchestra. Funny story — the director of the orchestra at my elementary school was known to just "tell" students what instrument "fit" them. He told my older sister that she was a cellist, and that I was a violist. (As I got older, I realized it might have been more based on practical reasons that they needed more violists.) I continued playing both instruments throughout high school, doing music festivals in the summertime and orchestra all year long, I loved it.
WHRB: When did you join BachSoc at Harvard?
Maycee: When I got to Harvard, I auditioned for HRO. When I didn't get in, I suddenly felt that there was no longer so much pressure associated with the viola, somehow. Then, I auditioned for Bach Soc, and got in. All throughout college, BachSoc has been a great break for me in all the school work because it is just a space to make good music together.
WHRB: Between viola and piano, do you have a favorite?
Maycee: Initially, and probably because I started with it, the piano was my favorite. But as I got older, I started to prefer the viola bit more, because I just love the feeling of playing with other people so much. When you're playing piano, you're all on your own. But with others, you have this great moment when you're about to come in and you have this whole section with you, you make eye contact with someone across the orchestra… it is just so special to me, and it really made me love the viola.
WHRB: On that note, how has your love for music changed throughout the years?
Maycee: When I was younger, I didn't understand much of the story behind the music. There were notes on the page, and I would just play them. But as I got older, I realized (and especially the BachSoc conductors would say this) that there was so much more to a piece of music — we would talk about what the composer meant, what his life was like when he was writing this piece, and I was really able to establish this emotional connection to the music. When I was younger, it was all about the technique, and now it's all about the feeling I put into it.
WHRB: Moving to your involvement in BachSoc, how has your involvement with BachSoc shifted over time?
Maycee: I started freshman fall, and at the time, everything was quite overwhelming. But as I was deciding which groups I really wanted to be in for the future, I knew Bach Soc had to be one of them. I decided to get involved with the staff then. BachSoc is entirely run by students — we have our own conductors, management, and staff, and you can be involved as early as your first semester or as a senior. When I first became involved, I was working in social media and posting on our socials about events. Then, COVID hit and there were fewer events to post about, but our management team did a great job keeping up the community aspect of BachSoc. We had little orchestral events where we would send in our parts to make up a whole piece, and all through my gap year, we were still connected.
When we returned to campus, I was still working in publicity and designing the poster and working on social media. Last spring, I was elected as the External Relations manager, and now I'm overseeing lots of new staff members and passing on the torch.
WHRB: It can be challenging to encourage younger audiences to come to classical music concerts — how have you approached this?
Maycee: It's always been a challenge, especially with COVID. Typically, older audiences are interested in classical music, so it was hard during COVID when we couldn't open up our doors to the wider Cambridge community. Something that we have done recently, however, has been stressing that BachSoc does not charge for admission. Tickets are free and accessible for all!
Also, I'm encouraging orchestra members to share on Instagram and get their friends to come, because it truly is that personal connection that is always overlooked — but is so powerful.
WHRB: In your time at BachSoc, how has it changed and evolved?
Maycee: We struggled a lot coming back from COVID, because when we were in person, we had such a strong community together. Then, we graduated almost two classes of people at the time, so the numbers definitely dwindled. Then, last year we were trying to figure out how to come back and boost our numbers — and now I'm excited to share that we have a really big freshman class! We are back to feeling like a big group together — we've been able to produce a great sound and it definitely 'feels' like it did when I was a freshman.
WHRB: What are you most excited about for BachSoc this year?
Maycee: It's a BachSoc tradition to open the season with a Beethoven piece. We'll be playing his Symphony No.2 for the October 14 concert, so I'm very excited for that! Besides the music I'm excited to see which of our musicians join staff this year. What makes BachSoc so special is that we are entirely student-run — from selecting music to publicizing the concert, we do it all ourselves. Because of that, the connection and the music we're making is just all the more enjoyable and passionate.
WHRB: What's your favorite piece of classical music and favorite composer?
Maycee: I played it in my high school orchestra, and also last year with BachSoc — it's Mendelssohn's Hebrides Overture, and it's simply gorgeous. My favorite composer would have to be Bartók — he's doing justice to all the violists out there!
// Felicia Ho '23 is a producer for the Classical Music Department and the Director of Online Content for Classical Music.