Michael Christmas: Infusing Hip Hop with Comedy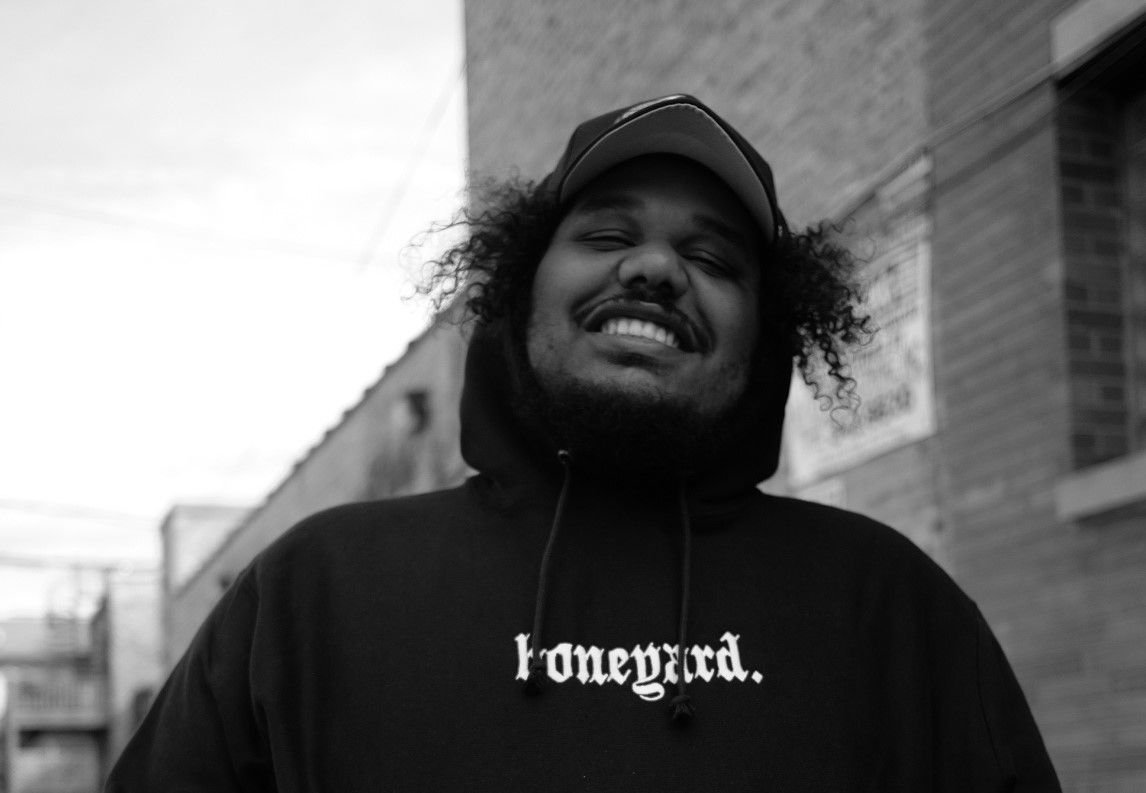 Listen
// Image courtesy of Griffin Gher.
Hiding" class="redactor-linkify-object">https://michaelchristmas.bandcamp.com/album/hiding... by Michael ChristmasBoston Native, Michael Christmas is a DJ, Producer, and Rapper who began his career in his early teen years. Releasing his first project, "Is This Art?" in 2014 with the hit track "Michael Cera", Christmas has met increasing success, touring with prominent artists to music award nods and festival features, with his latest album "Hiding" out now.
In middle school, Christmas took a recording class where his teacher made him record music. From this, Christmas made his first song and was hooked on music production. Artists like The Cool Kids, Wiz Khalifa, Curren$y, and Dom Kennedy are just a few of Christmas's childhood inspirations. Christmas's main musical influences, however, are comedians like Bernie Mac and John Belushi.
Christmas comic influences translate to his use of humor in music, using humor to show humanity and realness and allowing people to cope with the tragedy that often comes with life.
Widely known for his carefree music, Christmas curated a serious sound in his latest album "Hiding." Although he seeks to simply make music he enjoys, Christmas adopted a new level of focus on this project, increasing his consciousness of all aspects of his lyrics and production. With a goal for an album always in mind, Christmas began developing a vision for "Hiding" while making "Baggy Eyes 2" which was released in October 2019.
Christmas's goal was to be honest and truthful in this latest project, remarking that many people around him told him that "Hiding" felt like the Michael Christmas they were introduced to. This album, Christmas notes, was a 9 to 5 job for him because he wanted to make sure he was putting his original passion and drive for music into the project.
Christmas is always rapping in his head, so when it comes to the production process, he enjoys listening to the beats and laying down lyrics inspired by them; he's known in the industry for writing lyrics quite fast as he's been writing rap since the age of 11. Nothing is off-limits for him which he attributes to his upbringing where he and his family faced trials and tribulations that make the content in his music mere blips in his life journey
From the outside, Christmas is an anomaly in the rap and hip hop world. Contrary to this perception, Christmas is definitely one of the homies. From performing in front of rival gangs in Los Angeles to the diverse communities of Boston, Christmas loves being around people, no matter the group. Noting that all too often, communities and artists of color especially can be pitted against each other in the music industry, Christmas explains how beef between artists and communities hurts the overall mission of music. Christmas explains how some artists don't realize or understand the gravity of their platform and be it abuse scandals or money problems, for decades, certain artists have been getting away with too much for far too long, without any significant consequences. Referring to rap and hip hop, Christmas proudly states "We made this from the ground up and this is our currency now...People from all over the globe look at us, and they dress and act and sound like [us], so we can't tarnish it"
A proud Bostonian, Christmas believes his musical career has been inspired mainly by his friends and family and the rooted diverse communities in the city, noting that intrinsic to these communities is an unmatched sense of camaraderie and a resilient attitude. Christmas is no stranger to the LA music scene as he's spent time there working with artists like Mac Miller and Logic and writing his album "What A Weird Day," but his roots will forever be home in Boston where he just a few stops from his mom's house. Unlike previous decades, the music industry's base is ever-expanding with the ease of the internet and casual transportation, so Christmas does have plans to make his mark all over the US and internationally. A firm believer in continual growth rather than having "made it'' moments, one thing on Christmas's bucket list is to put on a major hip hop and comedy tour
Although the ongoing pandemic has put a stop to Christmas's ability to engage with fans in person, he's used the increased time at home to find creative ways to engage with his audience, be it Twitter or Twitch, and has used the time to practice his recording and producing skills. Already working on new projects for 2021, Christmas hopes listeners resonate with "Hiding" and is ready for new music in the coming months.
Listen to the audio recording to hear Christmas crack jokes, share stories from Mac Miller's crib, and answer some rapid-fire questions. Keep up with Christmas on the socials @michaelchristmas.
// Florence Darko '23 is a guest writer for The Darker Side.