The Mountain Goats Storm The Wilbur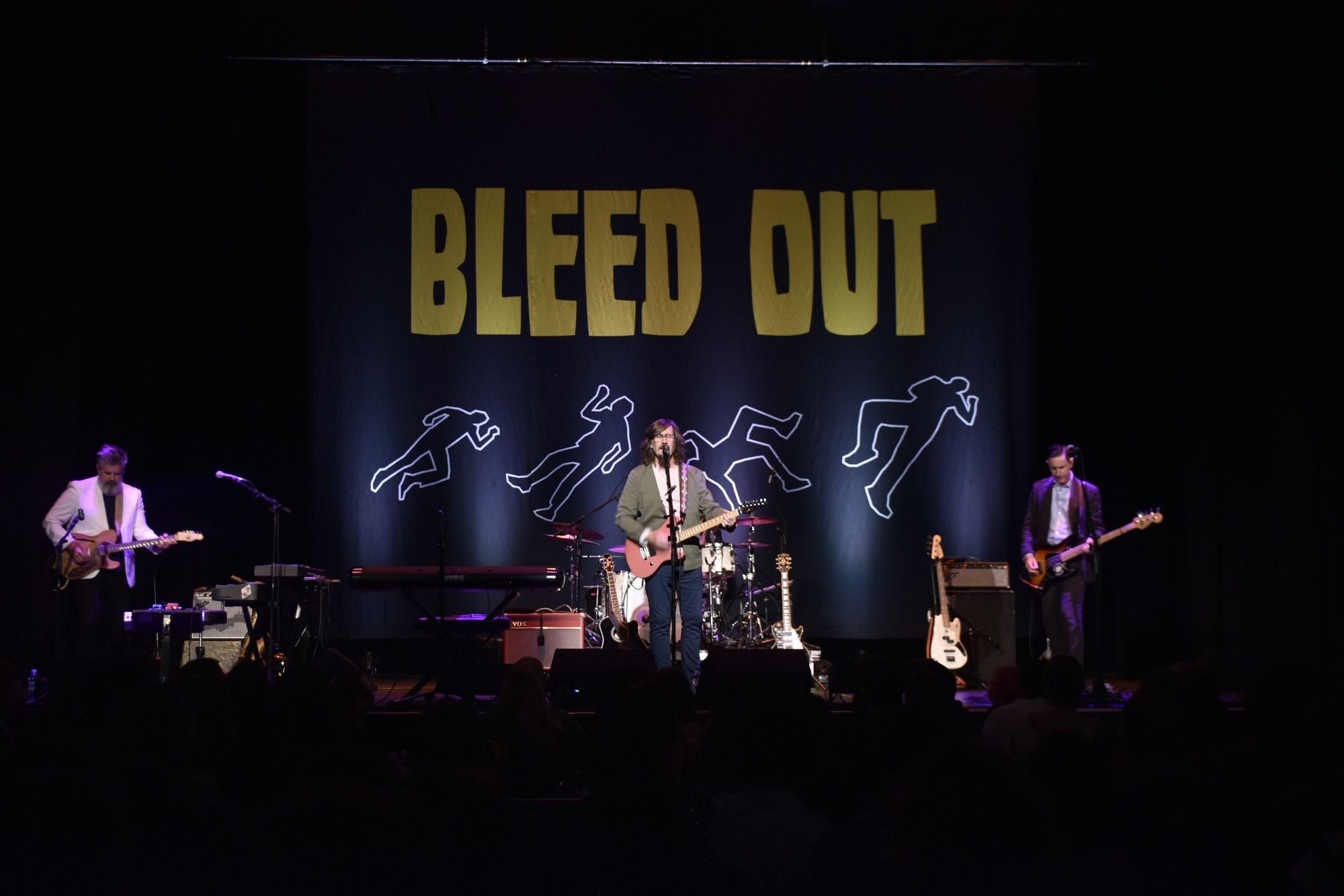 // Photo by Amber Levis
"I only deal in universal sentiment," John Darnielle, lead singer of the Mountain Goats, tells the crowd. "I don't fuck around with these niche sentiments. We've all been there. We've all committed multiple murders so we can have more time with our loved ones."
The band rips into "Extraction Point," a song that narrates a drive home after a night of killing, and a highlight from their newest release, Bleed Out.
It's Friday, Sep. 2 at the Wilbur Theatre in Boston. Darnielle is rocking out to the concept(-ish) album, which was inspired by old action movies he watched during the early stages of the pandemic. The band's output over the past decade has veered away from the autobiographical to fantastical plots starring wizard cultists, washed-up California goths, and now pulp heroes bent on vengeance. Though he may have meant the remark ironically, Darnielle's cast of hyperspecific characters remain relatable, and their desperate situations universal.
Fans get up to dance to Bleed Out's lead single, winkingly titled "Training Montage." "I'm doing this for revenge," Darnielle yowls, "I'm doing this for you." If the foot-on-the-gas acts of violence in Bleed Out are kayfabe, Darnielle has said, their underlying moods are very much human.
This energy courses through the rest of the show. Take this rendition of "Minnesota," first released in 1997, where the combined force of bassist Peter Hughes, drummer Jon Wurster, and new sax/keyboardist Matt Douglas transforms the loneliness of the original recording ("The house is throbbing and the heat keeps coming / And I keep looking at you") into something uptempo and almost threatening.
// Photo by Amber Levis
For the middle third of the set, the band steps out, leaving just Darnielle. He free-associates through a handful of older material: the lo-fi, piercingly vulnerable solo guitar songs he put out for years on cassette before being signed.
There's no program for this part –– instead, he flips through a book of past setlists at random. An advantage of the Mountain Goats' extensive repertoire is that they have hundreds of songs to choose from, and a testament to the crowd's devotion is that they know nearly all of them. When Darnielle forgets the lyrics to "Star Dusting," a superdeep cut from an early cassette, audience members shout out the rest of the stanza.
As he sings about gruesome midnight murders and fast getaways, Darnielle infuses his performance with charismatic Dad Energy; his banter with the audience feels intimate and fond. The band comes back, and they are tight; Darnielle jumps up and down as each song reaches its climax and does a little kick at the end of anthemic fan favorite "Up the Wolves."
They make a strong case for serving revenge hot.
// Amber Levis '25 and Bea Wall-Feng '25 are staff writers for Record Hospital.