Nahko Bear, and his Medicine for the People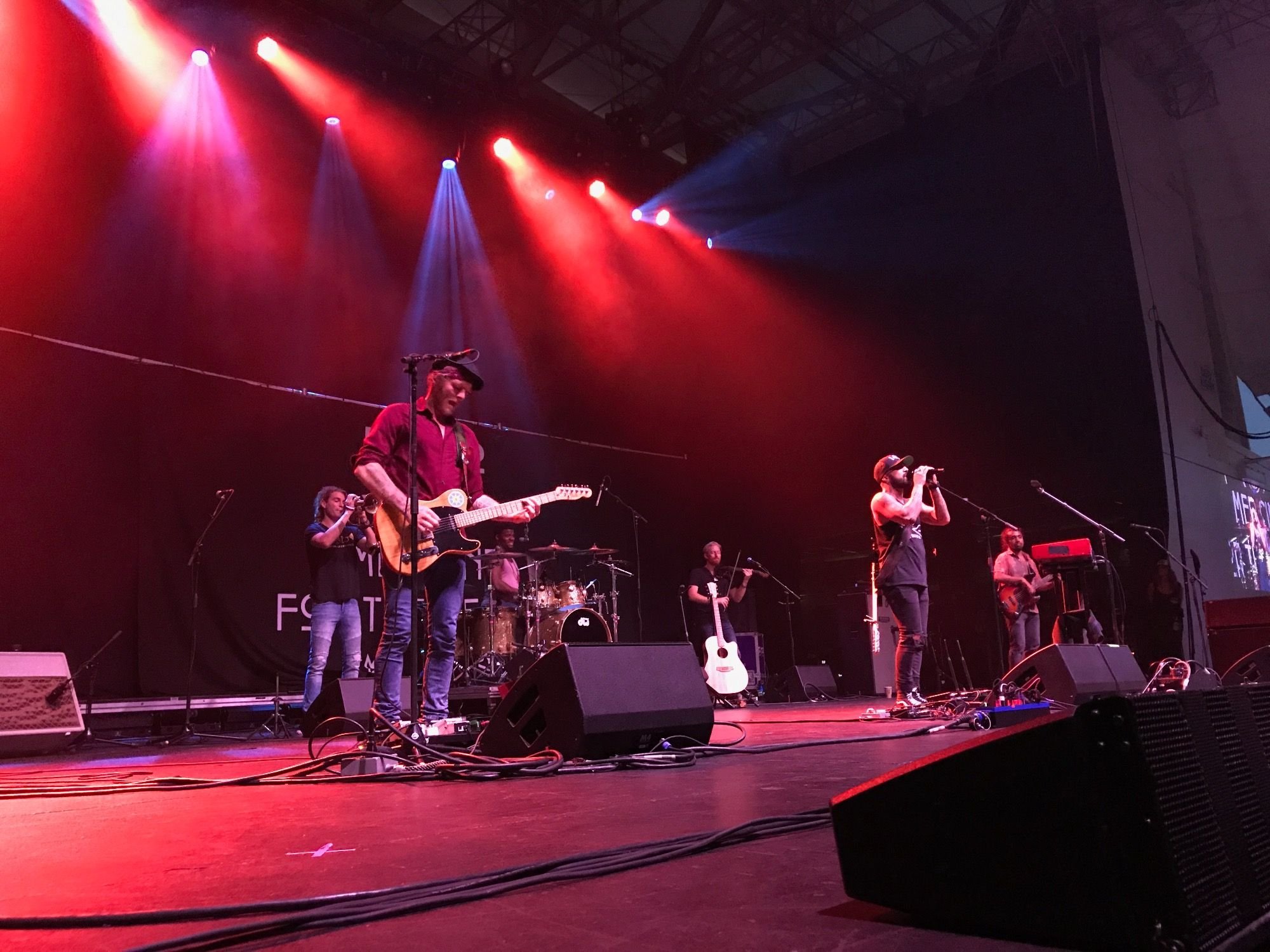 Nahko Bear sits in a tiny, yellowing room backstage at Boston's Blue Hills Bank Pavilion. Water drips from a grate in the ceiling, and Nahko sips whiskey from a silver thermos as he talks about his music's mission.
The mission is perhaps the most important part of the music that Nahko releases as the frontman for his band, Nahko and Medicine for the People. Since the beginning, Nahko has thought of his work as "medicine" — as a medium to deliver something that might help people, might engender thought, and might make a difference in the way the world works. He told us that his music is "a remembering of a thing that is old. Not everybody might agree with the idealism. The point of it is...it's like alright, music can be healing. It's transformative. We transform because of music. Because it's a language we don't all understand, but it's one we can agree upon. It's magical. It brings together people and it divides people." The ideology behind the medicine Nahko delivers can be hard to pin down, but it rests upon a firm bedrock of goodwill, humility, and gratitude — along with a sheer exhilaration inspired by nature and the fact of being alive. At times the music is explicitly political, as in "My Country," which reimagines the lyrics of "My Country Tis O' Thee" to lament colonialism, poverty, and aspects of capitalism in America. During last year's election the band supported Bernie Sanders, and Nahko calls the Trump presidency "scary" — but also told us that "politics aside, I'm my own person — whatever. I gotta find peace within myself in order to help the world."
Born in Portland, Oregon, and homeschooled by his adoptive parents, Nahko dropped out of community college and found a job as a music director at a community center. Soon afterwards he landed a job that took him to Alaska, then another that brought him to Louisiana, and finally one that landed him in the fields of a lettuce farm in Hawaii. It was there that he first recorded his music, and first conceived of it as "medicine for the people." Over the next years he spent time each summer driving around the contiguous U.S. in a van, playing his music at a grassroots level, burning and selling his own CD's.
Over time, that movement has grown — when we spoke to him, Nahko was finishing up a tour supporting roots reggae stalwarts Rebelution, performing on much bigger stages than his band is accustomed to as a headliner. He did seem a bit frustrated with the tour, even though it might have made commercial sense. "As an artist I want to be very clear about what my intention is —and I want to be very clear about the fact that I have an intention," he said. "On the East Coast specifically people very much struggle with listening to music that makes them think. They want to come and see a concert, they want to have a good time — we all want to have a good time at a concert, you know? But they struggle with, like, thinking too much. Cause they think too much already outside of this, in their own way." Nahko and Medicine for the People is about more than a catchy melody in the chorus — when Nahko sings "Hands up!" on "Dear Brother," he's starting a verse about police violence, not asking the crowd to put their hands in the air a la Flo Rida. That was a distinction that escaped the Boston crowd.
As Nahko continues on his musical mission, he will need to balance the commercial pressures of the modern music industry (and his band's growing success) with the medicinal aspects of his work. That balance will face its first test on October 20th, when he releases his debut solo album, My Name Is Bear. Featuring songs Nahko wrote between the ages of 18 and 21, the album promises a different, "less political" direction for the band — it remains to be seen whether the strongly imagined ideals of Nahko and Medicine for the People will occupy the same importance in these old, new songs.