Navigating Uncertainty with Boyish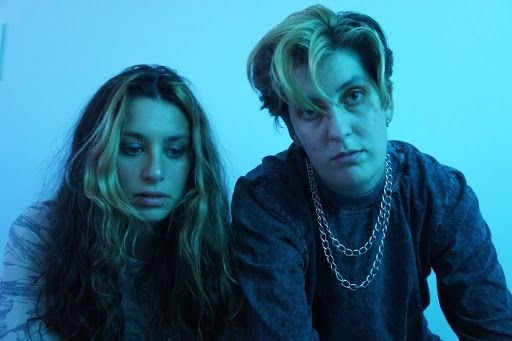 // photo courtesy of Boyish Music.
_anxious" class="redactor-linkify-object">https://boyishmusic.bandcamp.com/track/anxious-but... butterball by Boyish
_
Claire Attendahl started playing guitar at the age of nine, inspired by her dad. Her aspirations included playing in her own band and becoming a session guitarist, and she also enjoyed songwriting. India Shore was a gymnast as a child, and she didn't play music, though she enjoyed listening to musicals and British punk rock. She practiced dance and singing at LaGuardia High School in New York, and following a serious gymnastics injury, she dedicated more time to songwriting and voice.
Boyish, a collaboration between Claire and India, made waves with the release of their first album, Garden Spider, in February. Based out of Brooklyn, they describe Boyish as "chaotic" and "unsteady." With a grungy punk rock sound inspired by Clairo and Girl in Red, Boyish's music expresses an insecure type of angst that resonates amidst uncertainty brought by the COVID-19 pandemic and a tumultuous election cycle.
Their childhood experiences contribute heavily to the themes and motivation behind the music. Claire explains, "growing up gay, I grew up in the Midwest. And I grew up Catholic… So now that I'm at a point where I'm like, very proud of myself... and I want to share who I am and I think being able to share that part of being gay is really important to me just because it was something I never really saw growing up." Boyish want their music to carry significance, she says, emphasizing the importance of creating a song that is just as emotional as it is personally meaningful.
India and Claire met during their freshman year at Berklee College of Music, and formed a country band under the name "The Blue." As they approached graduation, Claire explained, they decided it was time for a brand change. And thus, Boyish was born. After the release of Garden Spider, they performed in New York and Minneapolis, though the pandemic quickly made live shows difficult.
Yet Claire and India remain undeterred. They have been working on an upcoming EP remotely – India working from Brooklyn and Claire from Minnesota. The pandemic has also offered an opportunity for musical reflection. "It's been a great time to really just go into your mind and figure out, what do you want to sound like? What are you trying to write?" Claire recounted. India noted that the pandemic affected the mood of their songwriting, leaning into the uncertainty and sadness that has come in this age.
While the pandemic has allowed Boyish to reflect on their music and put more time into their "sad bangers," they note that their songwriting process has stayed the same. India tends to start with lyrics, while Claire prefers to start with music and melody. But most of all, they both draw songwriting inspiration from a certain feeling or mood. "Mostly I feel like when I'm writing I have a vibe," Claire explains. The pandemic has also inspired them to look towards other media for inspiration. Claire cited HBO's "Euphoria" as an example. India elaborated on this process of "finding something that you find really inspiring and… going along with that like, 'okay, how can I match this energy or this feeling?'"
While Claire and India have made the most of being musicians during a pandemic, navigating uncertainty is nothing new for them. "Both of us are like, pretty anxious," India explains. After graduating with an art degree, Claire described the confusion that came with entering the world. The feelings are drawn upon in many of their tracks, with painful lyrics "sweaty on my palms like a river / hot flashes and a shiver" exemplified in "anxious butterball." From the formation of Boyish until now, India and Claire say that they have grown a lot, both personally and as musicians. Certainly, a lot has happened since then: they graduated college, released a full-length album, went on tour, and are living through a pandemic. This growth is likely to be evident on their upcoming EP, with more "sad bangers" to come. Claire observes, "My mindset in production and in recording and in writing has changed so much" — a grounding silver lining.
// Robert Greene '24 is a guest writer for Record Hospital.
Note (12.24.2020) // Garden Spider is actually their second album. Boyish released their debut project, Carnation, back in 2018 under the name "The Blue."