Norwegian Punk/Rock Orgy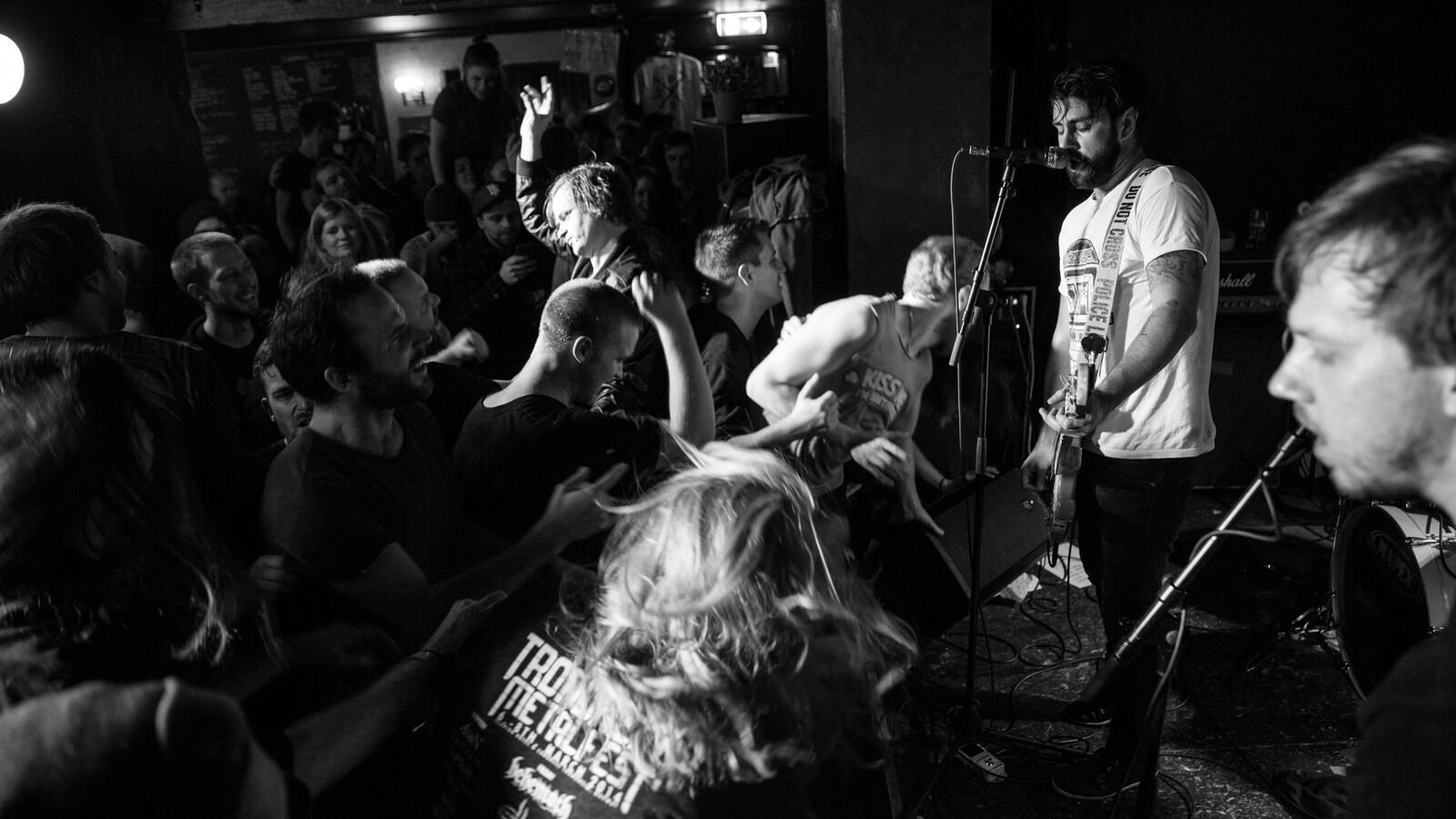 Join WHRB in a celebration of punk and rock music from Norway this Friday (May 5). From 1 to 5 am EDT, WHRB brings you the Norwegian punk/rock orgy!
We had the chance to talk with a few amazing bands featured in the orgy: Pappasaft, Blomst, Norsk Råkk and HJELP.
Thanks to Gard from Pappasaft, Ida from Blomst, Torstein, Adrian and Jonas from Norsk Råkk and Vetle from HJELP for chatting with us!
How did you get into punk music? When and why did you start making music?
Pappasaft**:** I've had small drips of punk music since I was little. My dad used to play The Clash at home without me growing a mohawk or tattoos quite yet. My buddy Aleks brought home Americana by The Offspring when I was like 10 - we listened the shit out of that record, not really getting all the words. It wasn't until I was like 13-14 when I started snowboarding that punk rock really took proper hold. It was a package deal with snowboarding and punk rock. Bands like NOFX and Bouncing Souls blew my fucking mind and since then it's been in my bones. At like 15 I realized "I need to learn how to play this shit" and picked up a guitar. It wasn't till my early twenties that I started writing songs, but since then it's been a few!
Blomst**:** We started out in 2010. I met the guys who had already been playing together. Nobody else wanted to give me a shot at it; I guess it was partially because I'm a girl :/ but we came together, made magic, and have kicked ass since! We didn't really decide to make punk music, it just happened. The original plan was to do electronica with band instruments, a few chords, catchy melodies and vocals. Turns out, that was punk!
Norsk Råkk: Torstein: In my early teens I picked up a lot of rock and punk related acts through my brother's record collection. Bands like Ebba Grön, Kjøtt, Jokke & Valentinerne and The Aller Værste! were my first look into the world of punk/new wave. I've never really been a big fan of "real" ska bands, but always liked the ska influenced songs that punk and rock bands did. Later in my high school years I started listening to more skatepunk bands like NOFX, Millencolin and Pennywise.
Adrian: I actually didn't listen to that much to punk/ska music personally before I joined Norsk Råkk. I spent most of my time watching The Band´s The Last Waltz and having a good time. So I have a different kind of background then the other guys in the band. I'm Swedish as well.
HJELP: The raw savagery of the live show is what made us decide to make punk music. Although we're a very diverse band that likes to make funk and ballads as well. The goal is mainly to just write the songs and genres we want to write. Today we feel like making a raw banger that makes us want to bleed out of our irises. Tomorrow we want to make a song we can dance to at the cheesiest nightclub.
HJELP got together to make a band in September 2016. From then on we just wrote a lot of songs and tried to get some gigs. Verdisaker EP was also one of the goals we had to achieve as fast as possible, so we recorded and produced everything on our own.
What are some of your influences (bands, people, ideas, etc)?
Pappasaft: Too many, man hehe. The whole punk rock idea of defining things on your own has been very inspiring. I really find inspiration in people who do what makes them tick, without giving half a fuck about what anyone might think, and without pissing on people. Of course, previously mentioned NOFX has had a big impact. The Bouncing Souls, Rancid, Osker as a few of the older ones. Of the contemporaries, The Flatliners have influenced our band massively. Red City Radio, The Menzingers, Frenzal Rhomb etc etc have had their fair share of playtime too. As for any punk rocker, there are toooo many to mention.
Blomst: I guess most of our songs are about everyday struggles, like love, social media, and a variety of stupid people. Kompiser is about being friend zoned (story of my life :/). We like older Norwegian punk like The Aller Værste, Raga Rockers and garage music like Ty Segall, Black Lips and Mac DeMarco.
Norsk Råkk: Torstein: Norsk Råkk's musical influences range between punk, ska, rock, reggae, jazz and hardcore. There´s a lot of different personalities within the band and that is maybe what makes Norsk Råkk interesting for a varied audience.
HJELP: Since we're a band with members from different backgrounds, we all have different musical inspirations and preferences. For example, our lead-guitarist is a huge Led Zeppelin fan, our rhythm-guitarist is more of a metalhead, our bassist has love for pop-music and funk, our drummer needs the progressive rock tunes, and I [Vetle] am greatly influenced by bands like Gorillaz and Foals (pretty diverse).
What do you hope people take away from your music?
Pappasaft: Something good. Or that it pisses the right (wing) people off hehe. Still love that. We've had some pretty humbling encounters with fans that tell us that our music truly has meant something to them. That it's helped them through hard times or something. If that's something we can contribute to then I'm super stoked. We want to get people together for a sick time for sure. But if we can fuel a political flame in some, that would be even better. If our music can inspire some youngens to light some torches, then fuck me, we've won!
Blomst: Lyric-wise, I think I hope to bring some kind of comfort in sharing the experiences of life just being normal but challenging, and that's OK! Sometimes I wish I could write cool stuff about crazy parties and doing drugs and hectic adventures, but I guess I'm just too boring and sensible. But hopefully people have fun listening and at our live shows!
Norsk Råkk: Torstein: Good vibes and positive energy
What is the Norwegian punk scene like?
Pappasaft: Getting pretty good, I'd say! In our 6-7 years of sporadic touring we've met some really great people, and it seems to be getting bigger. Punk rockers and the likes are coming together, helping each other out, touring the country for no pay and not giving a shit, except for keeping the show going. Great thing to be a part of: there's always a warm floor to sleep on.
Blomst: I think it's a bit of an underground thing now, but growing! Being a Norwegian punker is great because of the diy mentality and people helping each other out. We all try to attend each other's concerts and do gigs together and spread the word. And everyone is super nice :)
Norsk Råkk: Torstein: It's getting better all the time. The last 4-5 years have been really slow within punk/rock, but it seems to get better.
HJELP: The Norwegian punk scene is pretty amazing at the moment. I think kids have gotten tired of the boring sit-at-home lifestyle that has been trending lately. Now they're finally going out and deciding to partake in the events that happen around the city. So when we go up to the stage and yell something about repressed rage before we all come jumping down from the stage, I feel like we're liberating them in some sort of way.
The lyrics are also mainly aimed at youth. A lot of them are written about holding house parties, drugs, missing your mom in the middle of all of this, finding out things about yourself and your friends, and growing up in a world that expects you to have it all figured out in your twenties.
Best show you've ever played?
Pappasaft: Tough one, I'll give you three top ones: Opening for Turbonegro last year was pretty sick (them Turbojugends are at the forefront of being a crowd). Our release tour ender (we put a record out earlier this year - check it!) in Oslo late February was craaazy fun to play. Full venue, sing alongs from the first chord through the encore, pits and dives galore, great fun. And then there's that show with Aktiv Dödshjelp in Trondheim a few years ago. So many broken stage lights and pint glasses after their opening set, no one had even seen them before! We had to absolutely crush it not to get shown up. Luckily we managed. Not putting the rest of that night in writing hehe. Maybe if someone invites us over for a US show we can make more such memories?
Norsk Råkk: Torstein: Aronnesrocken 2015. A great festival in the most northern part of Norway.
Adrian: Our show at Tivoli in Moss, Norway in 2016 was a kickass Christmas party! Crowdsurfing and jumping from stairs.
Jonas: The show at Blitz in Oslo was killer man! Totally packed and lots of beer. And still I was able to play the drums well.
HJELP: The best show we ever played has got to be when we were playing as Honningbarna's warm-up in Sandvika. This was our second gig ever, and it was free-age-limit. This makes all the energetic kids come around. The ones that are there for the music, and not to sit in the corner and sip. I remember trying to jump down from the stage to mingle with the crowd, but it always turned into a crowd surf.
Don't miss tunes from Pappasaft, Blomst, Norsk Råkk, HJELP and more on the Norwegian punk/rock orgy this Friday, 1-5 am EDT streaming online at whrb.org (95.3 FM)!
*Article photo of Pappasaft, photo credits to Erlend Lånke Solbu
Amanda Glazer is a DJ and Online Content Director for Record Hospital