The One Man Orgy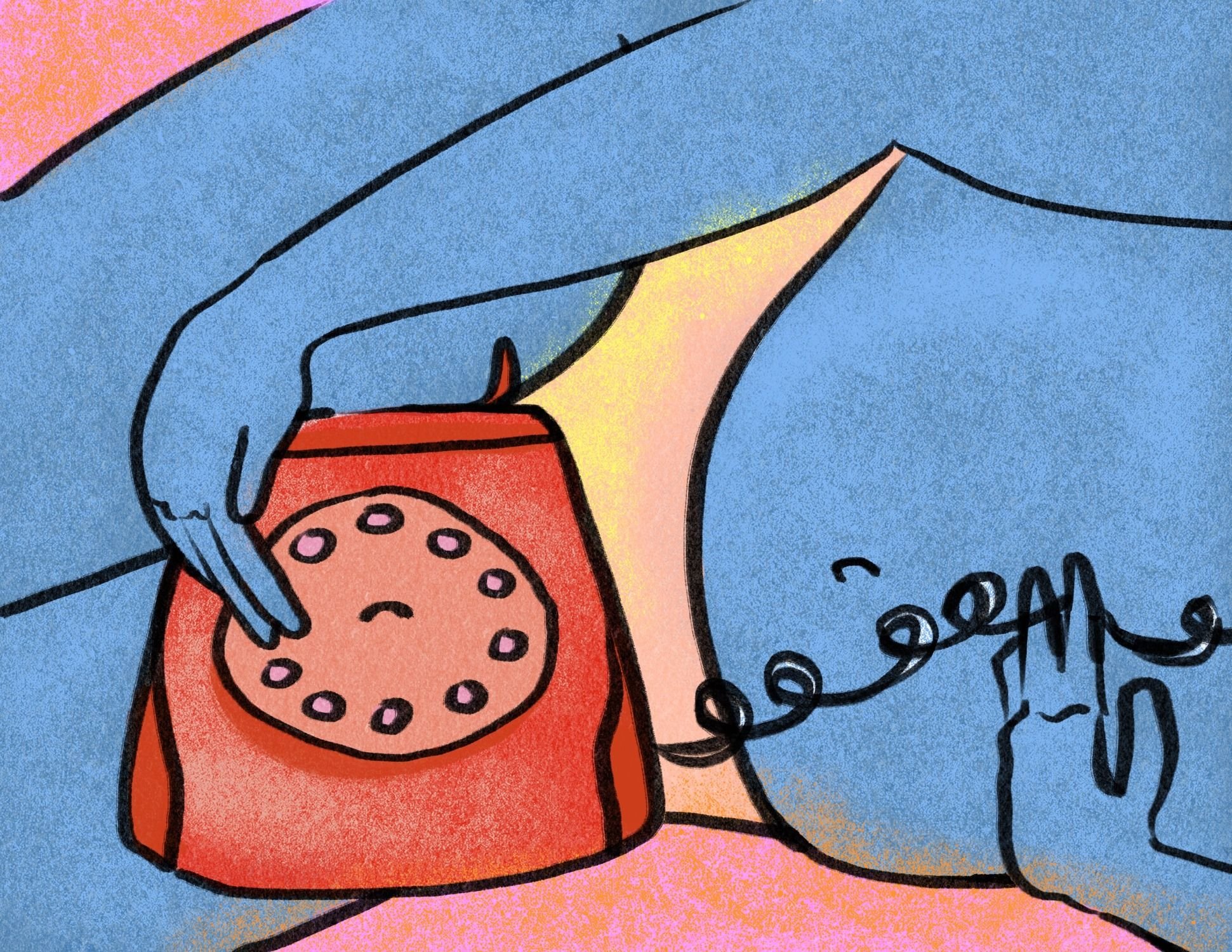 //Photo created by Anna Correll '22
Pre-orientation might be cancelled this year, but that doesn't mean we can't orient you to a good FAP.
If, at the end of the day, music is all about love, then there's certainly a lot of self love to be explored. And, well, quarantine isn't exactly hurting the prevalence of … dialing the rotary phone? (bet you've never even heard of that one). Its current relevance made us want to dig a little deeper into the ways that musicians have talked about or around the often-taboo issue, while ultimately producing a playlist that reflects our own sex-positivity.
The result, below, is the ultimate masturbation orgy (a paradox? perhaps.), so if you're not a jerk, but you're ready to jerk one out, give it a listen!
Just as there's no one way to beat it (though one of those rabbit vibrators feels like the best bet to us), there's no one masturbation song. They range from techno to punk, explicit to cheekily subtle, empowering to heartbreaking. Below, we rub away some of the chaos and organize the tracks into specific themes.
Touch Myself/Love Myself
We couldn't help but notice a common thread of masturbation as a means of femme empowerment. While the joy of jerking off has often been reserved for men, or, worse, mocked and condescended to, pop artists have recently taken the taboo of the female/femme wank and ran with it in the other direction. The songs on this playlist celebrate self love and independence, perhaps perfectly summed up in the double-meanings behind Nicki and Beyonce's "Feeling Myself," Hailee Steinfeld's "Love Myself," and Carly Rae Jepsen's "Party For One." Fittingly, historically subversive genres like punk and metal also have a lot to celebrate with masturbation (see GRLwood's "Masturbation Fun Station.") We also wanted to shout out the many queer-identifying artists on the larger playlist whose important perspectives often ally with femme empowerment, but are not as widely visible.
Is this song really about masturbation? You decide.
We also noticed a pattern emerging of songs with a certain opacity – songs that didn't explicitly mention masturbation, or that used elaborate euphemisms (shoutout to "Praying Hands" by DEVO), or metaphors that allow for multiple interpretations. Dancing with Myself, for example, could really be about someone dancing, with themself – until she worked on this orgy, Mika really thought it was. Blister in the Sun is another tricky one – while it's commonly assumed to be referencing masturbation (see the lyric: "body and beats/I stain my sheets") the artist has insisted in interviews that that was not the intention. In an interview with VIBE magazine about her song "Feelin me right now," Kelly Rowland said "That song can be taken in a lot of different ways, and I mean them all." This playlist brings together the best of the songs that we were on the fence about. We'll let you be the judge.
Highlights
As we searched for songs for this orgy we heard things that made us want to laugh, dance, cry, and... do other things. There were a few that we really grew to love over the course of searching, compiling and sequencing the collection. This playlist of notable songs from our orgy is meant to highlight these gems for you.
Wax by Rosehardt:
During our search, we encountered a wide variety of excellent euphemisms for masturbating: "choke the chicken" was a favorite, along with the classic, "beat the meat." These and one more that we'd never heard before form the lyrics of Wax by Rosehardt.
Action by Von:
Not only is this song a femme empowerment anthem, with lyrics like "seatbelt you don't have to fasten/move too slow with the distractions," it was actually created using a Lioness vibrator that tracks vaginal contractions, which Von used to locate the wave patterns of her orgasm that form the structure of the song. Check out everything else she's doing to spread the sex-positive message at https://www.vondomlabs.com/.
Coin-Operated Boy by the Dresden Dolls:
There's almost too much going on in this song that sounds like it's straight from Cabaret and revolves around the concept of an automatic boy, first feeling like a cheeky reference to a vibrator but slowly morphing into an (at times heartbreaking) exploration of loneliness and manufactured perfection. We recommend the music video at https://www.youtube.com/watch?v=j4gPZPKJc0s.
Wet by Dazey and the Scouts:
Admittedly Hanna knew and loved this song before putting together this orgy, but for good reason! While many songs in this orgy use double-meanings, this is the only one that does a play on "wet" to refer to both "tear ducts" and the "space between my thighs." Time to sob and throb, ladies!
Masturbate" by Stefanie Sourial:
Many of the songs on our playlist mention masturbation offhandedly as a part of their everyday lives and we want to appreciate the way that that normalizes it. This song by Viennese performance artist and musician Stefanie Sourial exemplifies that, and comes from an EP called Amsterdam that revels in the mundane. Shoutout to her moaning sounds on this track – they're pleasantly melodic.
Bonus Playlist: The Ultimate Masturbation Scene Soundtrack
As a bonus, we've compiled some songs that soundtrack masturbation scenes from some of our favorite movies and TV Shows.
Love Missile F1-11 – Sigue Sigue Sputnik:
A bop that probably was meant to sound futuristic when it came out 1986, this song absolutely charms us with its fun synths and cheeky lyrics (see: "There goes my love rocket red/Shoot it up"). It provides the soundtrack for a masturbation scene that wraps up the first season of the Netflix show Sex Education. We highly recommend the show for its sex-positive content, and for the rest of its excellent soundtrack featuring Sommerville-based queer punk Ezra Furman.
Skinhead Moonstomp – Symarip:
Another one from Sex Education, this one is placed in the finale of season 2 during a particularly steamy mutual masturbation scene between two girls.
If You Should Try to Kiss Her – Dressy Bessy:
Both sweet and punky, this song comes from one of our favorite movies, But I'm a Cheerleader. It's an absolutely delightful queer camp classic set in a conversion therapy house painted exclusively bubblegum pink and baby blue.
Don't Look Back in Anger – Oasis:
It's seems prophetic that Netflix's 90s throwback show Everything Sucks kinda sucked, but hey, we got a (queer!) masturbation scene to Don't Look Back in Anger in the first episode, and what more could you ask for.
MindKilla – Gang Gang Dance:
This song plays in season 1, episode 3 of girls after Marnie is cornered by a cocky artist who tells her that "the first time I fuck you, I might scare you a little, because I'm a man and I know how to do things." She proceeds to run back to the art gallery to rub one out in the bathroom. A lot to unpack there.
Happy to Be Sad – Keeper:
This song soundtracks what we've agreed on as the greatest masturbation scene we've ever witnessed on TV, from season 2, episode 8 of Broad City. Shoutouts to the mint green lipstick Ilana applies to get in the mood and the mirror that she props up above herself to better witness the action.
//This online orgy was curated by Hanna Mularczyk and Mika Simoncelli. Photo courtesy of Anna Correll