Oompa Reminds Paradise Rock Club of the Power of Staying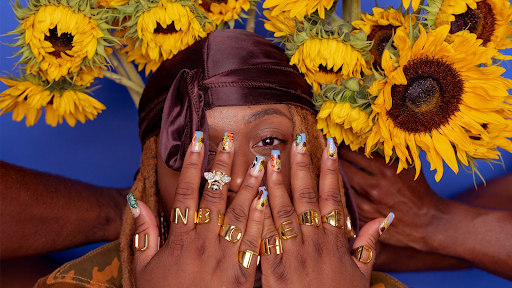 // Image courtesy of Eventsfy
On October 8, local Boston rapper and acclaimed spoken word poet Oompa returned to the stage for the first time since the onset of the pandemic to share her long awaited third studio album UNBOTHERED. A project which oscillates between slowed sultry beats and banging production-heavy anthems, it was only appropriate that it graced the stage of Paradise Rock Club for a live audience. From the astounding opening acts and thoughtful interludes to Oompa's high energy stage presence, this night flowed from one success into another.
One of the most impressive parts of the show actually came at the beginning as she invited the talented musicians Notebook P, Benji., and $ean Wire to share the stage with her. With less than 300 monthly Spotify listeners, Notebook P gave a NPR-Tiny-Desk-worthy performance accompanied by both a medley of instruments (flute and keyboard included) and a soulful electronic backing. Following, Oompa's long time collaborator and Pittsburgh guest, Benji., took to the stage to share phenomenal tracks from his newest project "Smile, You're Alive!". Last, but certainly not least, was local rapper $ean Wire, who provided an interlude of high energy before leading into Oompa's much anticipated set.
Accompanied by a full band, talented DJ, background dancers, background singers, and special guest performers, there was never a dull moment during the nearly two hour long concert. Oompa is a natural performer — possessing the same stage presence as stadium performers like Lizzo within the admittedly smaller Paradise Rock Club. With the aid of outfit changes (my personal favorite was the donning of a durag during the matching sultry track "WHERE MY SILKY?") and main stage lap dances during "DEEP," viewers felt as though they were watching someone big — or rather someone who will be big.
Theatrics aside, Oompa's performance felt undeniably intimate. In between dance breaks and jumping anthems, she would speak to her audience with vulnerability and truth. She offered solidarity to her Black listeners who, like her, had felt the emotional exhaustion of 2020 weigh like sediment upon their shoulders. She reminded them of the power of staying — of acknowledging their struggles and choosing to remain in this world with the knowledge that their existence was resistance in itself. In the end, she finished her concert the same way she finished her album — with an affirmation that everything is good.
// Anya Henry '24 is a staff writer for The Darker Side.