Original Pilipino Music (OPM) in the Boston Airwaves and Beyond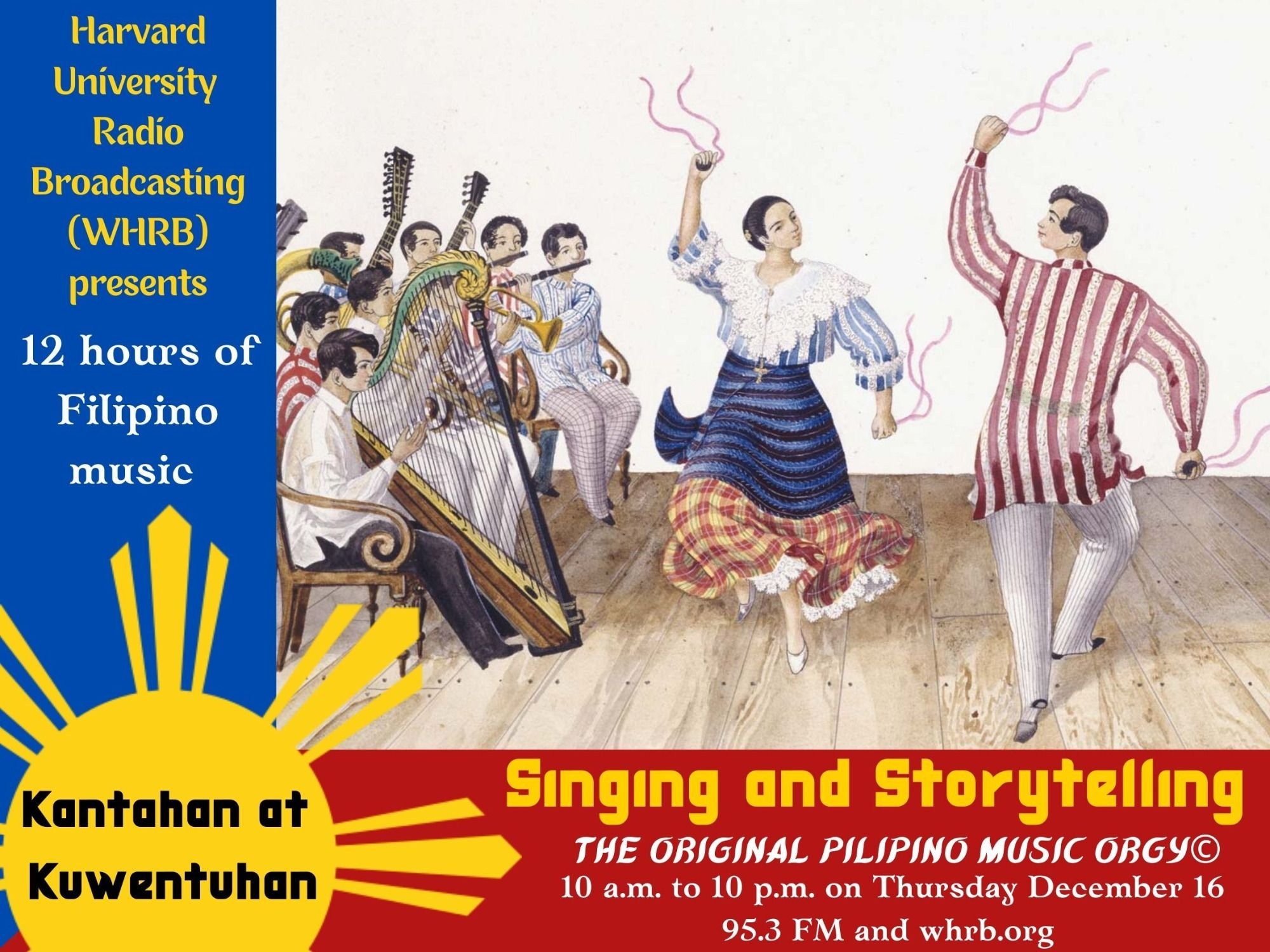 //Graphic designed by Jeromel Dela Rosa Lara, 23. Picture on the right is a watercolor painting by José Honorato Lozano from 1847 depicting a Kundiman dance and performance. Kundiman is a genre of traditional Philippine love songs notable for its serenading, gentle, and dramatic tune and lyrics.
Curated, organized, and hosted by Jeromel Dela Rosa Lara.
Kantahan at Kuwentuhan! Singing and Storytelling! In the Spring, Harvard Radio Broadcasting (WHRB 95.3FM) brought you 11 hours of Original Pilipino Music or OPM. We are doing it again this winter with 12 hours of OPM!
OPM encompasses many different music styles and genres from indigenous music, folk, pop, jazz, and so much more. OPM tells the story of this specific Asian community–the Filipino community–who have been through so much.
There are over 4.1 million Filipinxs in the United States, and Tagalog––one of the languages in the Philippines––is the fourth most commonly spoken non-English language in America. Yet, the history, impact, and presence of the Filipino diaspora in America is often overlooked and deemed unimportant. Ask yourselves how much have you heard about Filipinxs in America, or America's 48-year rule over the Philippines? Did you know that America backed the Marcos Dictatorship (1965-1986) whose rule saw kleptocratic corruption, Martial Law, extrajudicial killings, and the silencing of the press? Did you know that the Philippines is the world's biggest exporter of nurses and sailors? Did you know that one third of nurses who died from Covid-19 in America are Filipino?
OPM through its lyrics and unique melodies embodies love, endurance, resistance, healing, and for people in the Filipino diaspora, the opportunity to create a sense of home. This WHRB Orgy© aims to respond to these societal ambivalences by amplifying the songs and stories of Filipinxs.
10-11 a.m.: Variety 1
11-1 p.m.: Filipino Jazz
// Painting by Malang featured in the Filipino Jazz LP album Batucada Sa Calesa by Bong Peñera. Photo taken by Jeromel Dela Rosa Lara.
Joe Cruz and the Cruzettes
At the Manila Hotel, LP 1976
Balut (3:15 to 6:40 = 3:25)
Ikaw/Hindi Kita Malimot (19:02 to 22:08 = 3:06)
Minsan Lang (22:07 to 24:27 = 2:20)
Bone Peñera
Batucada Sa Calesa, LP 1977
Samba for Luisa
Two Themed Samba
Batucada sa Calesa
Bobby Enriquez
The Wild Man, LP 1981
Bobby Enriquez and Richie Cole
The Wild Man Meets the Man Man
Groovin' High
Wild Man Blues
1-2 p.m.: Variety 2
2-4 p.m. Filipino Orchestral Music
// Photo of Jeromel's mother dancing the Pandanggo sa Ilaw, a traditional Filipino dance that involves balancing jars filled with a candle. Used with permission.
Antonino Buenaventura
1941 (8:22)
Antonino Buenaventura
1960 (13:17)
Antonino Buenaventura
for violin and orchestra (2:34)
Antonino Buenaventura
1947 (7:26)
Lucrecia Kasilag
1974 (11:44)
Lucrecia Kasilag
Divertissement for Piano and Orchestra
1960 (14:47)
Unknown
1826
The Misa de Sales comes from the Kiral de esta Yglesia de Baclayon dated 1826. This is considered "one of the earliest examples of polyphonic religious settings composed in the Philippines." The Kiral was found in Baclayon Church in Bohol, Philippines. It is "one of the few surviving 19th century cantorals in the Philippines." Baclayon Church was founded in around 1596. The present church made out of coral stones was completed in 1737. In 2013, a 7.2 magnitude earthquake in Bohol incurred major damages to the church. It was fully restored in 2017.
4-6 p.m.: Filipino Christmas
// Given that the Philippines is a tropical country, pine trees are not common. The Filipinxs have been creative. If Christmas trees are the most common Christmas decoration in the West, it would be the Parol in the Philippines. The Parol is a star-shaped lantern. As people don't have access to pine trees or the space to fit one, the Parol–whose origins are not necessarily clear–has become the symbol of Filipino Christmas. Here is a photo of a Parol that Jeromel made.
6-8 p.m.: People Power
Inang Laya
c. 1970s
Inang Laya
Babae Ka [translation: You are a Woman]
c. 1970s
Aloysius Baes
c. 1970s
Aloysius Baes
Diwang Walang Takot [translation: Fearless Spirit]
c. 1970s
Excerpts from:
Aquino, Ninoy. 1983. Letters: Prison and Exile. Manila: La Ignacia Apostolic Center.
Composed by Vicente Sotto III, Sung by Virna Lisa
Magkaisa [translation: All for One]
c. 1986
8-9 p.m.: Variety 3
9-10 p.m.: Pagmamahalang Pilipino
====================================
// Jeromel Dela Rosa Lara, '23, is a reporter for WHRB News, DJ for WHRB Jazz, and the curator of the Original Pilipino Music Orgy©. He is from the Philippines who immigrated to the United States in 2011 and has a lot of stories to tell. Follow him on Twitter @jeromellara, and he can be reached anytime to continue the conversation further.