Paul Rishell and Annie Raines Fill Club Passim with Classic Blues and Communal Cheer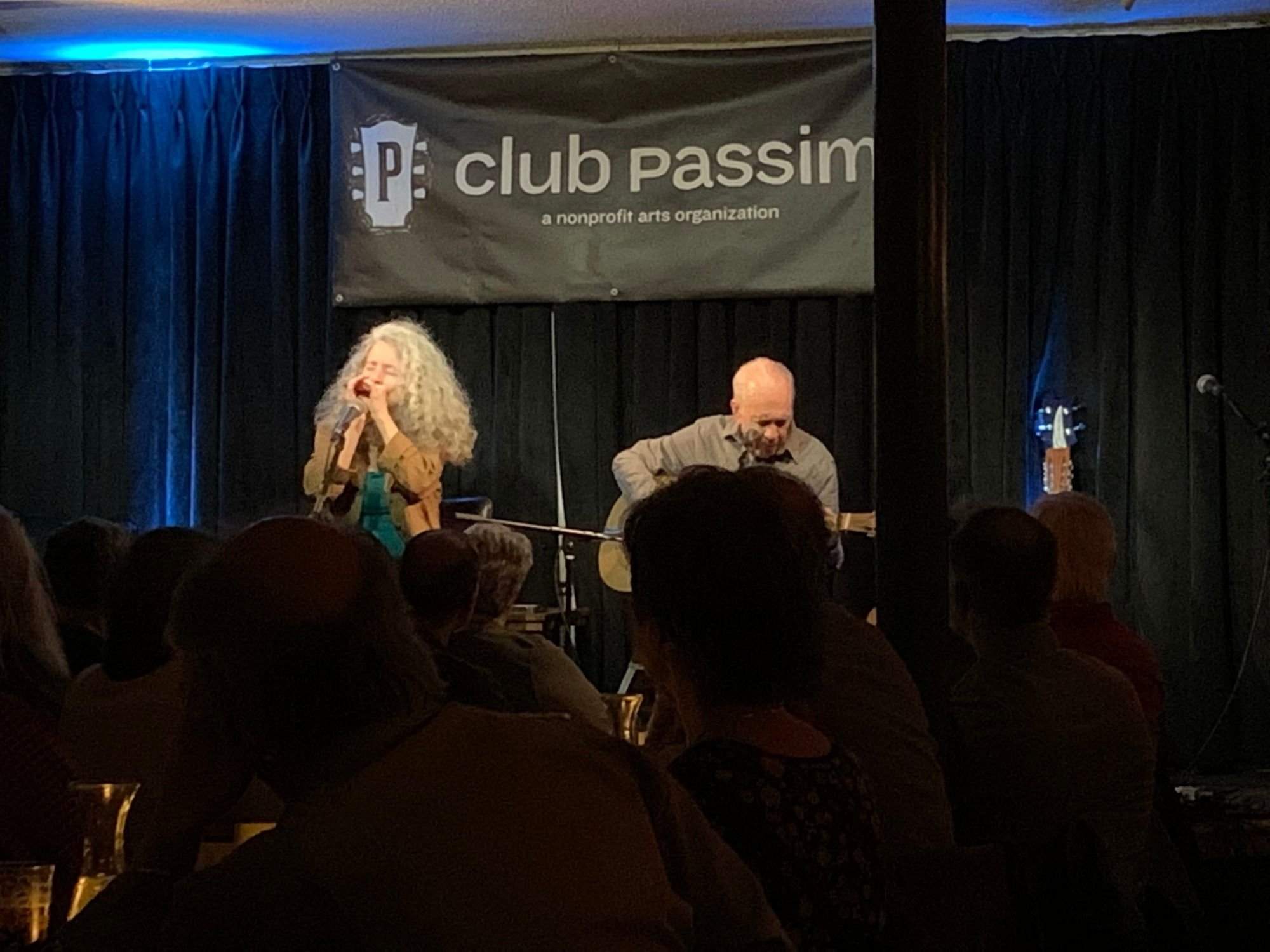 Listen
Before the outbreak of COVID-19, I had the privilege to see Paul Rishell and Annie Raines in one of Club Passim's last live shows. After descending the steps into the basement-level club and checking in at the front, I took a seat in the back-right corner of the show room. The first artists to take the stage were two former students of Rishell and Raines: fiddler Kathleen Parks and guitarist Brad Bresko. The pair's sound was a cross between the kind of music you might expect to hear in a Parisian café and the kind played on the front porch of an Appalachian country home. Parks stated that she was heavily inspired by "the early jazz greats," such as Nat King Cole, something that was evident in her soft, smooth vocals. Behind these jazzy vocals, Parks played jaunty bluegrass fiddle tunes and Bresko played the guitar in a folk style. The only way to describe the pair's set is "cute": they were having a wonderful time playing their hybridized folk music and it was evident that they were enjoying each other's company. It was most definitely a fun and interesting way to get the night started.
The next artist to take the stage was Peter Jensen. According to Jensen, he had not expected to perform on the night of the concert, but Rishell and Raines asked him to play as a special guest. He began his set with a cover of Blind Blake's "Chump Man Blues," shifting away from Parks and Bresko's cute folksy sound and toward the classic blues tunes that would characterize the rest of the night. Jensen talked about how he had been taught to play guitar in the classic blues style by Rishell at Berklee College of Music. He explained that initially, he had been interested in playing in a Chicago/electric blues style, but he had fallen in love with the classic blues style after the first time he saw Rishell play. Jensen went on to play Willy Brown's "M and L Blues" and concluded with the classic "Diving Duck Blues."
After Jensen finished his set, guitarist/vocalist Paul Rishell and harmonica player/vocalist Annie Raines took the stage. They started their set with Blind Boy Fuller's "Custard Pie." Immediately, it was easy to tell that the two were masters of their craft. Rishell played the guitar in a beautiful classic blues fingerpicking style that was like hearing an original Delta blues vinyl without the staticky pops. As he played, he sang in an affected country accent, mimicking the country blues musicians he so admires. Not to be overlooked was Raines's energetic harmonica accompaniment. She played in a diverse range of styles. At some points, she played in a whiny, high tone. At other times she muffled the harmonica with her hands or other objects such as a wine glass. During the song "Got to Fly," Raines played two harmonicas in rotating succession and even played voice-like riff reminiscent of a Jimi Hendrix guitar solo. She sang in a powerful, impressive voice especially during her cover of Bessie Smith's "You've Been a Good Ole Wagon." Both musicians could have stood alone on their own merit, but together they were extraordinary.
On top of their musical virtuosity, the pair were charming and funny. They told countless jokes and stories about playing and traveling together, and they prefaced nearly every song with some sort of anecdote about how they came to enjoy it, a fun fact about the artist, or some sort of related story. In addition to their friendly and casual demeanors, the pair urged the crowd to sing along during songs like "Old Man Mose." Resulting from all these factors was a sense of community that left the audience joyfully entertained.
The last few songs in the show were played in a quartet style: Rishell on guitar, Raines on harmonica, Parks on fiddle, and Bresko on bass. These songs were filled with solos, duets, instrumental jams, and vocal harmonies. For the final song, Rishell and Raines invited Jensen back to the stage. The quintet played "Stealin', Stealin'" by the Memphis Jug Band, and a night full of friendly banter and laid-back jams concluded with a heartwarming communal singing of the country blues favorite.
Because of COVID-19, Club Passim has currently postponed in-house live shows, but music lovers should check out their website for virtual programming!
// Cade Williams '23 is a DJ for The Blues Hangover, on air 5 a.m. - 9 a.m. on Saturdays and 7 a.m. - 11 a.m. on Sundays EST