Pitchfork 2022: Noname's Gift to Pitchfork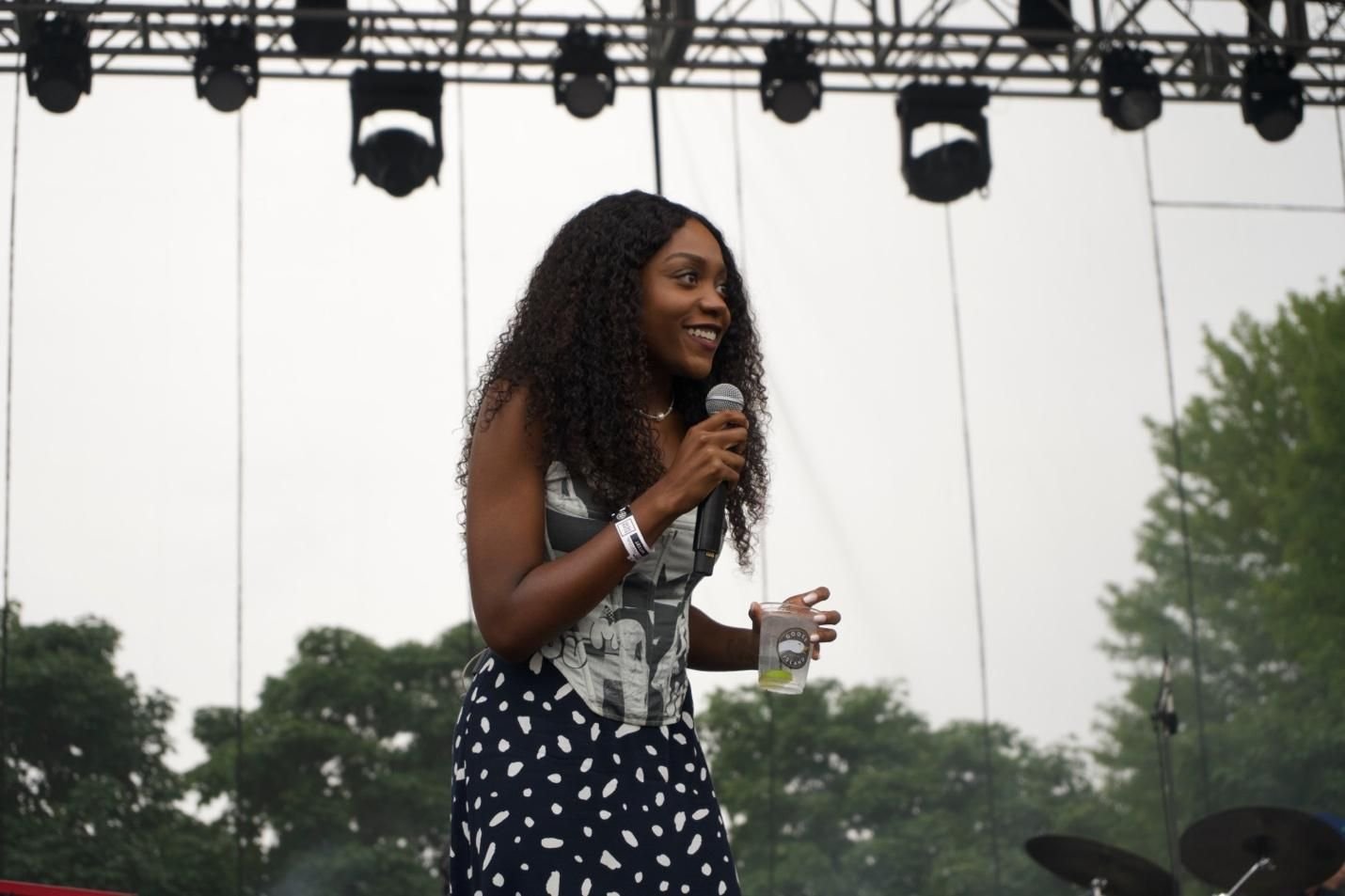 // Photo by Harry George
It's impossible to describe Noname's performance at Pitchfork as anything but loving. The rapper stopped the show about a dozen times to call paramedics for people in the audience who had fainted, repeatedly asking if they were OK even after receiving an overwhelming thumbs up from the audience. She also took time to take care of herself, pausing several times between songs to take deep breaths. Most notably, Noname called up singer and longtime collaborator Akenya and her own mother for hugs during the set — Akenya's hug came with a bouquet of flowers, a gift for Noname.
The compassion of the artist's performance choices was matched by her lyrical delivery. She enunciated each word with precision and never stopped looking directly at members of the audience, even rapping the words "I just wanna dance tonight" — the refrain from "Rainforest," her most recent single — while pointing at a woman dancing at the front of the stage. Even the songs Noname picked seemed to be chosen specifically to express care for the community. She played "Diddy Bop," her love song to Chicago, where Pitchfork Festival took place. The track embraces "my happy block, my whole neighborhood." She followed the song with "Ace," which calls Chicago "overzealous with talent." In another song, "Blaxploitation," she urged the audience to act with her: "Freedom is everybody's business."
Noname's expression of compassion didn't come as a surprise. In the past several years, the rapper has formed a book club that sends books to incarcerated communities, opened a "Radical Hood Library" in Los Angeles, and created "National Fuck Amazon Day," which encourages people to buy library cards.

During her performance, Noname stopped dialoguing with the audience. She asked if the sound was OK, and audience members asked Noname to turn up her mic. The artist resisted, saying, "If you can hear me asking, why should I turn up my mic?" The audience protested this response. But it's Noname's soft delivery that makes her such a powerful artist: Her songs feel like someone is whispering in your ear, and her performance put her on a larger stage without losing that intimacy. Toward the end of her set, Noname asked the audience members to scream "fuck billionaires." It felt like a release, a warm closeness finally escaping into the fresh air.
// Tadhg Gregory '22 is a DJ and writer for Record Hospital.