Pitchfork 2023: Sunday Recap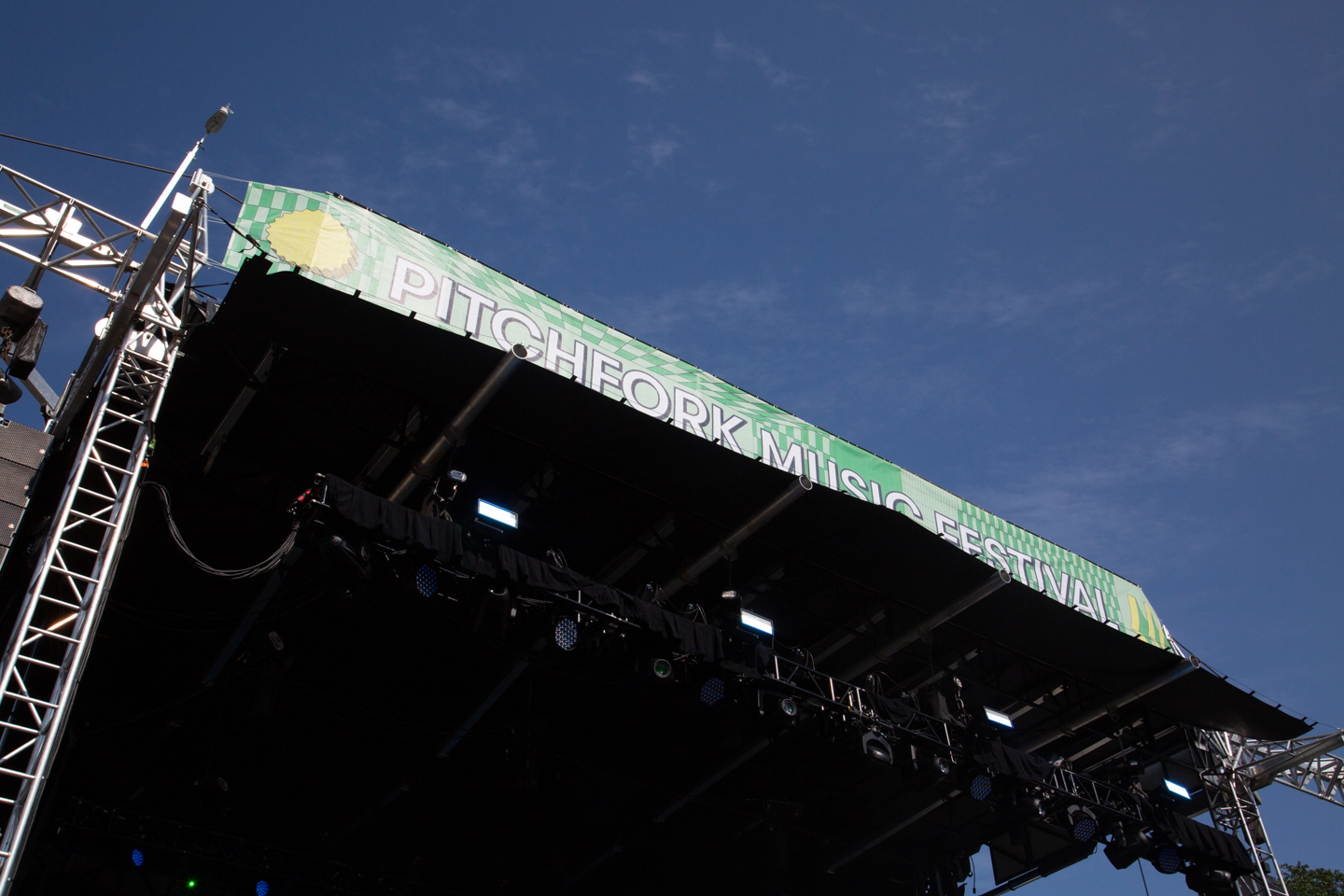 // Photo by Mika Simoncelli
Pitchfork Music Festival ran from Friday, July 21 to Sunday, July 23 at Union Park in Chicago. Here were some of the highlights from the third day.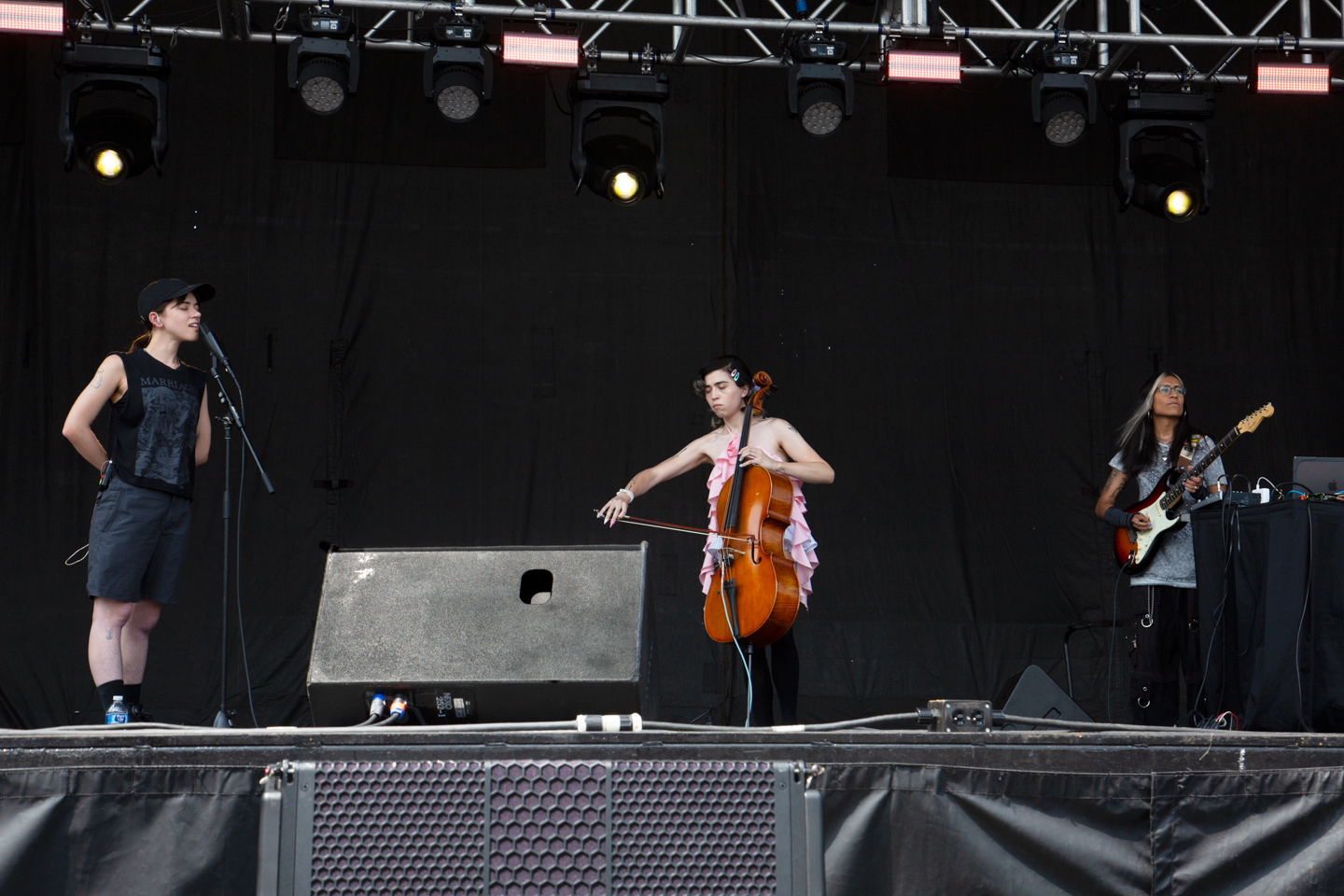 // Photo by Mika Simoncelli
Rachika Nayar
Palm had been moved to Sunday because of the previous day's rain, so people drifted back and forth between the two sets. Rachika Nayar's recorded music is celestial but also often solitary, the sound of one person layering ambience and noise higher and higher until something bursts. At Pitchfork she had a band: artists Issei Herr on cello and Maria BC on vocals, who she introduced as the Bimbo and the Twink. ("I'm the Dyke," she explained to thunderous applause.) For most of the set Nayar pulled double duty, DJing behind a mess of cables and coming out to layer on more guitar, and the connection between the three musicians made their sound impossibly huge. At the end they all hugged and kissed :) —Bea Wall-Feng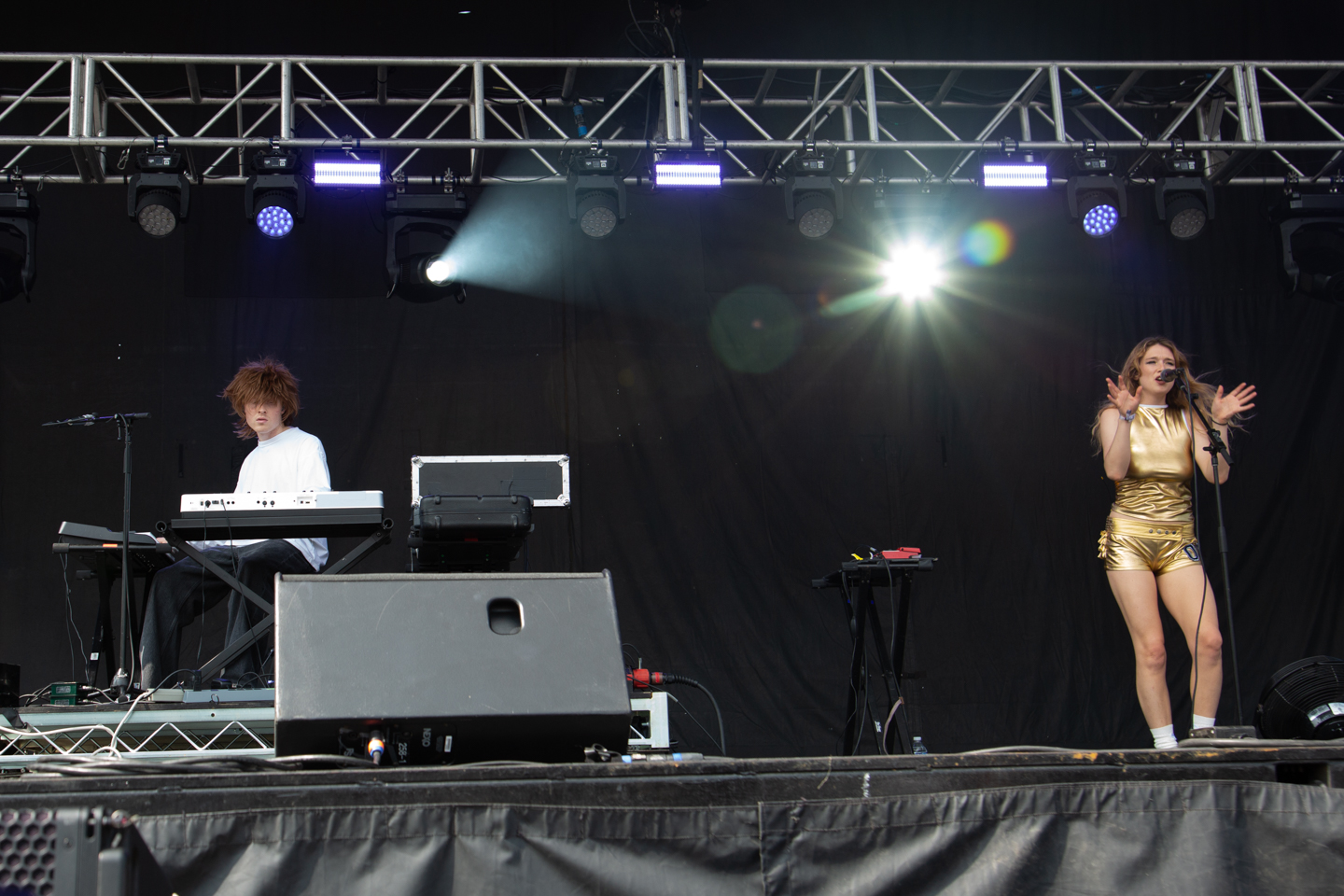 // Photo by Mika Simoncelli
Jockstrap
Georgia Ellery and Taylor Skye came running out to the Succession theme, but the vibes were maybe more Breakfast Club: the singer in her gold bodysuit dancing on one half of the stage, the producer in his white crewneck slouched over the keys on the other half, joining forces to make something technically stunning and a little tongue-in-cheek. Ellery conducted the crowd with her violin bow on the gorgeous "Concrete Over Water." On their standout performance of "The City," Skye left his perch and crouched behind Ellery, shifting her pitch to new and frankly unhinged places as she reached the song's climax. —Mika Simoncelli & Bea Wall-Feng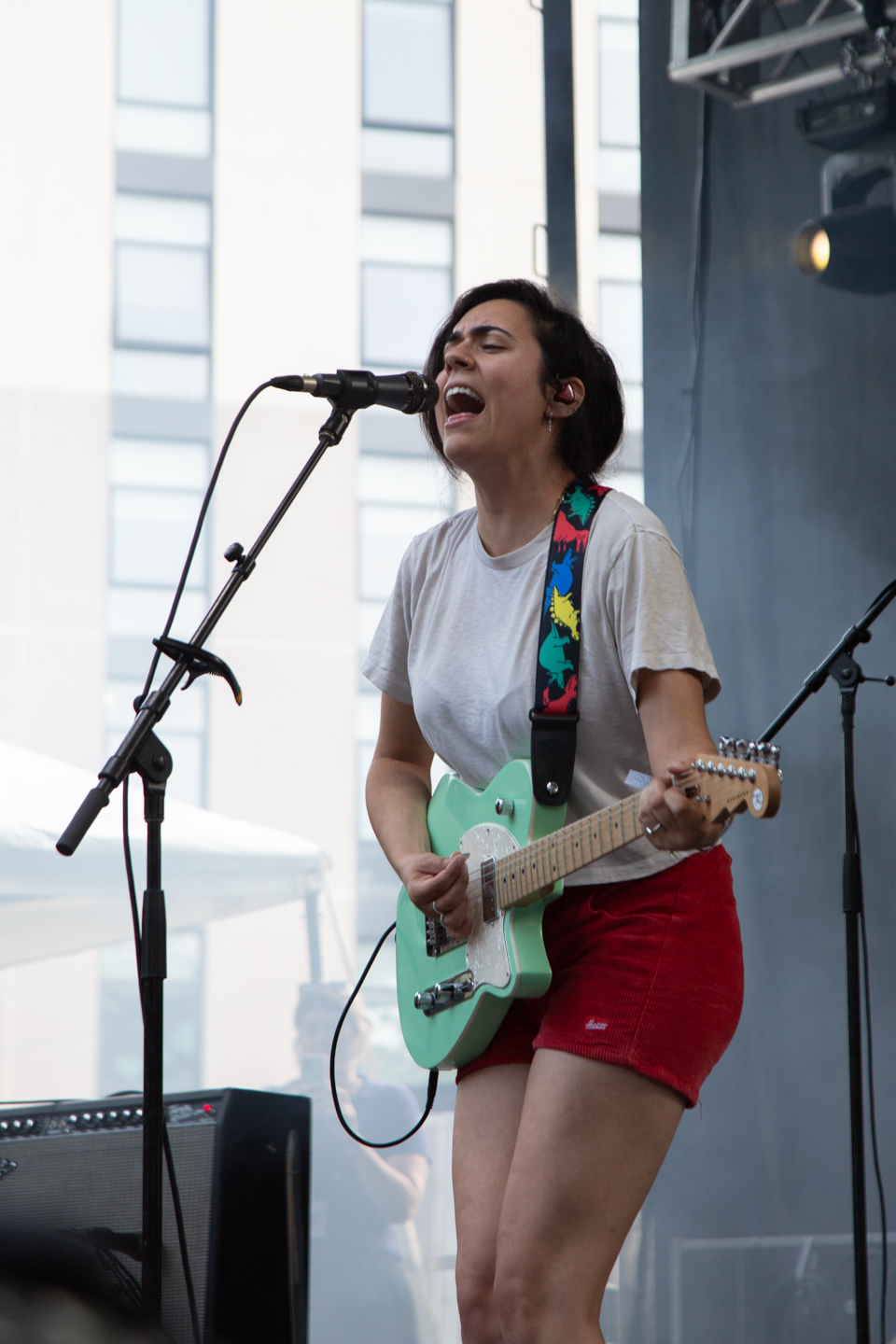 // Photo by Mika Simoncelli
illuminati hotties
Not sure how better to describe it: People were in love with illuminati hotties. Frontwoman Sarah Tudzin led the crowd in woozy, debaucherous singalongs of "MMMOOOAAAAAYAYA" ("Love me, fight me, choke me, bite me") and "freequent letdown" ("I'm always letting everyone down / I'm always letting everyone know I'm down"), but they all knew the words already. The band tore through old hits and new ones, including their most recent single, "Truck," and Tudzin jumped around, shredded, spun into ecstasy. —Mika Simoncelli & Bea Wall-Feng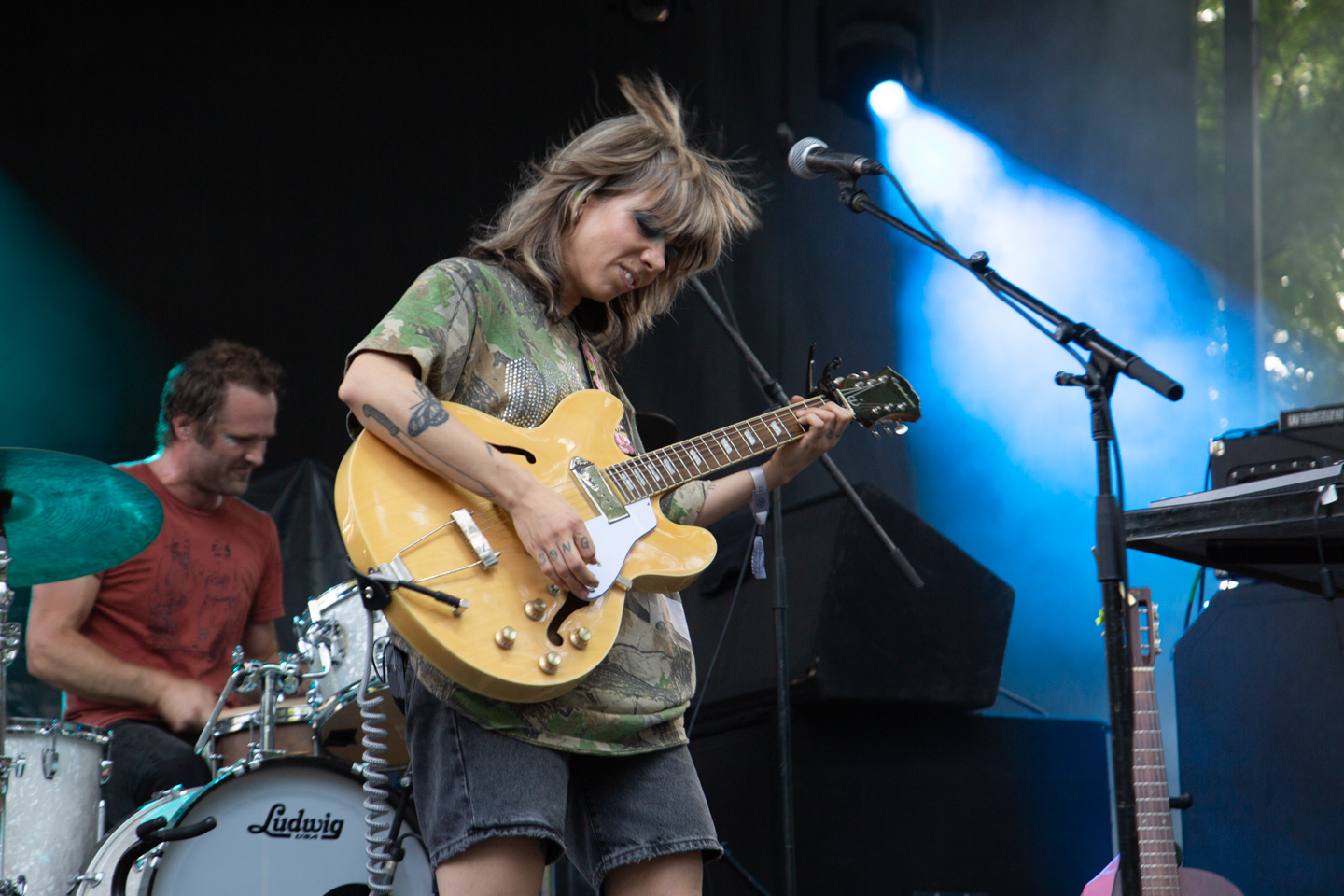 // Photo by Mika Simoncelli
Hurray for the Riff Raff
On the Blue Stage on Sunday, Alynda Mariposa Segarra and their band turned the midtempo songs from LIFE ON EARTH, their most recent album, into something to dance to. A harder-rocking version of single "RHODODENDRON," a shimmering extended coda on the end of "SAGA." A new song, "Snake Plant," that could have been a cut off LIFE ON EARTH. The highlight of the set was "nightqueen," an aching ballad about displacement where, on the studio version, poet Ocean Vuong delivers the spoken-word bridge: "I don't think energy dies; it's just transformed." Segarra transformed that part into something new, an urgent, soaring call to arms. That was the point of their live set and maybe really all live music: to take straightforward assessments of place — life on Earth is long; living in the city is hard — and deliver them with enough force, nuance, and wisdom to effect rapture. —Bea Wall-Feng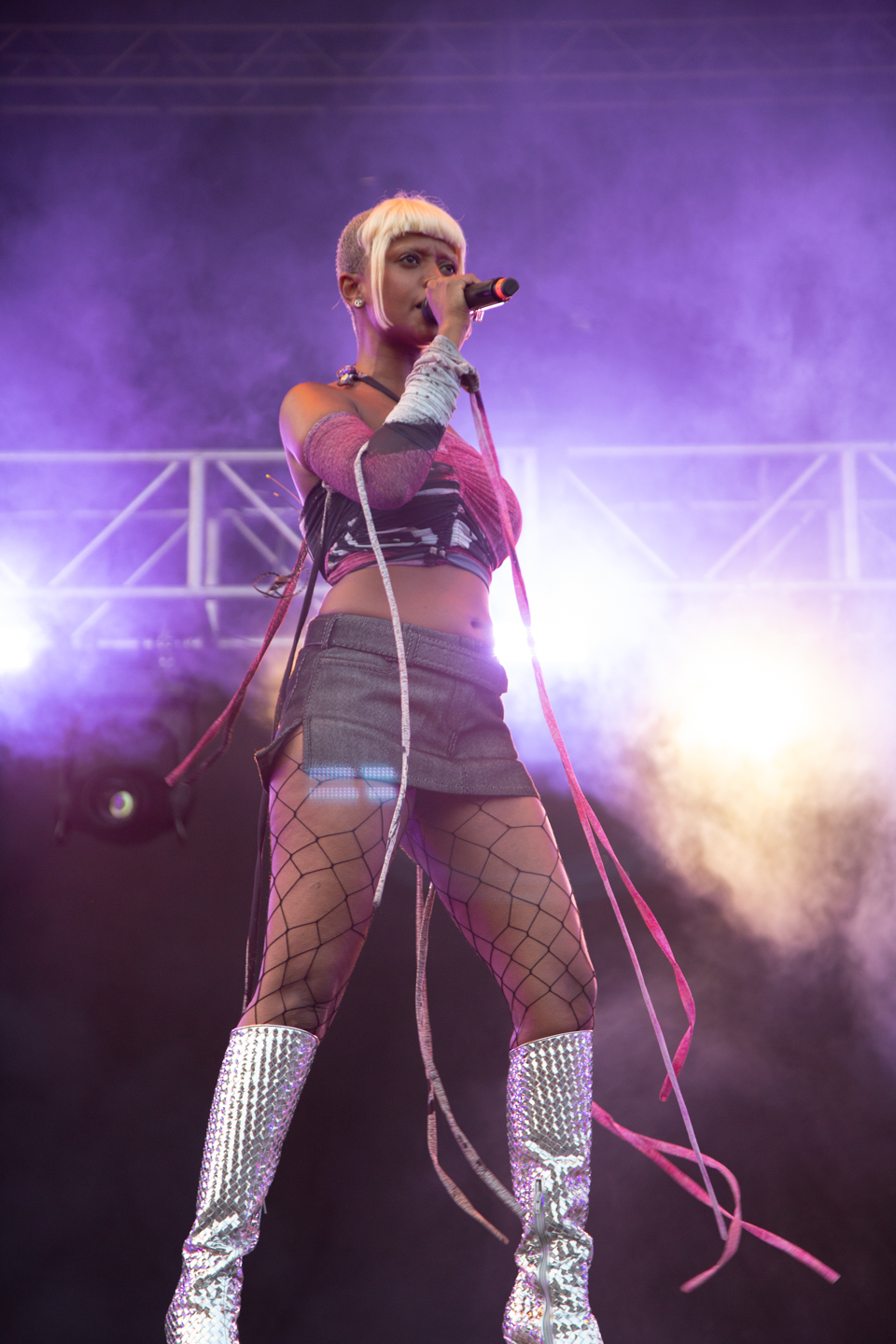 // Photo by Mika Simoncelli
Kelela
Kelela was one of a few acts at Pitchfork who was completely alone on the stage; good, because she filled it up. On Sunday she mostly ran through songs from her recent album Raven, beginning with the slow opening track "Washed Away" and moving fluidly across the stage. She was haloed by a spotlight on the gorgeous, mercurial "Raven," and on "Bruises" wreathed in violet smoke, ribbons streaming like water from her hands. The crowd was dancing for real. "Thank you so much for coming out and being vulnerable in your listening," she told us, and that was the festival. —Bea Wall-Feng
// Mika Simoncelli '23.5 and Bea Wall-Feng '25 are staff writers for Record Hospital.