Polo & Pan Present "Cyclorama"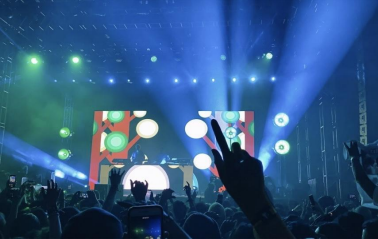 // Image courtesy of Sofia Ackerman.
Polo & Pan are a French DJ duo by Paul Armand Delille and Alexandre Grynszpan that debuted in 2013 with their EP Rivolta. Since then they have released 3 main albums: Dorothy (2014), Caravelle (2017), Cyclorama (2021). Because of the diversity in their music they have captivated an international audience from the U.S, and Europe all the way to Central and South America. Their most recent release of Cyclorama has led them to do their second U.S tour. Make sure to catch Polo & Pan at the House of Blues Boston on December 3!
Interview has been edited for conciseness and clarity.
First of all, what is the story behind the name of the band?
Paul Armand: It is because of our DJ names, we were both resident DJS at the club "Le baron" in Paris. Alex was DJ "Peterpan" and I was DJ "Polocorp". When we released our first song the label asked us what our name was and we had to think of it really fast and we just went with some simple mixture of both of these names: Polo & Pan.
I know you are both American and French, do you feel an equal presence of both of these cultures in your life? I've seen that many of your songs switch between French, English, Spanish, English, even Portuguese. Is cultural diversity something that you value in your music?
PA: Our music probably has a little more of a French influence than an Anglo-American one, but there has always been a bit of my U.S culture influencing the project since the beginning. For example our song "Dorothy" was in English and was referencing the Wizard of Oz. We have a unique and diverse range of sources of inspiration: we love classical music, Arab hip-hop, electronic music and all of these tastes come out in our music.
We are always digging into new countries, cultures and also time periods for our sources of inspiration. This could be assimilated to something French, because French musicians are usually tastemakers and like to make cultural blends.
I had the opportunity to watch you perform at "Corona Capital Festival" in 2019 back in Mexico City, and it was truly impressive how the images blended in with the music. There were people who were just discovering your music, while others had been listening to it for years but the entire audience was connecting and enjoying it together. So I wanted to ask you about the process of making this setup and touring in general?
PA: You saw the last gig of the tour! We were super relaxed because it was the end, but it is a long process to make everything work together: our music, the images, the audience, our outfits, the lights. Every detail is important and since we don't perform like a live band where they play everything at the moment, we needed to plan everything ahead of time. We worked a lot on that show, at least as much as making an album.
Does it ever get repetitive to perform?
PA: If we did the exact same thing every show and didn't challenge ourselves it would have been, But before every show we would try to add a new instrument, add a little something and it was very fun. Since we have all of our projects in our laptops, we could easily work the night before to add something new and when installing the gear the next day we would practice that little new part. Also, every crowd is very different and the last time we were very excited that it was our first big international tour!
How is your experience with your fans, have you had bad experiences with the audience?
PA: I am honestly kind of an introvert myself, I am not really the one who hangs out with a crowd after the show, I prefer to cool down a little. But for example, Mexico was very exciting! People would photobomb us! We absolutely love it but it can be very crazy after a show so we are a little more careful with that. As for bad experiences, we have never had one. Once we played after a really intense gangster rapper in Belgium and it didn't work at all, but that was more of a booking mistake, not an audience one. And even in that show when the public started to empty, we managed to get a crowd to come in and built something from that and we still had a good time.
Your album Caravelle is themed around traveling while this new album Cyclorama one is more of an introspective trip, about a cyclic view of life. Can you tell us more about this theme, and was at all inspired because of the pandemic and how while locked down you had to reflect on yourself ?
PA: Usually we write the songs and then add a narrative later, we are not really about concept albums.Our priority and objective is always to make a good music experience before choosing a theme.
However we do love a good story telling, it adds something to the record and it definitely helps to finish it. The pandemic definitely shaped this album in the sense that it was a moment to pull out of the world and reflect how our trajectory has changed: we have been working on Polo & Pan for 10 years nonstop, performing, touring and the pandemic hit and paused all of this craziness. It was truly an introspective moment, and the theme of the album was definitely nourished by this moment and these vibes.
It's very interesting how your music is constantly pushing boundaries, and doesn't identify to one specific category. How is the process of creating?
PA: Our process of creating is completely free, at the beginning of this project Alex and I didn't know what we were going to do together. Now, we kind of have a defining style and have a certain way to build songs: with certain instruments like bass sounds, certain grooves, spacing out and creating certain ways to drop after. But the themes, the source of inspiration and styles all are completely open.
We are always trying to innovate and whatever interests us comes into our music. We loved reading the book Sapiens by Yuval Noah Harari, and we actually almost named the album after it. One time, Alex got into mediation and we tried to do a song with the steps of going into hypnosis. Or another example could be that we were always afraid of planes so we made a song about "Phobia" (that we never released) which had a plane crash sound.
Have you ever had contact with local artists from the countries you have traveled to?
PA: To make our song "Mexicali" we contacted this Colombian band we love called Meridian Brothers. We sent them an instrument and asked if they wanted to collaborate with their vocals and the guitars, and the song worked very nicely! What is interesting is that we never actually met them. We did another collaboration during COVID with Channel Tres where we didn't have the opportunity to meet him either but the song came out great.
We have been inspired by South America since the beginning and we are finally going during our tour in October 2022, and we are trying to meet and share a stage with the Meridian Brothers which would be very cool.
What is the meaning behind the name of the album Cyclorama?
PA: We wanted a cool name around the idea of cycles and life, we ended up finding this word which has both the element of cycles and panoramas. But "Cyclorama'' is actually a theater word to describe the background that you put behind the theater stage to create a landscape. It actually looks like what we do on stage with all of the levels of visual effects. And visually the word is beautiful when you write it and also when you hear it.
Now talking more about your personal experience, when in your career was the shift towards music and why did it happen?
PA: It was very progressive. It took me about 10 years from "starting" in music to Creating Polo & Pan. I got passionate about music when I was 18 and loved the album Moon Safari
by Air. I bought a computer and started trying to produce music, but never thought I would ever make it in the music scene because I was already studying at a business school. After graduating,I worked for Microsoft and then moved to San Francisco working in a DJ software company which was slowly getting me into the music industry. After that, I came back to France and was a resident DJ at clubs but I was still working half time. It was a long and progrssive process and over a period of 10 years that I went from business school to living fully from music.
What did your family think about this path? Was it hard to make this shift?
PA: When I was younger I didn't think it was possible to be a professional musician, I was very immature but I always loved music and had a great time creating. My passion carried me for 10 or 15 years until I could tell my parents what I was finally doing. I had a lot of family pressure, my dad and uncles all went to Harvard and had big expectations on me and were sometimes concerned. It was a slow progression to find myself as an artist, to know what I wanted to do. I also had to meet my "person" without Alex or else I would've been able to do what I am doing, together we multiply our potential by thousands.
Did you ever think of doing music school? Some people say that music theory can sometimes be very strict when creating.
PA: I do think the energy of pure youth and enthusiasm for what you are doing will carry you a long and exciting way. Some people need the structure to write, but for me, at the beginning I was never technical. I was very inspired and only wanted to create, would wake up and the first thing I would do was write lyrics. I took some musical theory classes when I was a little kid and It was not until recently that I started to take piano lessons and I currently enjoy studying a lot. Today, I have less of the inspiration which happens after writing music for 20 years but I am a lot more technical and I've improved a lot in my techniques of writing.
Are you excited to tour again and see the crowds again?
PA: For sure! Although I think I am more of a studio guy, I love writing but touring is definitely something that I have learned to enjoy. However, I don't do all of this to be on stage, I want to be the music that a guy like me when I was college would put in his headphones and think "wow this is amazing." I really like the experience of music more than a big crowd.
Do you have any other plans after this album ?
PA: We are probably going to tour for 2 or 3 years like last time. I am also getting married and going for a 6 months honeymoon around the world! So I will probably tour and work until summer of 2023. I really want to travel, spend time in South America, Africa, record, create music and of course spend time with my future wife.
Congratulations! Thank you so much for today and can't wait to see you perform at your show in Boston!
// Sofia Ackerman '25 is a Staff Writer and DJ for The Darker Side.