Protest Jazz Broadcast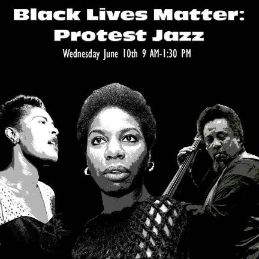 Our program includes jazz created during the civil rights movement of the 1960s, such as "Alabama," John Coltrane's response to the 16th Street Baptist Church bombing by the KKK which killed four African-American girls, as well as more recent works, like Terence Blanchard's "Breathless," a response to the last words of Eric Garner: "I can't breathe." The playlist contains music from as early as the 1930s ("Strange Fruit") to as recent as 2020 (Christian McBride's "The Movement Revisited"). Despite aiming for a comprehensive picture of protest jazz for this 3.5-hour broadcast, there were many works that could not be included due to time constraints. Thus, we hope that these works can serve as an introduction to protest jazz and its role in the history of the fight for equality and justice.
//See WHRB's statement on antiracism here.
Jazz Spectrum airs 5am-10am ET weekdays.