'A Pure Fantasy:' Randy Wong on Exotica Music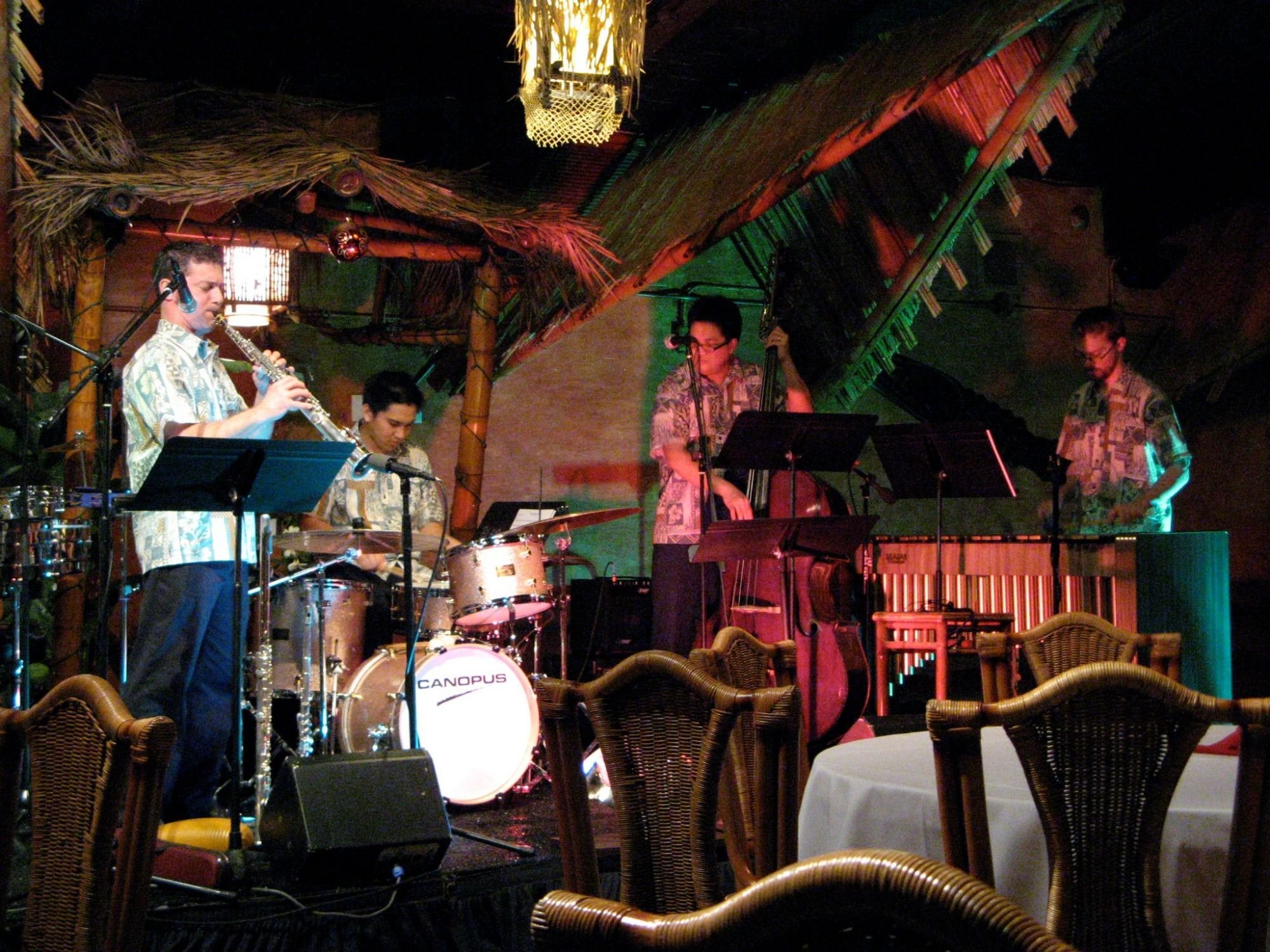 Listen
"It's pure fantasy though," said father of Exotica, Martin Denny. Narrowly popular in late 1950's America, Exotica is a mood-music tropical soundscape characterized by often abstract percussion, animal cries, and a certain easiness and mystique. In this Orgy, we look at Exotica's mid-century success and revival, its jazz and classical precursors, and its connection to the music of Hawaii, the Amazon basin, and Southeast Asia.
The Exotica Orgy will be airing from 7am to noon on Thursday, May 3.
Randy Wong is an exotica and jazz musician whose works are regularly featured on national programs such as NPR. He leads the exotica group, The WAITIKI 7, which has recently produced two chart-topping albums Adventures in Paradise and New Sounds of Exotica. Their work will be featured in Thursday's broadcast.
What is the appeal of exotica?
Exotica transports you to another world. It's tropical, it's jazz, it's got dance beats; it's really a pastiche of things. When you put it all together, it makes you feel like you're gone away, you're sipping a Mai Tai, and you're totally relaxed. I think that in today's modern lifestyle–the sophisticated savage–you want to be totally chill.
What are the sociocultural conditions that led to exotica?
World War II had just finished, so in Hawaii you had the Chinese, Japanese, Koreans, the Hawaiians, and Puerto Ricans who were in this melting pot. There were also American service men who had stayed after the war who were finding a new life in Honolulu and enjoying jazz. That music was put together with second generation Japanese, Chinese Americans, and the Hawaiian language. At the same time, airlines were starting to do trans-Pacific flights, and you might stop at Hawaii. You need a soundtrack for those travels.
What is exotica's relationship to the music of tropical regions?
In Hawaii, at the time, there was a type of music called Hapa Haole which is a Hawaiian term meaning half-Hawaiian, half-white, characterized by Hawaiian melodies with American jazz forms. Exotica was the next step after Hapa Haole music. It continued to have those jazz forms, and started to incorporate jazz instruments like the vibraphone, popular after World War Two, and some Latin percussion. There were a lot of Puerto Ricans in Hawaii at that time. They had moved to either work in the pineapple or the pig and game hunting industries, and with them they brought their music. All of that fused together, and that's how we got exotica.
Could you speak about the animal sounds?
They're made vocally by the members of the band. Story has it that a musician was picking up on these birds and frogs that were chirping and croaking along with the music. As he made those sounds, more people joined in and it became a part of the music. If you watch any of the old videos of either the Martin Denny or Arthur Lyman bands performing, you can see that as the musicians are playing, they're also whistling and making animal calls.
You recently produced an album titled the New Sounds of Exotica. What are these new sounds of exotica?
Martin Denny himself wasn't a jazz player, and we found that a lot of his band's solos and percussion rhythms weren't improvised. With the Arthur Lyman band, everything was improvised. The WAITIKI 7 has the idea to create a vocabulary for the musicians that addresses both. By having written-out arrangements, you're able to build certain nuances to the music. At the same time, we have really stellar Latin and jazz musicians who can harmonically and improvisationally contribute to that language. That's what the sounds are about. It's drawing on other musical influences that have happened since 1956 that make this music updated for modern listeners.
---
Xilin Zhou is a producer for WHRB Classical, a DJ for Record Hospital, and a member of the WHRB Board.