Put a Little Love in Your Heart: Online Orgy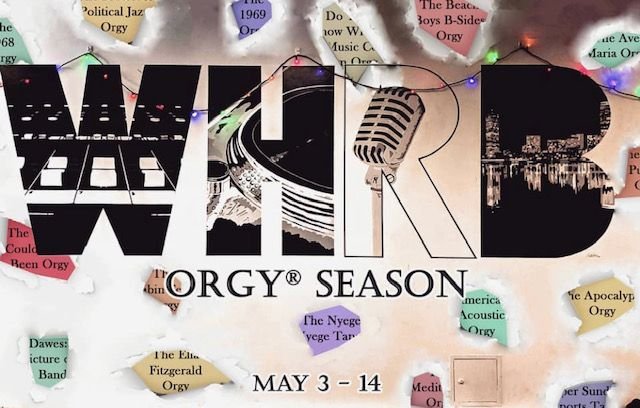 The Put a Little Love in Your Heart Orgy was conceived to try and express the unnamed swirl of emotions I have felt since mid-March. It is hard to process, let alone talk about, and listening to these songs has been the way through for me. Here you will find representations of the nameless feeling, songs to process the feeling, and songs to make it go away. There are songs to put a smile on your face or a tear in your eye, or, maybe even both. These are anthems for the end, the beginning, and the long long middle.
I first heard "Put a Little Love in Your Heart" in the guise of Ella Fitzgerald's cover that appears in the middle of this Orgy. Its joyous optimism and endless emissions of love left me smiling and humming, leading me to look up other artists' takes on it. This Orgy includes the ones that touched me the most.
Each has its own take — Don't miss the Star Trek cast's version in the middle! And each rendition marks a transition from a cleansing section of the playlist to a happy section. From Dolly Parton's country infused choir, to Mahalia Jackson's gospel conversational phrasing, to Gladys Knight's declaration of "Peace!" heralding her R&B rendition, the different genres give "Put a Little Love in Your Heart" a different flavour, but they all agree that "the world will be a better place if you put a little love in your heart."
If possible, please listen in order:
We begin with Dolly (because everyone loves Dolly), and her expansive upbeat version of "Put a Little Love in Your Heart." We then turn to Nina Simone for some thoughts on history, overcoming, and the importance of song. And then comes our first love song: The Standells' "Dirty Water," a love letter to Boston and the Charles River.
Then come songs about movement and transition. Some are deeply sad, speaking to the pain of having to move on, leave something behind: "Fast Car," "I Know Your Rider." But sometimes movement is happy, and "On the Road Again," and "Take Me Home Country Roads" help me remember that. "Take Me Home Country Roads" has become something of an important song this year. It played prominently as protestors streamed onto the Yale Stadium field for the Divestment protest during Halftime of Harvard/Yale, and it played again in the dinning hall as we tried to pack up our lives in only five days. I paired it with "The Mother" and "Song For My Father," songs about the beauty and joy of familial love. They tell us that, if we are lucky, going home can be warm and wonderful, a beginning not an end.
There are plenty of songs that if I was announcing on the radio I would follow with a comment along the lines of "How fun!" or "Wow that just brings a smile to my face!" This category includes Lester Bowie's live cover of "Black or White," The Hot 8 Brass Band's "Sexual Healing," Janelle Monae's "Make Me Feel," Lennie Briscoe (Jerry Orbach) singing "Razzel Dazzel" from Chicago, and Wayne Shorter's synth soaked "Joy Ryder" (Jazz can be fun and silly!) to name a few.
Many of these songs include a live audience, a chorus, clapping, and/or a sing-along. Those elements impart a feeling of community and communality. At the moment of recording they created a communal catharsis which is now accessible to all of us. So, clap, sing, dance along! Connect with the original audience and with any other listening to this playlist across time and space.
Unity is a theme in a number of the songs in this Orgy. Love is not just a feeling but an act. Part of my nameless feeling is the dramatic scale of devastation this crisis has caused. The two versions of "Got my mind set on freedom" along with Pete Seeger's "Which Side Are You On" remind me of how to channel my nameless feeling and my love. They speak to our need to extend our communal love to communal action.
All of these songs are beautiful, but I want to bring your attention to a few that stand out to me:
-Nina Simone's poignant raspy vocals and piano playing in her live performance of "In the evening by the Moonlight." She makes nostalgia into a sound.
-Amina Claudine Myers' perfect diction in her painful exploration of slavery's looming presence and music in "Plowed Fields."
-Sonny Rollins' tone that wraps around you like a warm breeze in "Till There was You (take 1)."
-Eric Dolphy's virtuosic performance of "The Way You Look Tonight." (Does he still have fingers?)
-Clifford Brown's trumpet on Dinah Washington's "Summertime." You've never heard high notes like this. You can hear the audience's gasps! His sound is so crisp, bright, and filled with emotion. He might as well be singing. (Does he still have lips?)
The final section of the Orgy begins with Mahalia Jackson's rendition of our titular song. I hope these final six songs can act as a last cleansing and love giving moment. I begin with Sun Ra's "Springtime Again." For me, this is a painful and hopeful reminder that as much as it seems impossible, time moves on. Spring comes now as it will next year, and the next. There is no going back, no redo. Only moving forward as best we can. "Hum Allah…" is a deeply spiritual song. The opening shaker evokes for me a wooden meeting hall with neat wooden benches filled with love. Together we join in a universal prayer: "Peace for every man. All you got to do is clap your hands." After the taping into and cleansing the nameless feeling, "Joy Ryder" brings, well, joy. And energy. It's time for a moment of happiness and freedom: "If You Want To Sing Out, Sing Out." Have it your way ("My Way"). And finally, we leave as we came in: with a little love in our hearts.
Listen to the orgy at https://open.spotify.com/playlist/1h8JKEqvnmoU1mJb...
//This Online Orgy was curated by Iris Feldman '20. The Jazz Spectrum airs weekdays 5am-10am.
Original Lyrics to "Put a Little Love in Your Heart":
Think of your fellow man
Lend him a helping hand
Put a little love in your heart
You see it's getting late
Oh, please don't hesitate
Put a little love in your heart
And the world will be a better place
And the world will be a better place
For you and me
You just wait and see
Another day goes by
Still the children cry
Put a little love in your heart
If you want the world to know
We won't let hatred grow
Put a little love in your heart
And the world (And the world) will be a better place
All the world (And the world) will be a better place
For you (For you) and me (And me)
You just wait (Just wait) and see, wait and see
Take a good look around
And if you're looking down
Put a little love in your heart
I hope when you decide
Kindness will be your guide
Put a little…