Record Hospital Hot 100 Orgy®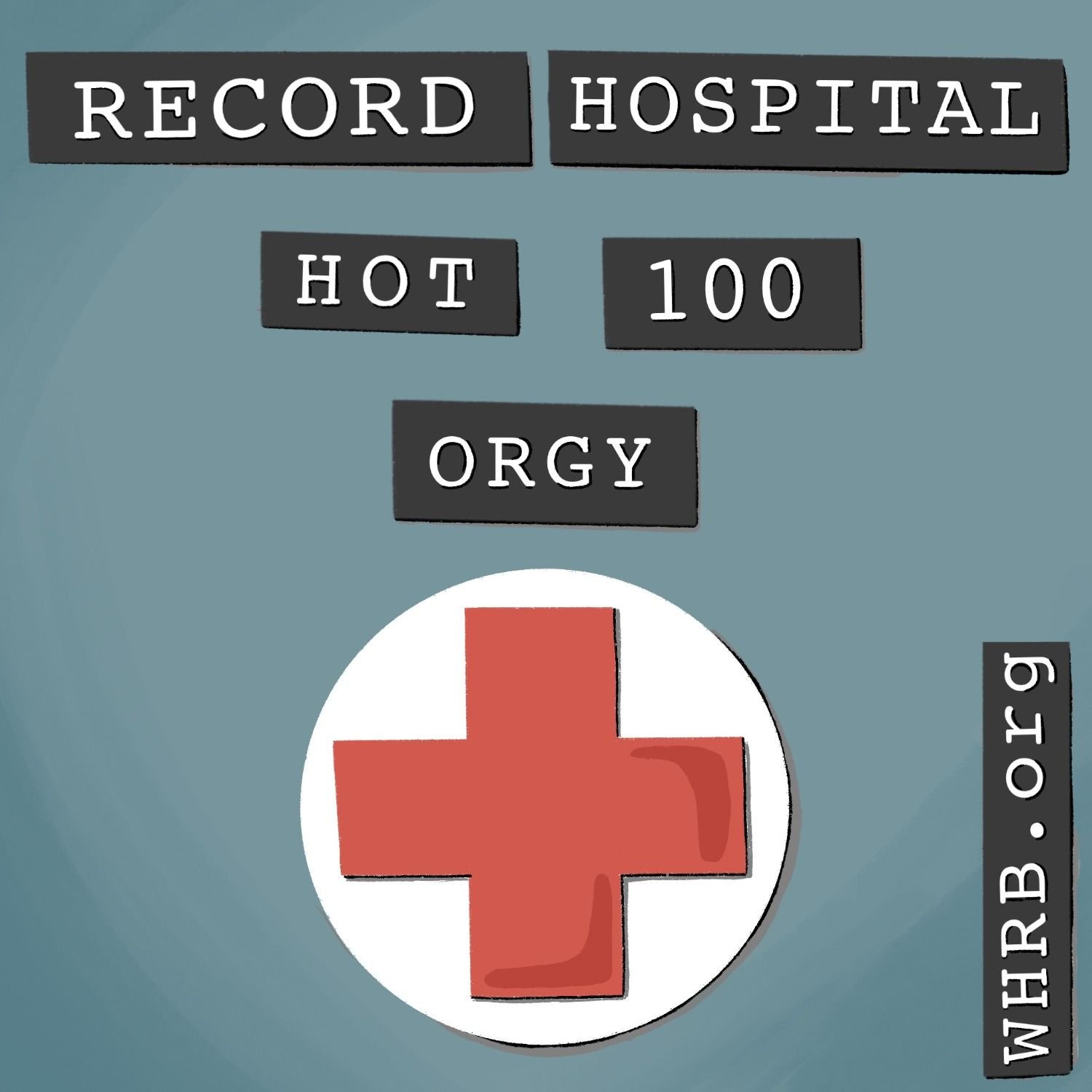 We are so excited to share our Record Hospital Hot 100 Orgy® with you! The songs that we've chosen are definitely not as popular as the songs on Billboard's Hot 100 playlists, which is exactly why we decided to highlight them here. When we were on campus, Mika and Megan (the Music Directors for the Record Hospital) curated a Top 20 playlist — a collection of new releases and new additions to our physical Record Hospital library — and played it over the air every Monday from 10-11pm. Since we weren't able to continue programming the Top 20, we decided to follow through on its mission by creating the Record Hospital Hot 100 Orgy®.
This Orgy® comprises 100 songs that have been released since the start of quarantine that the Record Hospital has received digitally and we've discovered online (plus some bonus materials because there are too many amazing releases that we wanted to share with you). We created a Spotify playlist with all of the songs, along with two "Top 10" playlists of our favorites from the mix if you're not ready to marathon the whole thing – together they make a Top 20 show.
We sequenced our playlist in a way that allows listeners to find the releases that they connect with the most. We start out with sounds that are quintessential RH (noisier, punkier rock songs) – which describes the songs from the top through Subele by Alice Bag. From there we moved into songs that were just slightly softer, some with a bit of a poppier sound – this is the section through Soft Gun by GIRL SKIN. Next is an acoustic, folk, and indie section through Proud by Freak Slug. Following is a higher-energy section with more electronic instrumentation, which goes through Forreal??? by keiyaA. We close out our Hot 100 Orgy® with some ambient and noise music for listeners who are into more experimental sounds.
Mika and Megan wanted to highlight their favorite songs from the playlist and give recognition to the artists who released them, so we've each chosen our favorite ten songs and written a little about them. Our "Top 20" is separated into two smaller playlists that we've included below.
Megan's Top 10
Art Punk – The Homeless Gospel Choir
A group that I discovered while scrolling through Twitter, The Homeless Gospel Choir dropped the single "Art Punk" on March 20th. The punk band from Pittsburgh dropped their full album on April 24, and I've been playing it on repeat for days.
Rust – Bears In Trees
Bears In Trees are a band from South London who write songs about "house parties, climbing rooftops, drinking coffee before bed, and dealing constructively with depression." In March, they dropped their single, "Rust," and its upbeat sound has been helping me get through my days in quarantine!
Ego – Moaning
Released March 20, this sub pop release is a result of an abrasive rock trio trading guitars for synths and leaning into the anxieties that come along with being alive, which feels especially relevant now. The entire album is excellent, but Ego is definitely a stand-out.
Hitori De – alllone, Nichi Mlebom
This collab between alllone and Nichi Mlebom is captivating with its electronic sounds. Its name, Hitori De, means "alone" or "by oneself," which is very fitting for our quarantine playlist. This song is so catchy; you'll surely find yourself vibing to the lo-fi beats.
My Heart Cries for You – Bloodshot Bill
As a solo artist, Bloodshot Bill knows how to create music that simply makes sense. As a self-proclaimed "rockabilly wild man," he plays raw music with an intriguing folky vibe. He released his album, "Get Loose or Get Lost" on April 10, and it's truly a hit.
Something New – Paragon Cause
Paragon Cause is an Ottawa-based alternative/electro-pop duo, and they are incredible. They released a complete album, "What We Started" in April, with a collection of songs that have the intensity of material from a garage band with phenomenal vocal and musical hooks. This song is truly a hidden gem, and with only 600 monthly listeners on Spotify, this small band deserves our attention!
You Are Freaking Out – CLIFFFS
A single from the band's sophomore album, PANIC ATTACK, released in late March, You Are Freaking Out is a great rock tune. It is messy and gritty, and as advertised by the band, a triumph of imperfection. The full album was released April 10, and I can't stop listening to it.
Riverbank – Pinewood
This song belongs in an indie movie, and that's the best way I can describe it. Its calming melody and thoughtful lyrics make this a perfect song to listen to when you're happy or when you're sad. The folk-rock feel is exciting and unique to songwriter, producer, and instrumentalist Sam Kempe. The four-song EP is phenomenal, so I encourage you to listen to more from Pinewood!
Joy – Tenci
A slower, mellow song by Chicago-based band, Tenci, reminds us that it's okay to listen to music that is relaxing and soothing. Joy was released as a single on April 28, and the band plans to release their full album in early June. With the band's delicate guitar playing and thoughtful sound, this is one that you should definitely listen to.
Arrow – Rosie Tucker
Rosie Tucker never fails to impress me with their thoughtful lyrics and immersive sound. Their songs echo cult-favorite songwriters of the 1960s like Norma Tanega and Karen Dalton. This single was released at the end of April and has fans anxiously waiting for more.
Mika's Top 10
Dreams – Oxyjane
Oxyjane is a band from Graz, Austria making self-described "sad grunge pop." Their EP, Mint Condition was released March 27, and is an excellent choice for an angsty quarantine sing-along. Dreams is my favorite song on it, which grabs your attention immediately with its tight instrumentals and crackling energy, and holds it all the way through a sweet build and slightly distorted outro.
At Best – Lily Konigsberg
Lily Konigsberg's EP, "It's Just Like All the Clouds," dropped on March 13 as Harvard students were starting to leave campus. Its 4 tracks will bring you out of reality and back again. This one is my favorite, along with the leading single, "I Said," which was the first song Megan and I ever played on our Top 20 air.
Small Song – Paddlefish
With sweetly strange cover art, this May 1st single from the band Paddlefish switches deftly from earnestness to irreverence between two memorable lines: "and I believe in you/so let me sleep, goddamnit." These excellent lyrics are complemented by warm and shining guitars – I'm excited to see what will come next from Paddlefish.
Questions - Lenny iz Cool
Questions is the first track off of Lenny iz Cool's debut EP, Suck, released on April 17. It drops you right in to a deliciously bratty sound with an exclamation that starts off the song, "would you just shut the f*** up?," and continues to deliver with biting and perfectly abrasive guitars. I strongly recommend the whole EP and I can't wait to see what they do next.
Soft Gun - GIRL SKIN
The album "Shade is on the Other Side" by GIRL SKIN was recorded in frontman Sid Simons's bedroom in Brooklyn, New York. "Soft Gun" is one of the leading singles, with warm guitars that complement bittersweet lyrics, and great string details that really round out the sound.
Brooklyn – Katie Malco
Maybe I'm a sucker for this song because I miss being able to take the subway to Coney Island, but it's also because the lyrics tell a beautiful story and the build is deeply rewarding. It's somehow both deeply personal and intimate and also kind of epic. Stay tuned for Katie Malco's album, Failures, which is slated to release on June 5th, 2020.
Icee Blue - Crisman
This song was first released as a single from Crisman's self-titled debut album which came out on April 3. The album is absolutely charming all the way through, and we've been anticipating it since we played the lead single, "Surprise," over our Top 20 air in February.
woman, here - Ada Lea
This is the titular single (and far and away my favorite track) off of Ada Lea's EP, which dropped on March 27. The instrumentals are lovely and dreamlike, and the main lyric, sung with such earnestness – "I can't/be a/woman/here," moved me and has played on loop in my head since I first heard it. I recommend Ada Lea's previous full-length album, "what we say in private."
Gallinazos – Varsovia
You might know the band Varsovia from their song "Ellos Quieren Sangre," which is the theme song for the HBO show, Los Espookys. The band, based in Lima Peru, is back after nearly six years – "Gallinazos" is the second single from their upcoming sophomore album, "Diseñar y Distruir" (Design and Destroy). It's full of splattery, dark synths, subtle sirens, and echoey speak-singing – if you like the spooky vibes, I would recommend a deep dive into the other artists in the Buh Records catalog (also, I've heard the HBO show is quite good).
Forreal??? – keiyaA
I'm totally captivated by the swirling synths that drive this song, from the debut album "Forever, Ya Girl," released on March 27th by the Chicago-based artist keiyaA. There's something meditative about their looped rise and fall, which provides the backdrop for lyrics that describe a simultaneous push and pull towards a lover.
Bonus Material
A charming Green Day cover from one of our favorite artists, gobbinjr.
Former Boston-local band CYBERBULLY released a new album "On Top of Bitch Mountain" in March, and it was recommended to us by former Record Hospital DJ Ilana for our "remote raging purposes."
Record Hospital DJ Mazin recommends Come and See, a new album from Mamalek. Mamalek is two brothers recording in San Francisco and Beirut, and Mazin describes their music as "black metal and middle eastern tinged free jazz."
Two compilation albums with new tracks from artists we love:
1. The Song is Coming from Inside the House. Proceeds from this album go to The Groundswell Rapid Response Fund.
2. FURLOUGH YOUR DREAMS. Shared with us by Record Hospital DJ Peyton.
Record Hospital DJ James interviewed the artist Lightning Bug for WHRB. Their new single, "The Onely Ones" is on our Hot 100 playlist. He also shared their recent cover of The Kinks' "Waterloo Sunset," with us. The proceeds from this cover are going to Futures Without Violence.
MHYSA is the musical persona of multidisciplinary artist E. Jane. MHYSA created this video while in quarantine, for her song "before the world ends," off of her sophomore album, "Nevaeh." It's an artful use of the quarantine setting and the lyrics are eerily prescient.
Former Record Hospital DJ Allison Tanenhaus has worked with Boston-based bands to create some beautiful music videos for their music.
With The Square Root of Negative Two:
1. https://www.youtube.com/watch?v=GIWijU9JCAg
2. https://www.youtube.com/watch?v=XXNHtVTO1z4
With Maria Finkelmeier:
1. https://www.youtube.com/watch?v=3RF3Pzj4l4I
2. https://www.youtube.com/watch?v=QHkRpaaQHYo
Ways to Support Artists
We put together this playlist because in a time when live shows are indefinitely canceled and album releases are being delayed, it is crucial to share the work of smaller and emerging artists. In that spirit of support – the spirit of the Record Hospital – we wanted to include some suggestions for ways that you can show your support from your home. Our favorite article we found on the topic comes from Ad Hoc, a Brooklyn-based organization that produces concerts and publishes a zine. They also wrote in a recent newsletter email:
"Possibly the easiest way to show our appreciation for artists though is to actually share their art! Here are some quick and helpful ways to do so:
-Post the songs you're listening to on your story (bonus points if you tell [people] where to buy the album.)
-Post a pic in a band t-shirt and tag the band or take a selfie with a poster hanging in your room.
-Invite your friends to join you in watching a livestream. [...]
-Text your friends about music and make each other playlists!
-Keep tabs on new releases––many artists have dropped new releases in the past couple weeks and now is a great time to give them a listen.
-Learn how to play a song by an artist you love. Many artists are actually posting how to play their songs if you wanna look em up."
We also want to give a special mention to Bandcamp's days where all proceeds go directly to artists. There was one recently on May 1st, and the next one will be on June 5th.
Lastly, we want to share a schedule from NPR of virtual live shows – it's constantly updated with a wide variety of listings.