Remembering Leon Fleisher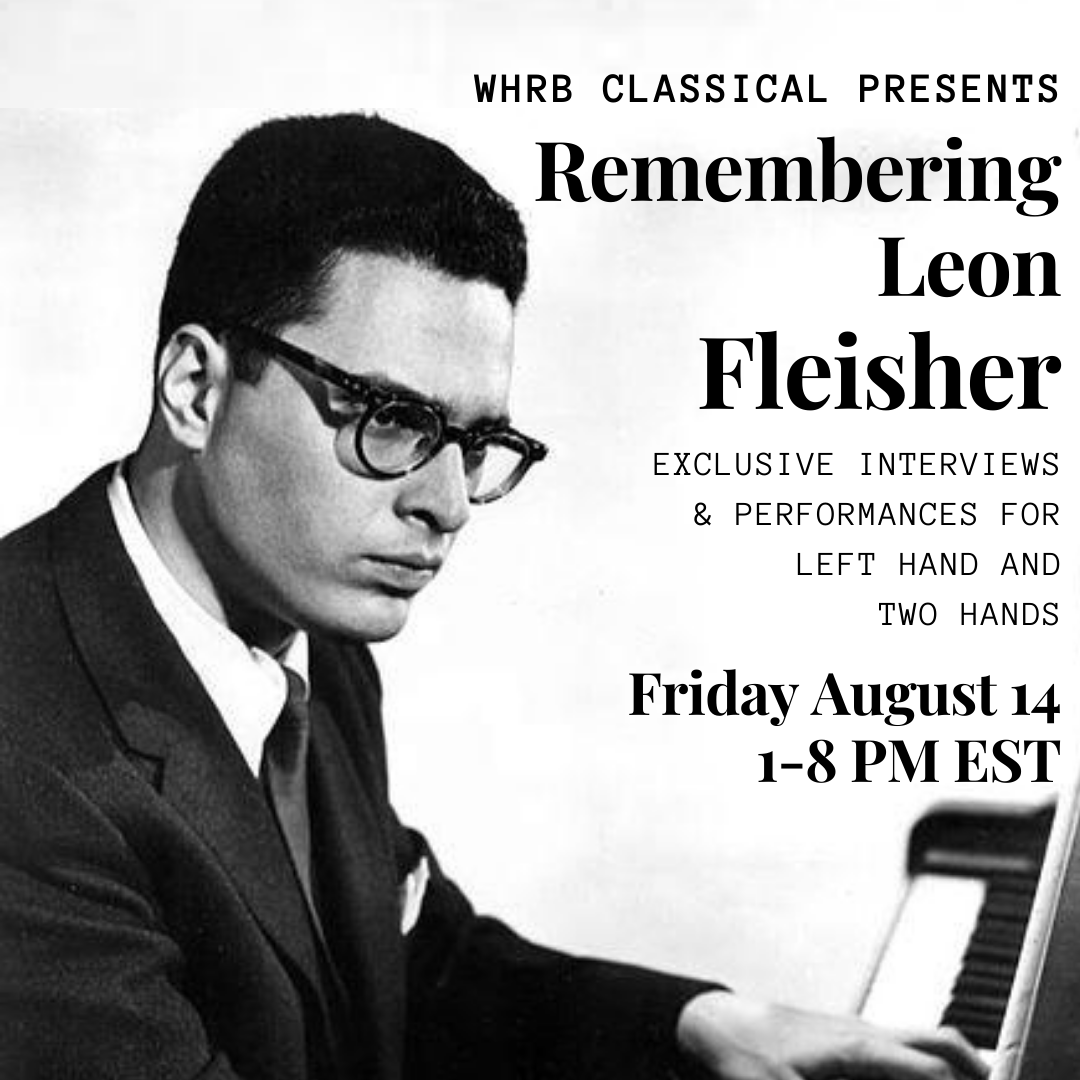 Update Required To play the media you will need to either update your browser to a recent version or update your Flash plugin.
On Friday, August 14 from 1-8 PM, WHRB presented a tribute to the legendary American pianist Leon Fleisher, who passed away on August 2 at the age of ninety-two. Fleisher was an extraordinary musician, and his life story is among classical music's most remarkable and inspiring. We heard the following program of recordings, spanning over six decades of Fleisher's career. We also heard remembrances of the late maestro from former students Inna Faliks and Michael Sheppard and Peabody colleague Clinton Adams.
Remembering Leon Fleisher:
Brahms: Piano Concerto No. 1 in D minor; Fleisher, Szell, Cleveland Orchestra (Sony)
Schubert: Piano Sonata in B-flat major, D. 960; Fleisher (Sony 1956)
Brahms: Piano Quintet in F minor, Op. 34; Fleisher, Julliard String Quartet (Sony)
Beethoven: Piano Concerto No. 4 in G major; Fleisher, Szell, Cleveland Orchestra (Sony)
Kirchner: Piano Sonata No. 1; Fleisher (Sony)
Godowsky: Symphonic Metamorphosis of the Schatz-Walzer Themes for the Left Hand; Fleisher (Sony)
Scriabin: 2 Pieces for the Left Hand, Op. 9; Fleisher (Sony)
Takács: Toccata and Fugue for the Left Hand; Fleisher (Sony)
Blumenfeld: Etude for the Left Hand in A-flat major, Op. 36; Fleisher (Sony)
Schubert: Piano Sonata in B-flat major, D. 960; Fleisher (Sony 2004, from Two Hands)
Bach: Chromatic Fantasia and Fugue in D minor; Fleisher (Vanguard Classics)
Stravinsky: Serenade in A; Fleisher (Vanguard Classics)
Mozart: Piano Sonata in E-flat major, K. 282; Fleisher (Vanguard Classics)
Ravel: Piano Concerto for the Left Hand; Fleisher, Ozawa, Boston Symphony Orchestra (Sony)