RH Roundup 1/25/21-1/29/21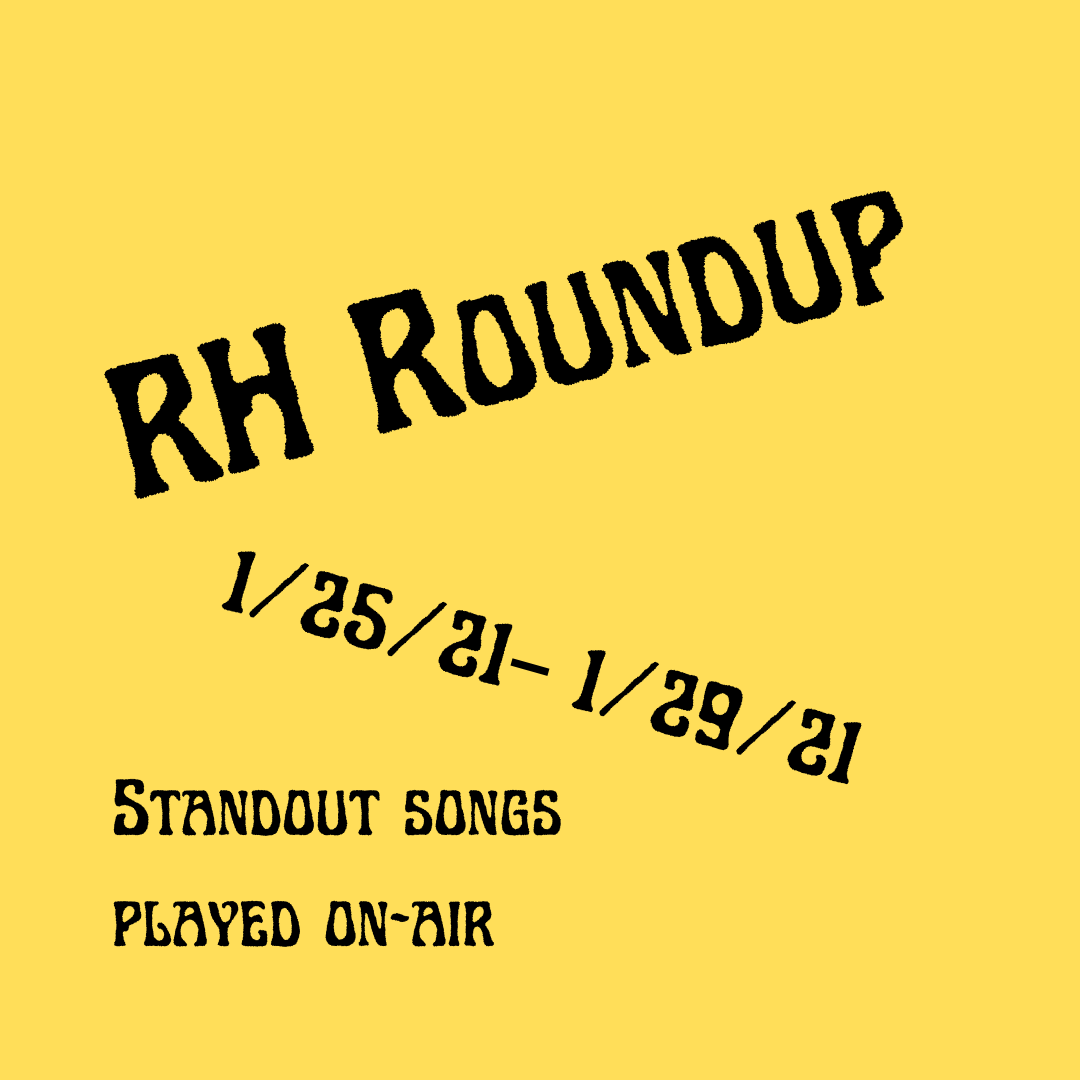 RH Roundup 1/25/21–1/29/21
Editor's Note: The RH Roundup is a new recurring feature we're starting this semester, where members of the department highlight some tracks they played on their shows that stood out to them. We're launching this as a way to better showcase music outside of our air hours and to show the different tastes of the department. Roundups will cover the tracks played in Monday-Friday of the prior week.
Gilberto Sepulveda Rabago '24 / nwebb: Tuesdays 1-2 AM
Sprain – "Slant" from As Lost Through Collision
A song fueled by an oscillation of highs and lows, opening with an apex of noisy goodness soon to be followed by calming guitar phrases that are like babies conceived by a Duster and Slint parent duo. The vocals sometimes align inversely with the noisiness, meaning that a monotone voice enters throughout distorted guitar playing, creating a cool dissonance between the two.
Ezra Lebovitz '22/23 / mossy: Tuesdays 10-11 PM
The Uncluded – "Boomerang" from Hokey Fright
Two weeks ago, I was in the passenger seat, driving through the desert en route to Moab UT when this song came on. It was on a CD mixtape someone made for my friend and I added to my playlist the second we had reception. "The Uncluded" is the project of indie star / Moldy Peaches member Kimya Dawson and Aesop Rock — Boomerang shows these two artists at their best, with a tune that is as inventive as it is fun to sing along to. It will always make me think of being in that car, everyone playing with the word "boomerang" (boome-boome-boomerang) in their mouth.
Pansy Division – "That's So Gay" from That's So Gay
Pansy Division is one of the most iconic names in queercore and for good reason: the group, founded in 1991, helped define the voices of the queercore scene for years to come. This particular track, released in 2009, showcases the band's musical skill and lyrical play. The band brings a unique joy and humor to the track in display of queer punk confidence and mastery.
Ryan Golemme '23 / ovid: Fridays 2-3 AM
Point Line Plane – "Adult Contempt" from Smoke Signals
Has the tight, frenetic energy and pop songwriting sensibility of a classic new wave song but powered by a noisy and distorted keyboard riff rather than guitar. The sound never sounds overly thin or loud, making great use of only keyboards and drums. The paranoid lyrics also work well with the rougher sounding synths.
The Mystic Tide – "Silver Rails - Going Home" from Solid Sound..Solid Ground
Very low fidelity, psychedelic garage rock that stands out as a solid, weary jam. There's a drifting, bluesy sadness to the song that's perfectly accentuated with scratchy, lengthy guitar passages. The 1994 CD I played this from was apparently a compilation of the band's singles, demos, and other tracks from their unsuccessful initial run in the 60's, plus some stuff recorded in the 90s, and they seem to be regarded as pioneers of this sound.
SubArachnoid Space – "untitled" from Also Rising
A more modern psychedelic song with elements of space rock that stood out in my increasingly psych-themed night. Its mellow bass and echoing, screeching guitars, supplemented with splashes of a bubbling, crawling synthesizer pad, made for a very soaring sound that still sounded almost serene. Though the liner notes said this was best listened to as a whole album, I think this works as an individual track.
Hrsta – "Saturn of Chagrin" from Ghosts Will Come and Kiss Our Eyes
Although I guess this fits into "post-rock," it seems much more like an ambient music track to me. It's a serene, floaty, yet foreboding piece with a pulsating electric piano and guitar textures that almost sound like violins coating the back, accentuated halfway through by piano bass keys. The soft electric piano especially reminds me of a Harold Budd track.
(I initially reported this by accident as the track "Tomorrow Winter Comes" from the album, which is also a good track)
Votaires – "Your Bed Is Melting" from Psychometry
A more psychedelic song closer to more abstract noise that I only wish was a bit longer This opens with a rumbling sound soon bathed with layered female voices all echoing with each other. It's a very entrancing effect that manages to almost sound unnerving, almost like a witches' chant. It switches up halfway through to a more stuttering guitar and what sounds like weary strings from a looping vinyl record, still with echoes of synth throughout.
Spacemen 3 – "Ecstasy Symphony" from The Singles
This is a track which sounds exactly what you would expect from its name, and it's marvelous for it. Despite consisting of only a low bass hum, a viola-like pulsating sound, and spacey synthesizers drifting in and out, the song sounds so expansive and transcendent as it sails along through nine minutes, though perhaps it works best in a late-night atmosphere.
Michael Rother – Katzenmusik Tracks 5-8
I may write a separate article highlighting this, but this is such an amazing album that sounds so ebullient. It's basically a two-part suite, with certain recurring sections that have an added layer each time they return. The album has amazing production, sounding so sparse yet rich at the same time using a very light drum groove, a mix of plucky and more roaring guitars, and little synth flourishes. Tracks 5-8 flow between a recurring guitar melody and more drifty portions, with track eight sounding like a conclusive fusion of all the sections before it.