RH in Tokyo: Eclectic Indie Rock at Shimo-Kitazawa FEVER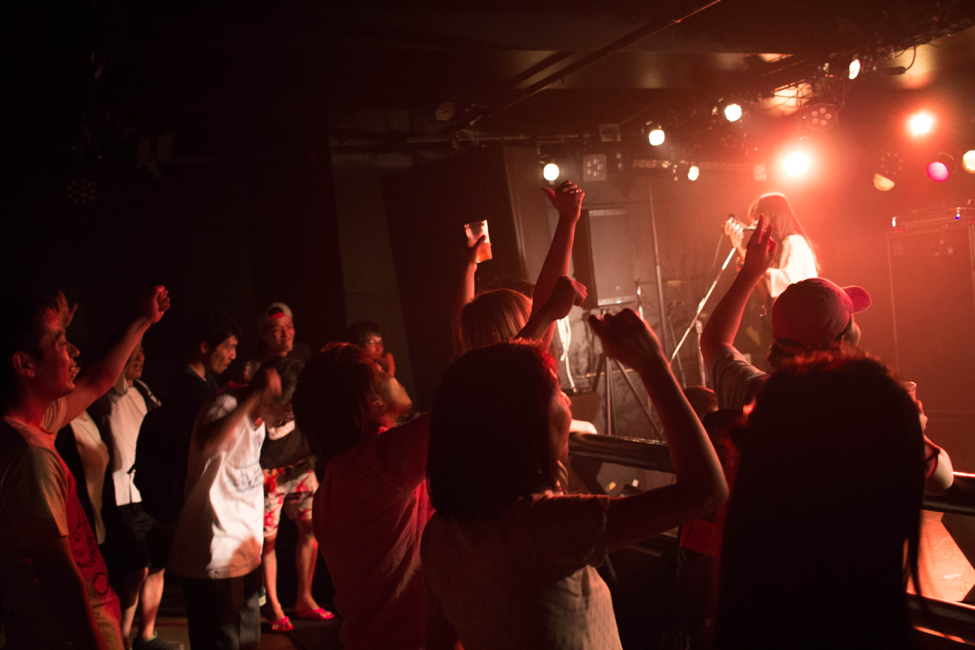 This article is part of a series on the vibrant music scene in Tokyo's various neighborhoods.
An electric-blue neon sign marks the entrance of Live House FEVER, one of the giants of the Shimo-Kitazawa music scene. Boasting sold-out shows every week, FEVER has a cleaner, more professional appearance than other live houses in the area, with an impressive speaker system, designated smoking areas outside of the main venue, and ample space for the audience.
I just barely catch the ending of the first act's (Absolute Area) final song, a wild J-rock flourish that foreshadows the energy to come. The lights go up, and a chillwave playlist fills the void left by the band as they make room for Manhole New World, the next band on the bill.
As the band wheels a marimba onto the stage, front-and-center, I know I'm in for a treat. After the frontman greets the audience with a goofy smile and a bucket hat, Manhole New World starts the wildest math rock set I've ever seen. Layering marimba rhythms with the lead guitar, drums, and bass, the band has a blast on the stage. Halfway through their set, the lead throws out tambourines into the audience and acts as a conductor for the next few songs. Tambourines? I'm into it. And so is the crowd—they go wild with their tambourines, in stark contrast with the audiences at some other concerts I've been to, where people are too timid to even clap along with the music.
After Manhole New World finishes and collects their tambourines, ALL ITEM 10 TIMES takes the stage. They play a shoegazey J-rock set, hitting the audience with bright guitar tones and walls of noise. The laid-back tempo provides a nice contrast to Manhole New World's frenetic set.
安頭 is last, and they are aggressive, emphatic, and passionate. Their biggest fan, it seems, is a man in his mid-50s who is just going completely HAM, fist-pumping, jumping, and head banging to their up-tempo shredding. The lead vocalist's Kansai accent adds to the aggressive flavor of their set, and I find myself moving closer to the stage to soak in his energy.
After the show, I talk with the bassist of Manhole New World – as it turns out, he studied music composition at Berklee College of Music about two years ago! I'm pleased with the diversity of styles that played tonight—clearly, the managers at FEVER make the effort to ensure that each night has an interesting mix of sounds.
James Gui is a DJ for RH, TDS, Jazz and Blues