RH in Tokyo: A Night of Shoegaze at Kōenji HIGH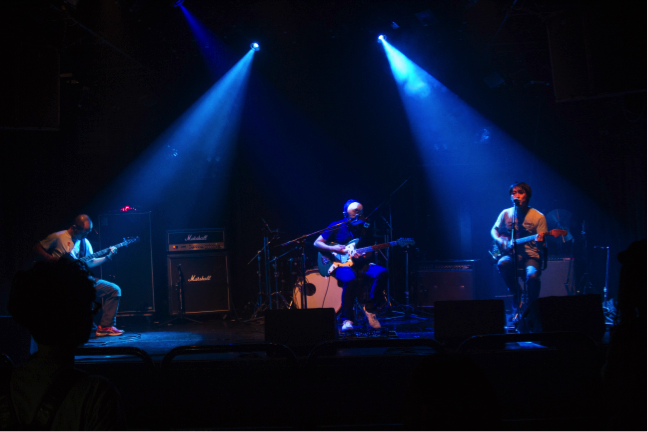 This article is part of a series on the vibrant music scene in Tokyo's various neighborhoods.
Tucked into a quiet corner of Tokyo's Kōenji neighborhood is Kōenji HIGH, the capital of shoegaze in Tokyo. I'm here on a humid Friday night to see their "blue noise test" concert series, featuring Bask in the Deep, The Terminal Stage, ENGMAL, and FEEDBACK CYCLONE. The crowd is young and hip, the girls dressed in baggy overalls and the guys sporting oversized T-shirts.
Due to train delays, I miss the first act completely, but I come just as ENGMAL finishes tuning and warming up. Their drummer isn't there—he's apparently sick—so the remaining three bandmates make up for his absence by turning up their amps. Their sound is very noisy, with post-rock tendencies in their repetitive strumming and crescendos. The vocalist's voice barely skims over the loud, distorted guitars, but his emotion shines through.
Compared to the grittier clubs in Shimo-Kitazawa, HIGH is clean, organized, and smoke-free. This isn't to say that HIGH is without character; the staff are incredibly friendly, the crowd is energetic, and the lighting is spectacular. My favorite act of the night is The Terminal Stage, a three-piece band whose noisy reverb, ethereal falsetto, and thudding drums bring me to the verge of tears during their final song, "白昼夢 (Daydream)".
The final act is Bask in the Deep, playing a heavier, faster visual kei sound than the other shoegaze bands. It's also the most dynamic, with the flame-haired lead vocalist swinging his dyed locks to and fro center stage during the high-octane choruses. Of all the acts, their performance is the most visceral, broadcasting their deep angst through strained voices and flailing limbs.
HIGH's "blue noise test" and "Total Feedback" concert series are their mainstays, attracting local enthusiasts and expats alike. The community is intimate; many of the audience members and venue staff are themselves musicians, making for a space that feels immediately welcoming. After the show, the performers and venue staff gather to grab a few beers and smoke, chatting with audience members and friends. I'm told that Hata Yusuke, the warm and pleasant manager of HIGH, is the lead vocalist of local legends Cruyff in the Bedroom.
If you're a fan of shoegaze and are in Tokyo, you absolutely have to make the trip to Kōenji HIGH. I'm looking forward to returning for their Total Feedback concert series next Sunday; their biggest event of the month.
James Gui is a DJ for RH, TDS, Jazz and Blues
**Article cover photo of ENGMAL