Robert Johnson: A Bluesman of Mystery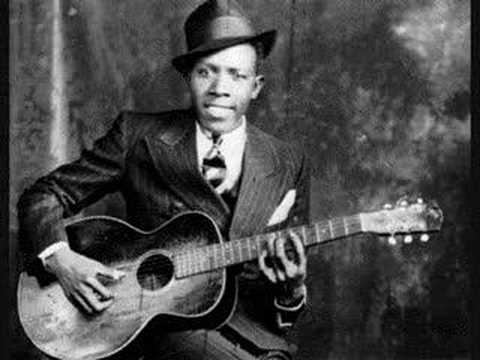 Robert Johnson was born on May 8, 1911. He grew up on a plantation in the Mississippi River Delta. He was the grandson of slaves. Robert's ancestors had hard lives, and his was no easier. He and his family were constantly moving to various migrant farms, and he hated farming. As a boy, he distracted himself from his grueling work with the joy he got from listening to all types of music on the radio. He learned how to play the harmonica and the guitar, two strategically portable instruments, with hopes of becoming a traveling bluesman. In 1929, he married Virginia Travis, and he worked—begrudgingly—as a farmer, so he could earn money for his family. Virginia underwent complications during her first childbirth, however, and both she and the baby died.
Johnson again turned to music for solace. He moved back to his mother's and step-father's house in what was formerly Robinsonville, Mississippi (today's Tunica), and he spent many a night attending blues bars and listening to the greats of his time: Charlie Patton, Willie Brown, and Son House. He idolized Son House, who served as a Johnson's mentor. In his amateur days, Johnson's enthusiasm for music outweighed his skill as a musician. Son House recalled people being annoyed by Johnson's music. Son House once informed Johnson, "You know people don't want to hear that racket!" After a brief six to eight month stint studying under Ike Zimmerman's guitar tutelage in southern Mississippi, Robert Johnson no longer bore the brunt of the joke. He apparently learned quite a bit from Zimmerman.
Johnson was a charismatic dancer, singer, and performer, but his prodigious guitar prowess made him stand apart from the other musicians of the time. People started to propagate the myth that Robert Johnson went to the crossroads and sold his soul to the devil for his newfound skill as a guitar player. The myth helped to propel his career. There is an irresistible allure of someone obtaining his skill from the devil—it's dark; it's compelling; it's different. Hollywood even jumped on the bandwagon with the production of Crossroads released in 1986 with actors Joe Seneca and Ralph Macchio.
As fascinating as this myth may be, some argue that it's insulting. Elijah Wald, one of Johnson's many biographers, says, "It's kind of implying that, unlike [people] who do this serious work to understand music, these old black guys just went and sold their soul to the devil." Johnson didn't get his skill overnight—it was learned, and it took effort. To attribute his ability to a one-time fluke is to discount his ambition. I hope today we recognize the legend he became not for the glamor or mystique surrounding it but for the effort he put into becoming it.
Johnson made some of the most enduring blues tunes during only two recording sessions in the 1930s. During the first of his recording sessions in Texas, for the American Record Corporation, he produced popular songs that were played on the radio including Terraplane Blues and Kind-Hearted Woman. His second—and last—recording session took place in Dallas. Altogether, he recorded only 29 songs. What Johnson lacked in quantity, he made up for in quality. His influence remains omnipresent for artists today, from Eric Clapton to Led Zeppelin.
His friends recalled him as a good person. He was no angel, to be sure: he chased women, he got angry when he was drunk, and he let people know it when he didn't like them. That was Johnson: unapologetic. "He didn't say much, but he thought all the time," says Johnny Shines about Robert Johnson. Johnson entertained thousands in his day, but he only allowed a lucky few to truly get to know him.
Johnson died the night of August 13, 1938. He had been performing with Honeyboy Edwards at a juke joint. Apparently, the owner of the juke joint and he shared an interest in the same woman. Honeyboy claims that this owner poisoned Johnson's whiskey and that Johnson died hours later, howling, fighting, and crying. Intriguingly, the cause of death listed for Robert Johnson was syphilis. His resting place is also disputed: a church in Morgan City, a chapel in Quito, and a church in Greenwood all claim to host the Mississippi grave site of Robert Johnson.
Despite his unfortunate and early death, Johnson's legacy lives and breathes today. He was inducted in the Rock 'n' Roll Hall of Fame, and his Complete Recordings Album won a Grammy. His style had an incredible impact on the future. He blazed a trail for blues and rock musicians to come, and his music is enjoyed by millions today.
By:  Hannah Leverson '17
Information and quotations provided by Can't You Hear The Wind Howl: The Life and Music of Johnson