Prince Royce: The Bronx-Born Prince of Bachata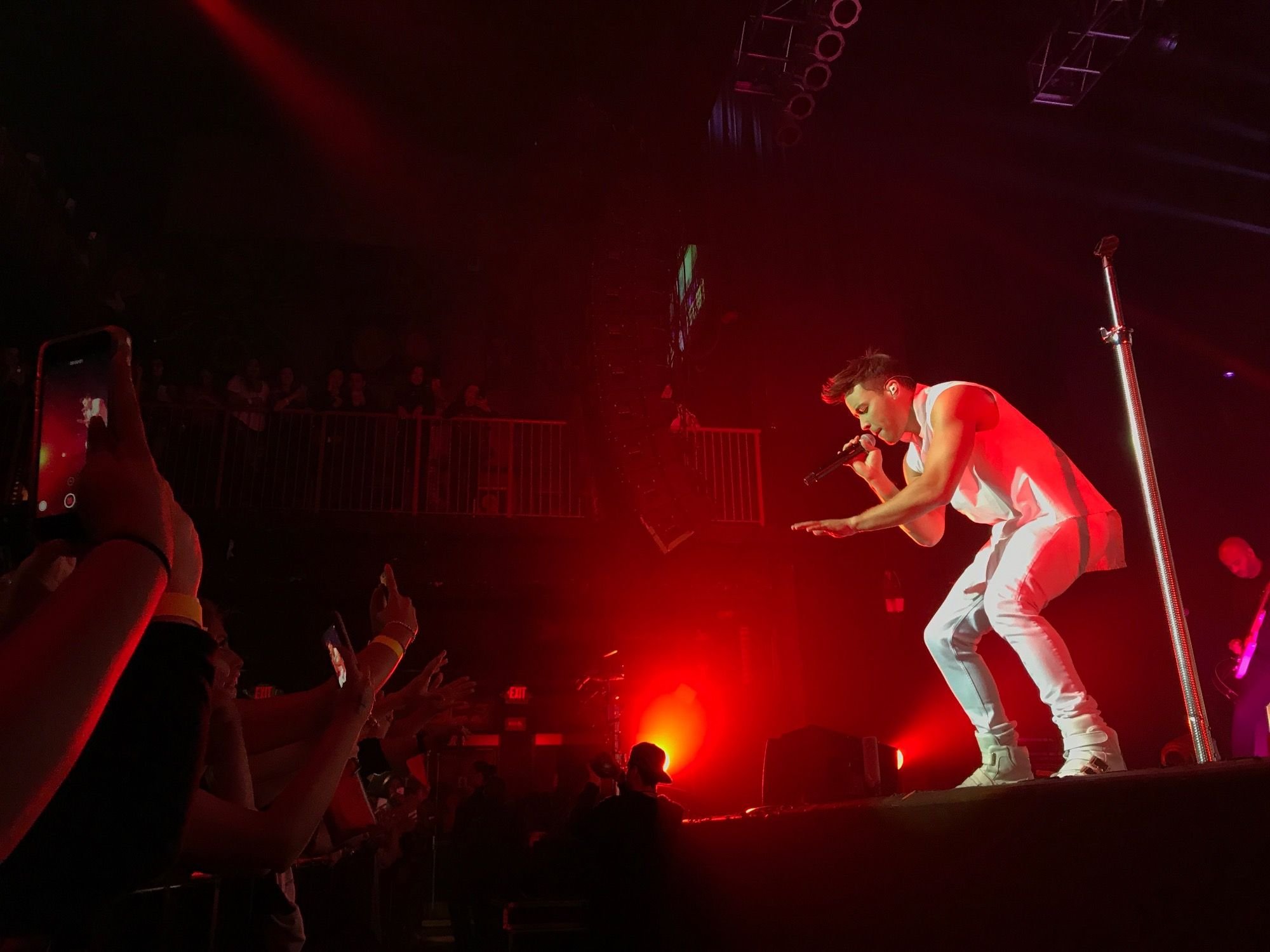 On an unseasonably cool Tuesday night in Boston, a gaggle of twenty teenage girls huddled behind a curtain at the House of Blues. They chanted, they sang, and when Prince Royce finally showed up for his meet and greet, they cried.
Royce is one of the most successful artists in the Spanish-speaking world — his most recent album, Five, debuted at number 1 on the Billboard Latin chart and sold more copies in its first week than any other Latin album released in the last two years. He's known best as a bachata artist, delivering swooning odes to eternal love over skittering bongos and twinkling guitar lines.
Like any major musician, Royce cultivates a carefully-managed image. But his is especially interesting, because it's linked so closely to the Spanish language, his Dominican heritage, and the genre of bachata. Born in the Bronx to Dominican parents, the artist grew up speaking Spanish at home and English away from it. He told me he "feels very American," and mentioned his love for hip hop nights in New York and Ultra Fest in Miami. Speaking with me — in English — the bachata prince, idol and sex symbol to millions, seemed far away.
Indeed, Royce has made efforts to move beyond his Spanish-language success. He recorded his 2015 album Double Vision entirely in English, delivering tightly produced collaborations with artists like Snoop Dogg, Tyga, and Kid Ink. The record received mediocre reviews, though, and failed to deliver a breakout single. While Royce says that singing in English comes naturally to him — unsurprising, given his background — the fact remains that his biggest commercial successes have come as bachata records. There's no doubt the singer is aware of that fact, and it's fair to wonder if that's why Five marks such a clear-cut return to his bachatero roots after the Double Vision experiment.
I do get the sense that Royce still has his eyes on a crossover hit — he told me he's been encouraged by the success of Luis Fonsi's "Despacito," and that it has motivated him to continue to put out new music. After all, the Spanish-speaking bachata heartthrob who smiled mechanically again and again at that meet and greet is just one side of the Prince Royce equation — on the flip side is a 28 year-old from New York, a fan of the Weeknd and Eminem who dates a Canadian actress and cites Camila Cabello as a new artist to watch (in lieu of more obvious and on-brand examples like Luis Coronel, his opener on this tour, or Sofia Reyes, a young Mexican with whom he's worked). A successful crossover track might allow the singer to fold the latter half of that equation more fully into his public image.
As Royce took the stage at the House of Blues, high-pitched screams reverberated. A drunken Brazilian woman in her 40's threw her arm around me, pointed, and shrieked, "This is the Latino Justin Bieber!" The first chords of the bachata track "Te Robaré" blared from the speakers, and the crowd around me joined in unison — "Tus padres no me aceptan en casaaa." Success for Prince Royce still sounds like a bachata song -- and so, at least for now, Royce will continue to be the bachata prince.
Chris Ulian