Seattle Chamber Music Society: Debussy, Beach, Shostakovich, Suk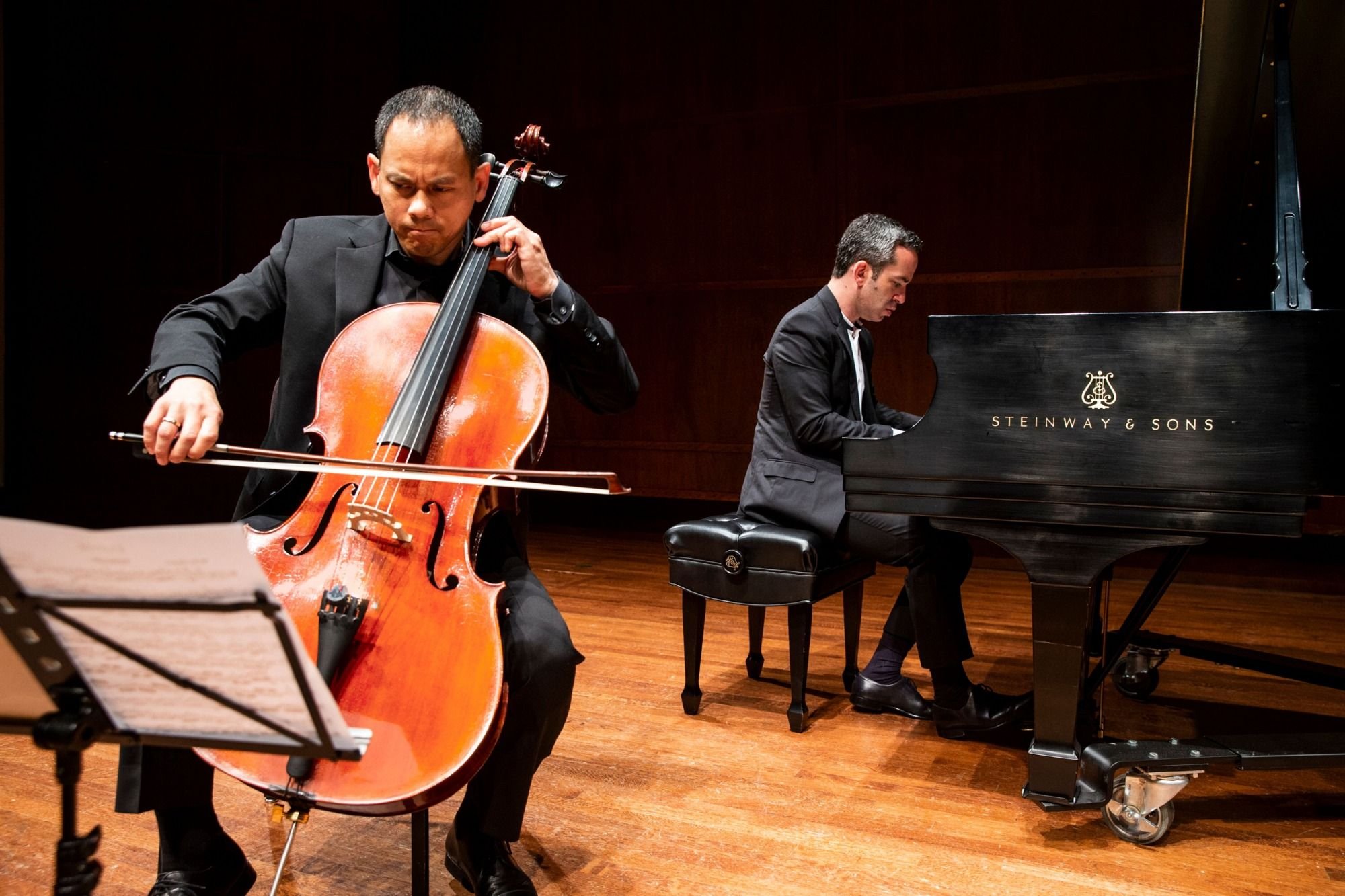 Photo by Kenneth Dundas
It was a Wednesday evening. I had gotten off work and eaten a quick dinner, before rushing to beautiful Benaroya Hall in downtown Seattle. Home to the Seattle Symphony, it houses two auditoria, the 2500-seat S. Mark Taper Foundation Auditorium and the 536-seat Illsley Ball Nordstrom Recital Hall, as well as a large piece of glass art by world-renowned artist Dale Chihuly. Tonight, I was going to the Nordstrom Hall to hear the Seattle Chamber Music Society (SCMS) during their annual Summer Music Festival.
SCMS was established in 1982 and started as a series of summer concerts during the month of July. While they have since expanded to include a winter program and more, their Summer Music Festival continues to be the lasting tradition that Seattleites love and adore. This year, SCMS welcomed 42 world-class artists, many of them concertmasters, Grammy award winners, and more, and as the Seattle Times put it in 2008, "the equivalent of an all-star lineup. A dream team of chamber players."
I was lucky enough to attend the July 17th concert, with works by Debussy, Beach, Shostakovich, and Suk. I was surprised to see how packed the recital hall was, given it was a weeknight. The kind gentleman seated next to me told me he's been coming to the summer music festival for several years now and that many of the audience members were dedicated listeners.
Bion Tsang and Jon Kimura Parker began the program with a beautiful Debussy Sonata for Cello and Piano. It was wonderful to see Tsang, who graduated with honors from Harvard as an undergraduate in the Class of 1989. Tsang and Parker were followed by Amy C. Beach's String Quartet, Op. 89, performed by Jun Iwasaki, Yura Lee, Aloysia Friedmann, and Raphael Bell. This was the first time SCMS has performed this work, and it was fantastic to see SCMS include quite a few compositions by women composers in their summer program, not only including Amy C. Beach but also Lili Boulanger and Fanny Mendelssohn.
Out of all the pieces of the night, I enjoyed Shostakovich's Two Pieces for String Quartet the most. Performed by Jun Iwasaki, Yura Lee, Aloysia Friedmann, and Raphael Bell, it was short and sweet, and you could just tell the musicians were having as much fun performing it as the audience members were listening to it. Yura Lee had the last say in the piece, and it was performed so well she sent the audience into collective giggles. After intermission, Tessa Lark, Erin Keefe, Jonathan Vinocour, and Yegor Dyachkov performed two pieces by Josef Suk: Meditation on the Old Czech Chorale "St. Wenceslas" and Quintet for Piano and Strings in G minor with Jeewon Park joining as the pianist. Both Tessa Lark and Jonathan Vinocour studied at the New England Conservatory. Both pieces were lovely and drew a beautiful conclusion to the evening.
As a temporary resident to the breathtaking city of Seattle, I was equally impressed by the chamber music scene. As someone who goes to symphony orchestra performances much more frequently, going to a chamber music concert was like a breath of fresh air. It's rare to see so many well-established, incredibly talented, and world-renown musicians in one place, and it's wonderful that Seattle Chamber Music Society continues to give them the opportunity and the space to explore chamber music and work with other musicians, almost like a playground. The cherry on the top is that lucky audience members like us get to experience world-class chamber music live, close and upfront, and in an intimate setting that can only be understood by stepping into Nordstrom Hall yourself.
---
Amy Zhou is a Classical Producer and Webmaster for WHRB.
Interested in seeing a Seattle Chamber Music Society performance yourself? You can find more information on their website here: www.seattlechambermusic.org__.