Scream Your Name at Pitchfork Fest 2021: Day 3 Recap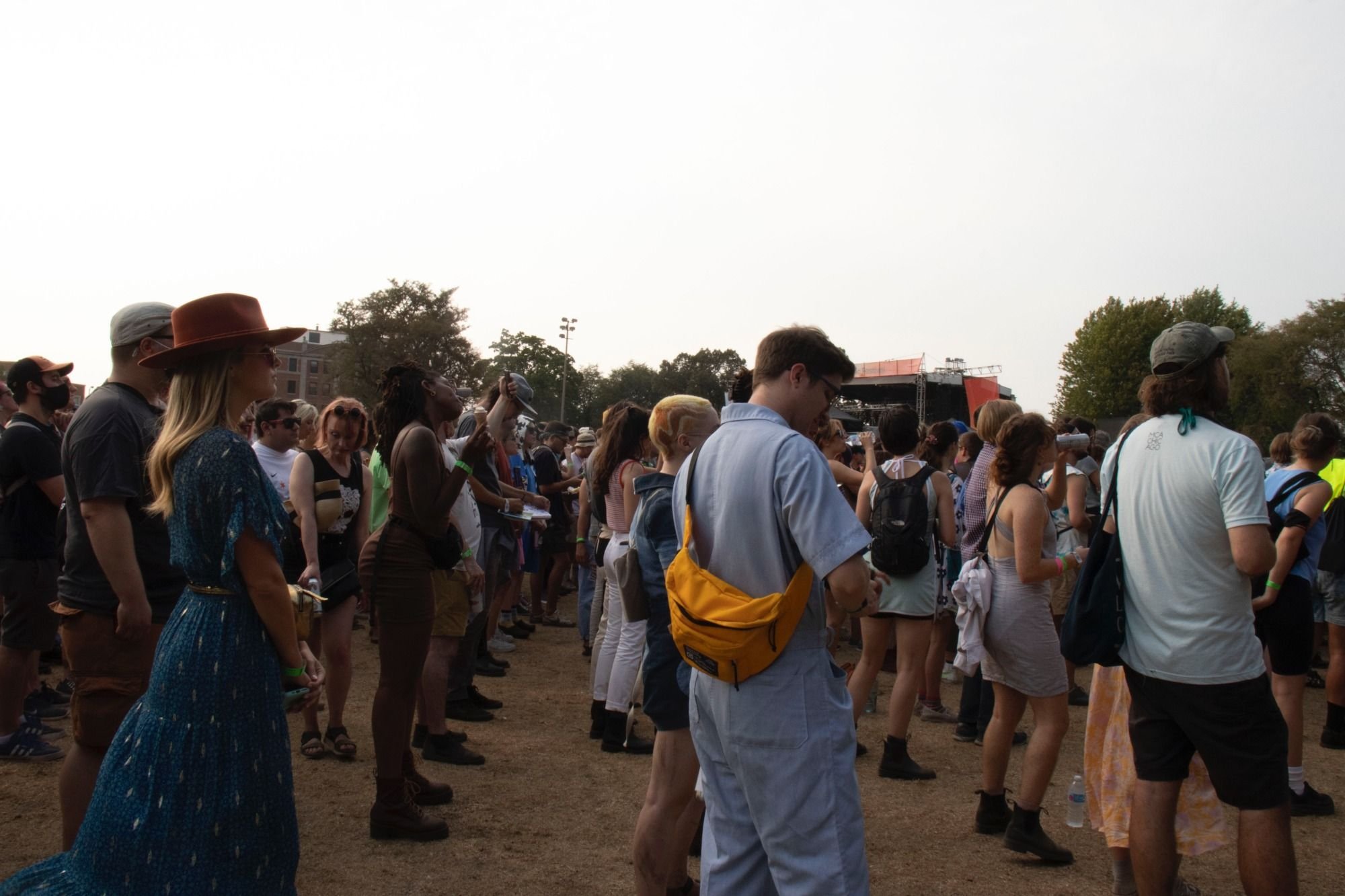 Pitchfork Day 3 started out small, with a smattering of people braving the heat to see the early Sunday performances. As the day cooled down, the crowds came pouring in. Cigarette butts and empty beer cans covered the ground, a testament to festival-goers' favorite pastimes. By 5 pm, the dusty, well-trodden grounds were packed shoulder-to-shoulder with people waiting to see Thundercat. Amps were turned to the max; bass lines were reverberating throughout the grounds. A knockout performance by Erykah Badu to a jam-packed crowd closed out Pitchfork 2021. Until next year!
Tomberlin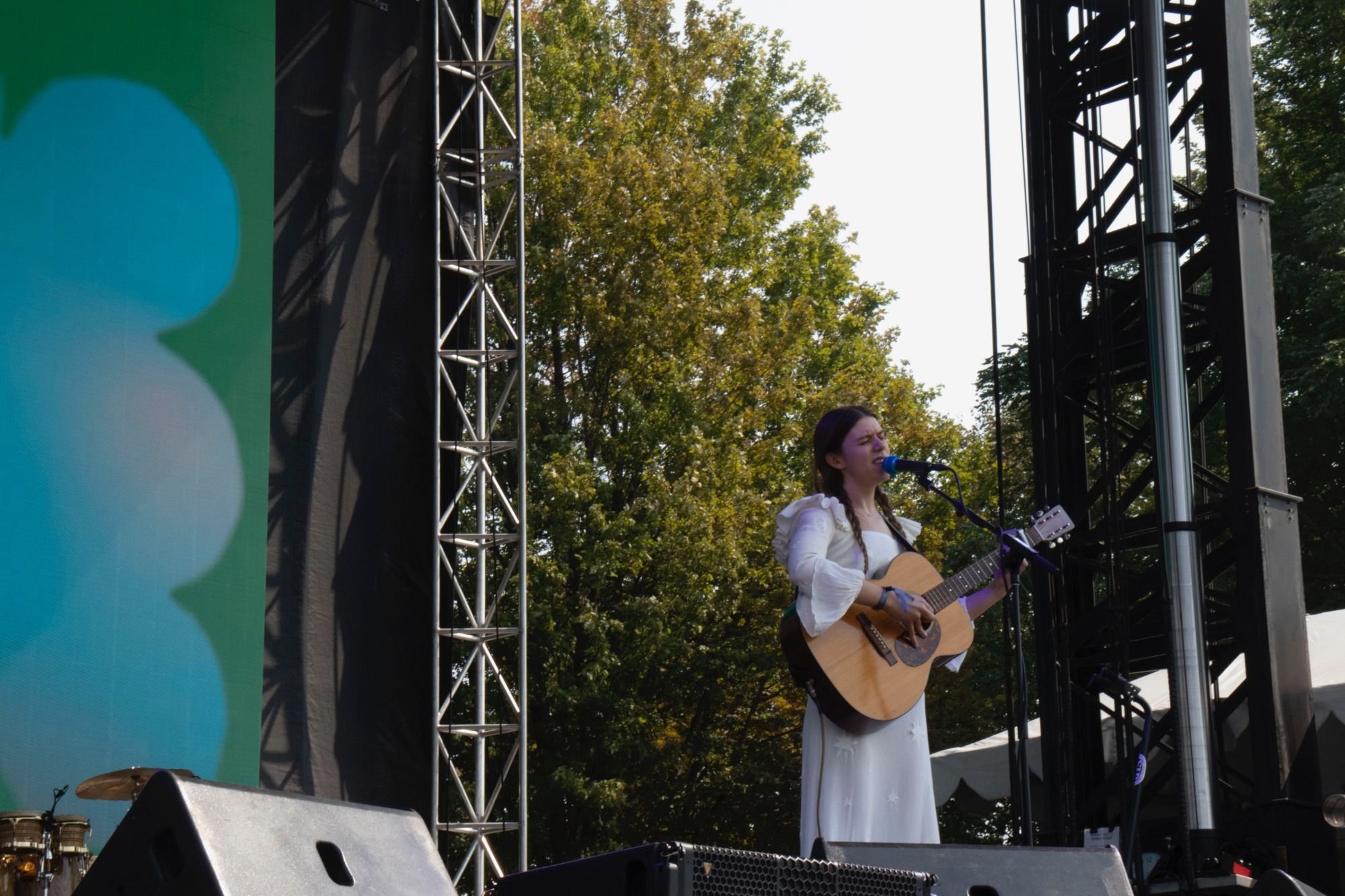 Singer-songwriter Tomberlin kicked off Day 3 of Pitchfork with an intimate solo performance on vocals and acoustic guitar. With lyrics that master honest simplicity and veer into the cliched, Tomberlin nevertheless charmed the audience with her shy, humble, joking demeanor. After a few songs, she asked the crowd if there were any questions, comments, or concerns. When a fan shouted out "what's your favorite color," she responded "I like blue and green. I'm a real basic bitch." She played songs for the heterosexuals and the gays (to quote her), and ended the set with a call and response. We repeated after her: "I don't know who needs to hear this. Sometimes it's good to sing your feelings."
**Special Interest
**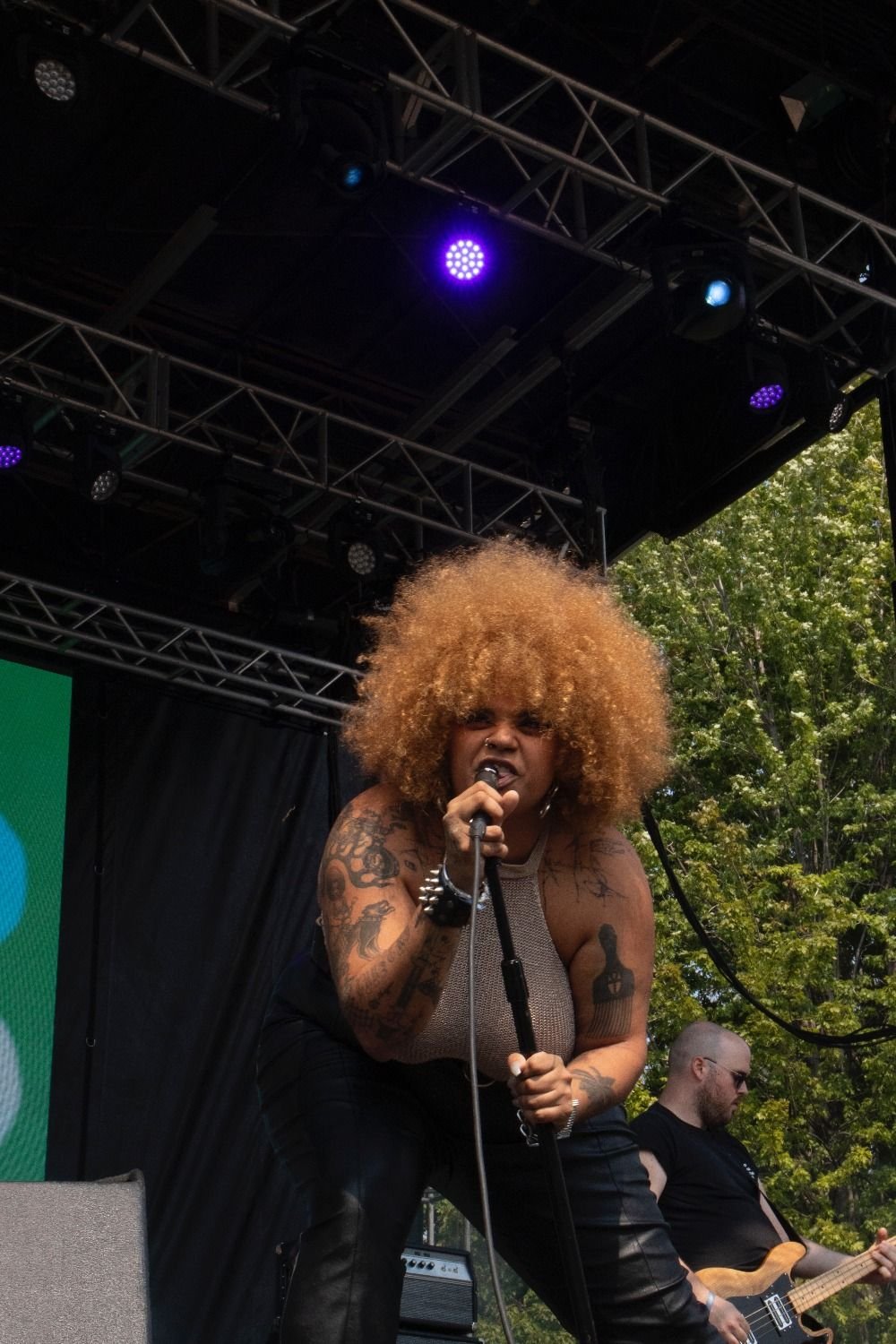 4-piece New Orleans punk band Special Interest blasted energy throughout the Red Stage despite the sweltering heat. The scene was set with sounds of crashing thunder, an appropriate backdrop for lead singer Alli Logout's entrance. The band started with their song Disco III, with Logout screaming the chorus "sodomy, LSD, sodomy on LSD." They strutted and danced across the stage with a wild expression on their face, at one point getting down on all fours and staring intensely into the crowd. They belted the lyric "release me," but the enraptured audience had no means or desire of being released from their grasp. A small but enthusiastic mosh pit started up, and when Logout screamed "get inside me girl," they had the crowd swooning.
The Weather Station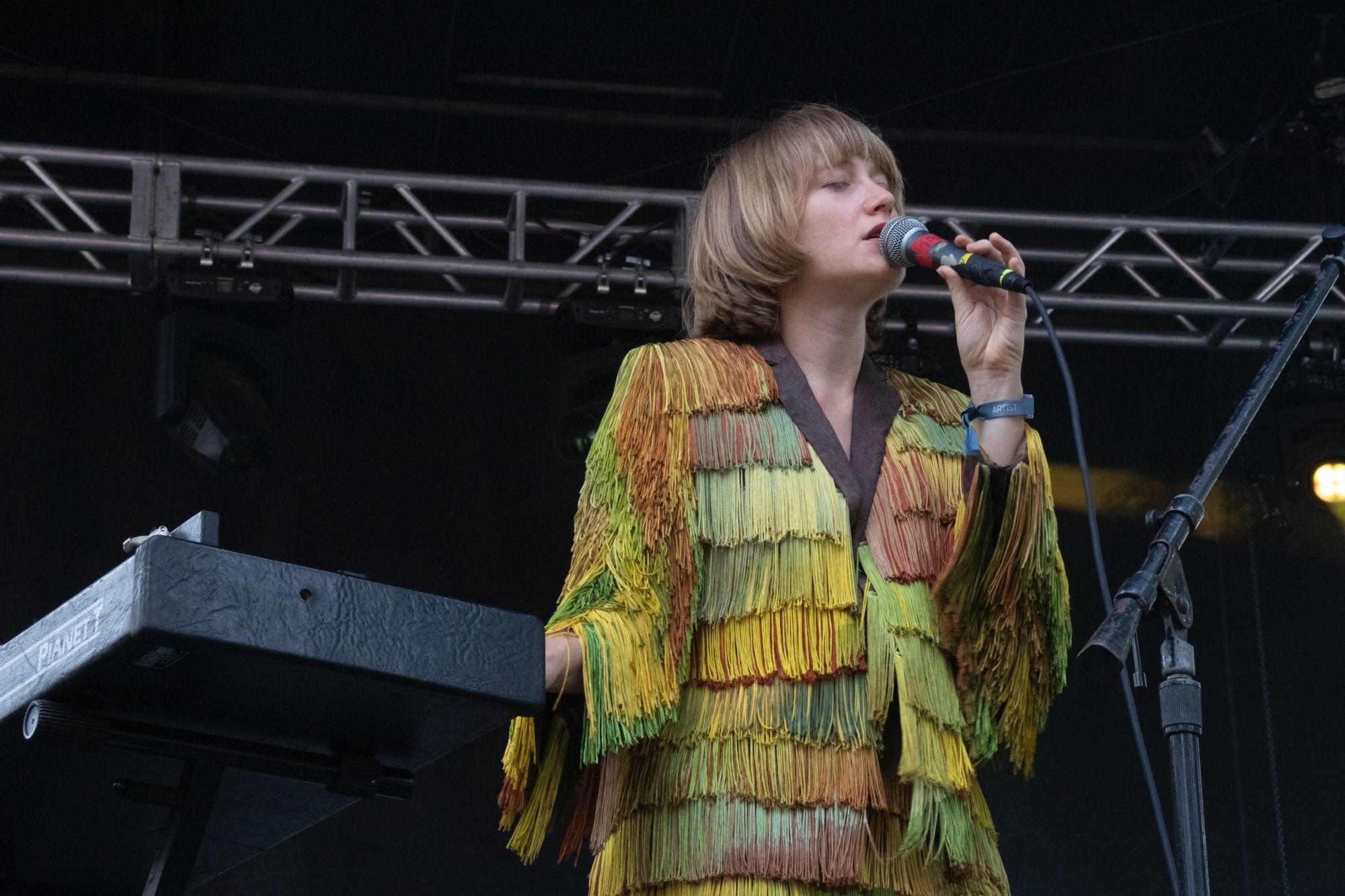 The Weather Station's collective outfits could be called Variations on Yellow, with singer-songwriter Tamara Lindeman stealing the stage in a yellow-green two-piece fringe fit. Sometimes drowned out by Caroline Polachek on the Green Stage, Lindeman told her crew: "feel free to turn us up. I always hate to compete, but…" And compete The Weather Station did, featuring a triangle and tambourine for the tune "Thirty," and a cerebral, jazzy saxophone solo by Karen Ng on "Robber."
Yves Tumor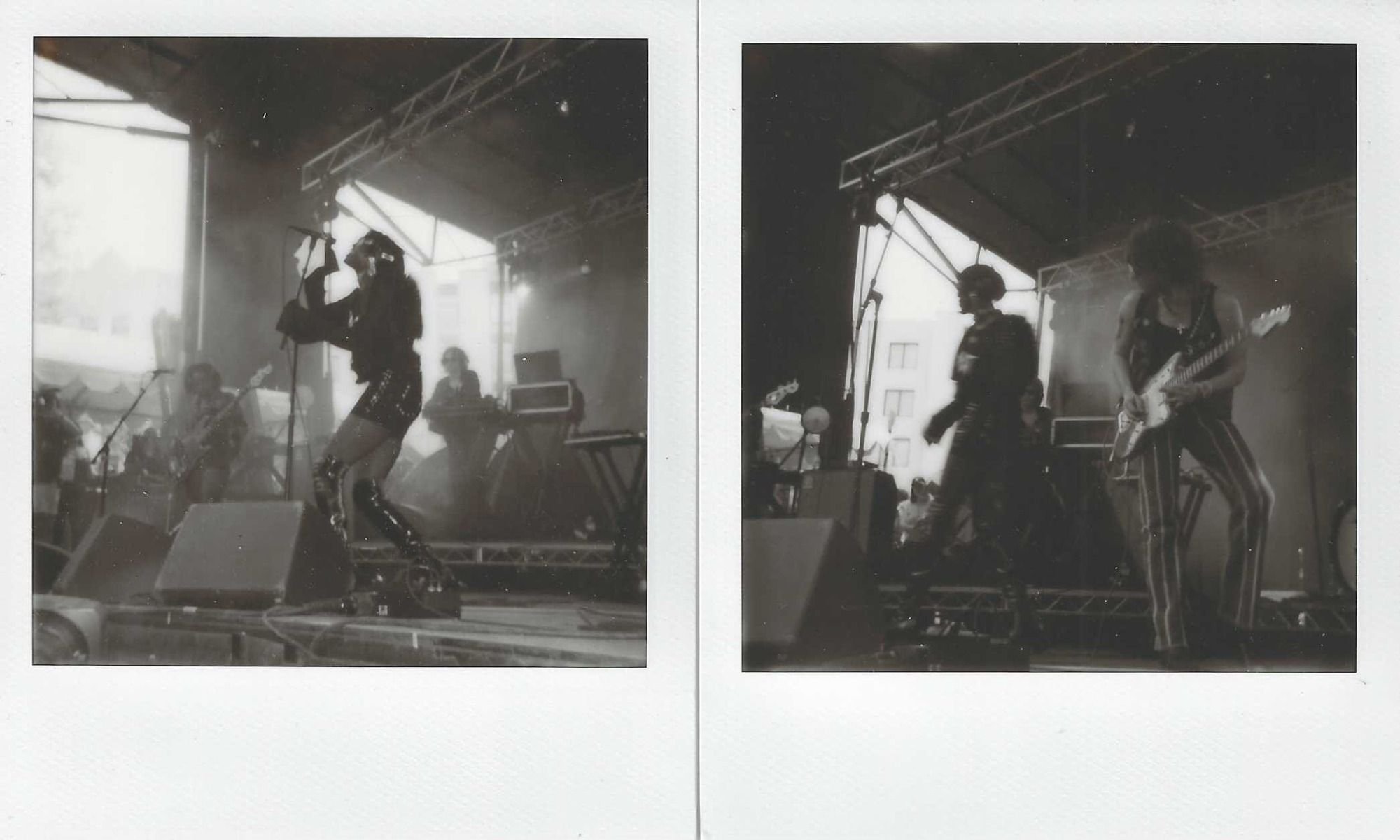 Strutting in knee-high black leather boots, the gorgeously androgynous Yves Tumor started their set with the words we all secretly wanted to hear: "I think I can solve it/I can be your all, ain't no problem, baby." Somewhere between psychedelic dance rock and electronic shoegaze, Tumor's songs hit with both addictive pop hooks and killer guitar riffs. While performing "Jackie", the single from their newly released The Asymptotical World EP, Tumor wiped their forehead and ever-so-gracefully tossed the rag to us. We swooned, of course, before handing it and whatever magic it held to a group of screaming girls in the crowd.
Thundercat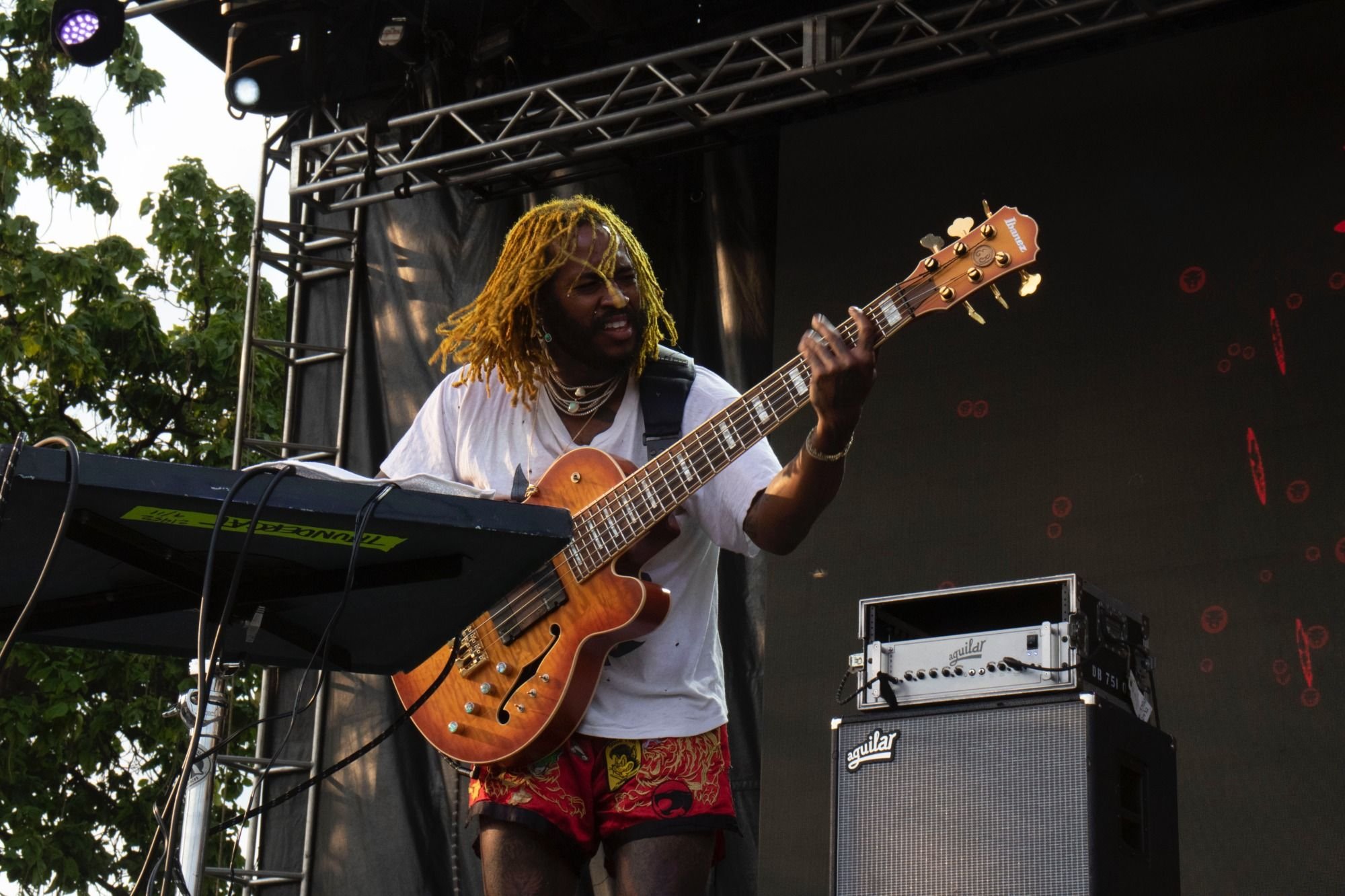 Thundercat garnered a huge crowd at the Red Stage for the jazz, R&B, electronic fusion of sounds that is his music. He told us about his new cat before singing "everybody wants to be a cat / it's too cool to be a cat" from "A Fan's Mail." People really started dancing when he played the hit "Them Changes." The energy was electric — there's no doubt that Thundercat was a festival favorite.
Erykah Badu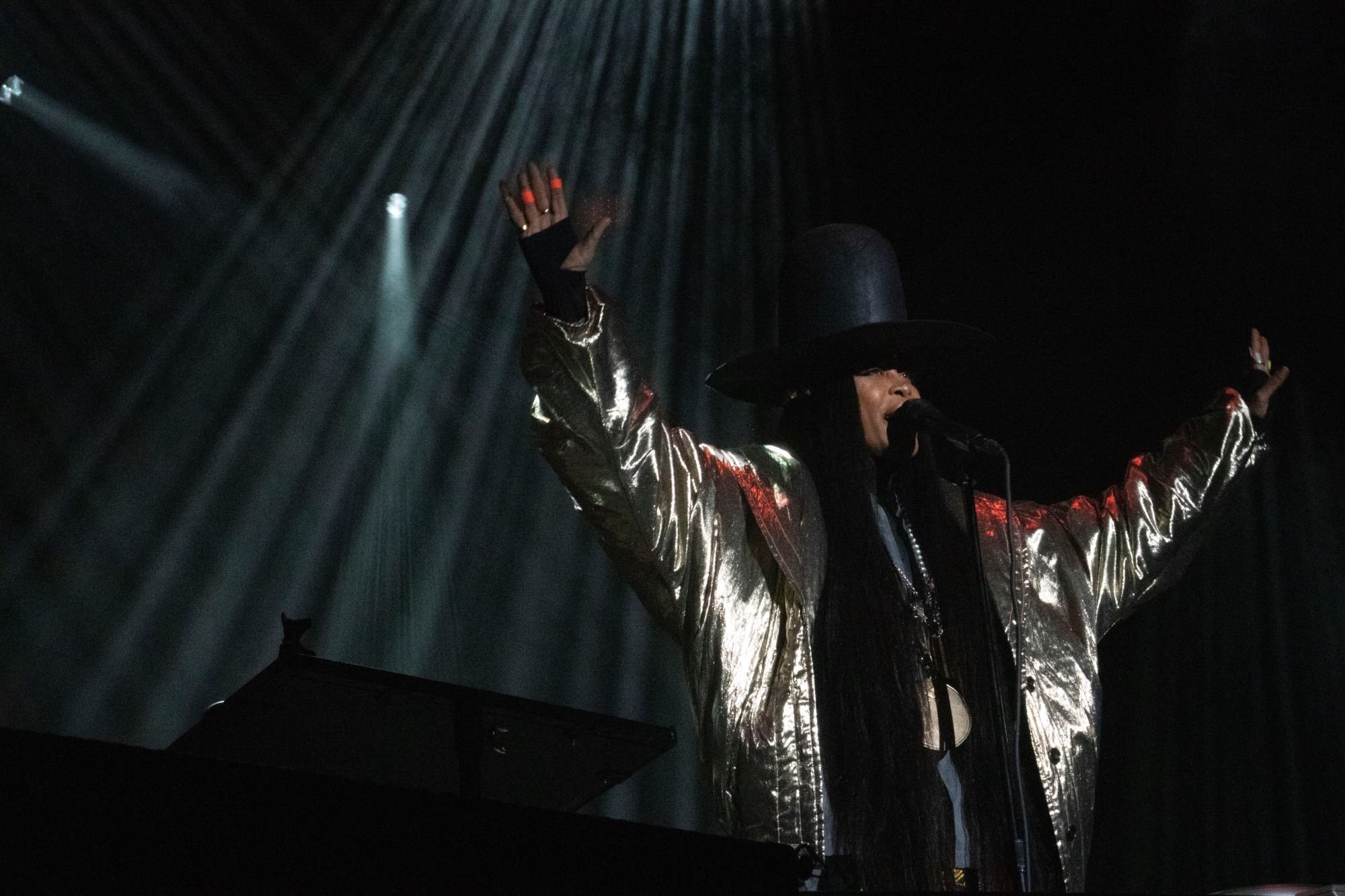 Erykah Badu heightened the audience's anticipation with a 25-minute delay. Fans intermittently chanted "Erykah! Erykah!" and sang her songs to entertain themselves. But once Badu came on stage, after a video projection about bees, the packed crowd was not disappointed. People danced and sang along to favorites like "Appletree" and "Phone Down" while taking in Badu's striking stage presence. She ended the show by telling us to "scream your own damn name," and the crowd went wild.
Micaela Rosen is a DJ for Jazz. Hanna Mularczyk was a DJ for RH.