Shamir's Journey to Revelations and an Idea of What's Next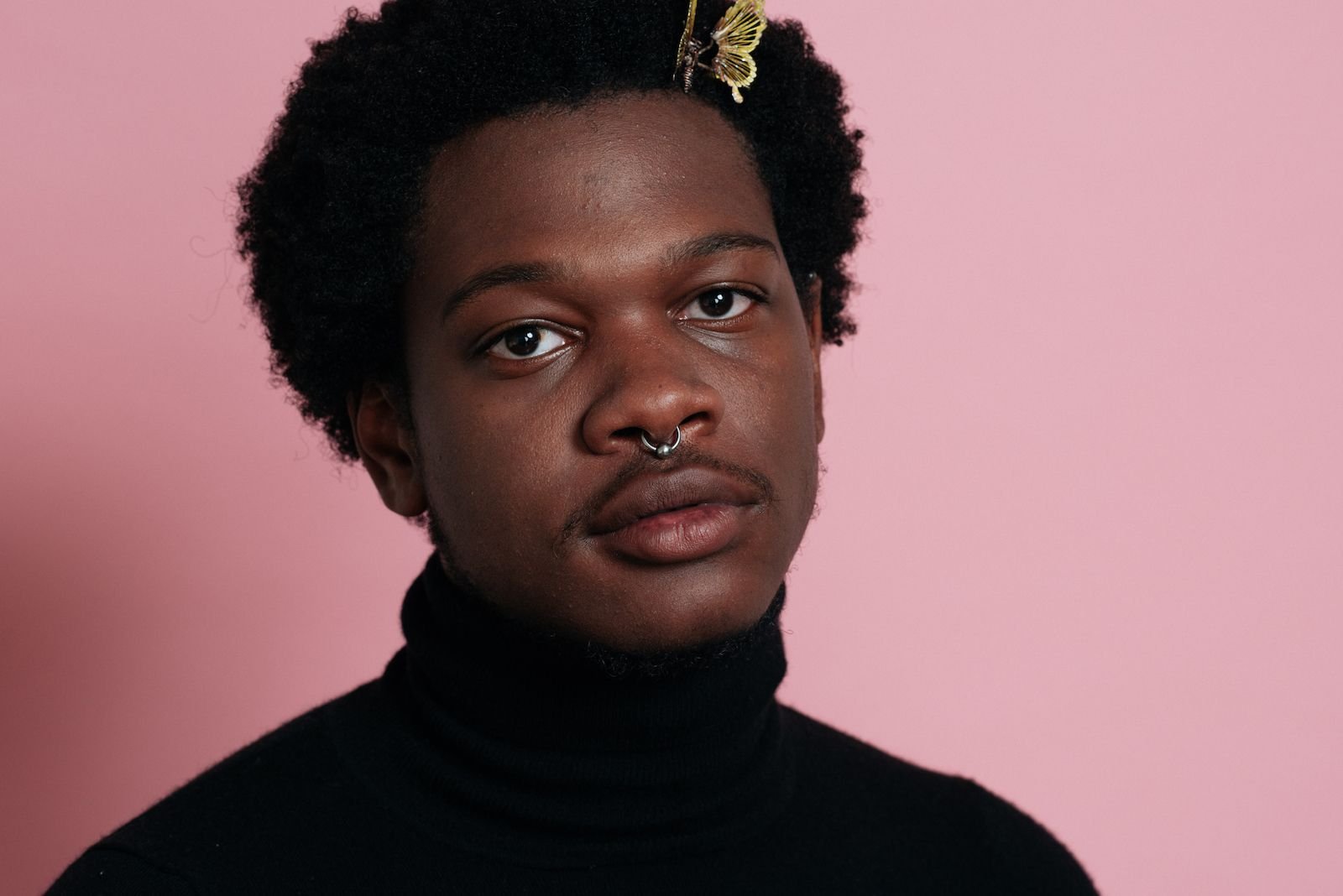 Shamir is an artist who has danced in and out of the spotlight for about two years now. His breakout track "On the Regular" spearheaded 2015's Ratchet, an album that came flying out of XL Recordings and landed neatly in the canon of publications' end-of-year lists. Pitchfork, Stereogum, etc. ate up the (at the time) 19-year-old's snarky countertenor vocals and chic color-blocked visuals. Youtube comments heralded a queen who was ready to take the charts by storm with an authenticity that was unrivaled.
I, like many others, waited patiently for Shamir to come back with more bubbly pop to power my next queer dance party, but that's not exactly what happened.
Since the waning of Ratchet's popularity, Shamir hasn't popped up much on the pedestals of mainstream music criticism. His instagrams are full of selfies, pictures with fans/friends alike, and episodes of "Shamir Singing in the Dark": short covers of songs that he likes filmed with the camera blacked out and soundtracked only by his signature vibrato and a shimmery guitar for accompaniment. It was always cute, but I was curious what he was up to.
This summer saw the release of 2 shorter projects, both a departure to their predecessor in similar ways. The first, May's Hope, was recorded on a 4 track over one 4-day weekend, and released on Shamir's personal soundcloud as one 36 minute track. It's a prickly, lo-fi collection of guitar-driven punk ballads – a long ways away from the cowbells and synth basslines of Ratchet. The post was accompanied by a heartfelt statement about Shamir's own mental health as well as his thoughts on music as an art.
"I was gonna quit music this weekend. From day 1 it was clear i was an accidental pop star. I loved the idea of it, i mean who doesn't? Still the wear of staying polished with how im presented and how my music was presented took a huge toll on me mentally. I started to hate music, the thing i loved the most!"
The statement continues, bringing in Shamir's distaste for overproduction and desire to rekindle a fire he felt was lost in his own artistic process. The album's cover features the artist posed next to a green stalk, skin bare and hair styled short and untreated, covering his mouth and nose with his hands, eyes shut tight.
What maybe wasn't clear to most is that in the time between these two projects, XL had dropped Shamir from their roster. Shortly after Hope was released, Shamir was also diagnosed with Bipolar disorder. Hope was a personal project, but sharing it with the world was included in its purpose. The project got a few writeups on its release, nothing near the attention that Ratchet had, but Shamir signed off cheerfully, thanking his fans and promising new music soon.
In keeping with his word, Shamir returned with a new album in early November, by way of Father Daughter Records, who Shamir claims "scooped me up" after his departure from XL. This new project was called Revelations, and while it retained the introspective flavor and guitar rock tone of Hope, it signified a fully realized moment in Shamir's development. Hope and Revelations both harken to DIY artistry in their timbres, but almost more importantly, they follow the Do-It-Yourself in their paths to realization. Both projects feel like labors of emotion, brought forth from the heart of hearts: bloody, messy, and invaluable. Pitchfork wrote of Revelations,
"It's that brand of lo-fi production that's distracting—it should sound effortless, laissez-faire, but instead comes off as labored, which defeats the purpose."
After speaking to Shamir about the process of this album, and hearing the songs performed live, I read its difficulty as central to its purpose rather than opposed to it. The songs aren't radio ready, and they won't be dominating charts anytime soon. Shamir knows this, but thankfully for him, that's not who he wrote it for.
––––––––––––––––––––––––––––––––––
A tweet from a few months prior had promised that Shamir would play no songs from Ratchet on this tour, and as he emerged with his band onstage I understood a bit more of what that meant. 2 years ago we saw Shamir rock the Sinclair in Cambridge with a full backing band – complete with a drummer, full keyboards, bassist, guitarist, and a fully planned light show to match. It lingered in quite a contrast from the 3 piece Shamir had assembled this time around. Back then, Shamir was a tender 20 years old, still figuring things out, trying on clothes that didn't fit quite right. This time, armed with a gold shimmery Danelectro, flanked by his best friend, Christina, on bass, and backed by drummer Fiona Campbell, Shamir Bailey looked invincible.
The modest Allston crowd of Great Scott was warm and welcoming. We at the Record Hospital love to frequent the many shows that make up Boston's DIY scene, and immediately after Shamir's set began its journey I was transported to a grimy Somerville basement where some kid was belting her emotions out over a fuzzed out guitar progression. Shamir bantered atop semi-frequent tuning breaks, dancing with a dedicated crowd before returning into the fuzzy narratives of both Hope and Revelations.
The mood was reverent. Intimate, one might venture. Enveloping distortion felt welcomingly abrasive – a completely different atmosphere from his packed 2015 show. Shamir spouted prophecies, excerpts from some unwritten manifestos, and loving advice with equal frequency from atop his platform. Among them were the importance of DIY music and how queers, femmes, and POC were the future of punk: a statement that many in the audience, us included, seemed to confirm.
––––––––––––––––––––––––––––––––––
Shamir, as most people know, is a Las Vegas native, 'discovered' at the ripe age of 18. What many people don't know is that Shamir cut his teeth playing in punk bands with Christina and others around the city. When we spoke to him after the show, He told us about the lack of all-ages and DIY spaces and how Vegas was a bit of a dead spot for independent music. "It was actually easier to get booked when we would travel or go down for SXSW than it was to get shows in our own hometown," he recounted, "The first time I played a headlining show in Vegas was when I toured for Ratchet. I still didn't want to play at any 21+ venues though."
He talked about how his departure from XL had been a tough, but ultimately progressive decision. Most people didn't know that before Ratchet, Shamir's music had always sounded like Revelations. Northtown was an experiment into drum machines, and after it caught on, Shamir and his producer began to fashion Ratchet together.
Shamir recounts, "I felt that it was honestly more of his project than mine." As the project took off, Shamir found himself less and less enchanted with it, "The moment I realized that I didn't believe this songs – and I remember it, it was right after I had performed on the Tonight Show or something. I was on national television singing a song that I didn't even believe in anymore – That was when I realized I couldn't do it."
When Shamir met with XL to talk about a Sophomore effort, he said he wasn't interested in continuing with the style. They responded by dropping him from their lineup.
"Well, Jessi over at Father Daughter – I love her – reached out to me and offered to pick me up. I was so upset about being dropped, but Father Daughter was there like, 'I got you. Don't worry, I got you.'"
Shamir's release on Father Daughter included a tour – the old fashioned kind: just a bus and some dates – but the lack of fanfare doesn't seem to bother him.
"I feel amazing. I'm playing with people I love: my best friend Christina is playing bass, the drummer from my favorite f****** band, Vivian Girls, is playing with me, that's Fiona. She's also our tour manager, she's incredible. Our opening act, Partner, is a f****** amazing queer femme band. It's been one of the best times of my life."
His confidence is contagious. It's easy to dive into conversations about whatever: ours included PWR BTTM's fall from grace, Shamir being a bad b*tch in high school, and opening up a pit at a show. Somewhat related topics, actually.
"If you look at all the best guitar rock/punk albums that have been coming out recently, its from femmes, queers, and POC," Shamir argued. Most music publications tend to agree, but after seeing Shamir's performance, I didn't need any extra convincing that punk's future was leaning Queer. Punk and DIY music has long had themes of resistance, mental illness, and introspection woven into its verses, and as punk's "Boys' Only Club" mentality has begun to falter, previously unheard voices have begun to take their rightful place.
"With PWR BTTM, we had all put all our support behind them, but we can do better." Shamir predicted. We both nodded.
––––––––––––––––––––––––––––––––––
REAL
SAFE SPACE FOR ACCIDENTAL POP STARS
Shamir's bio on Soundcloud feels like a sign posted for lost travelers. Comments and feedback on Hope, the Soundcloud exclusive release, are overwhelmingly positive and encouraging: "Keep doing you!" "Plz don't quit!" Shamir's old videos feel plastic in comparison to these grainy, potent documents of growth. The old products just don't quite hold water anymore, especially after our conversation with the artist himself.
We asked Shamir what's next, and his eyes brightened a bit more, " I've already got my next single done and I'm really excited to show it. It's stuff that no one's gonna be ready for. I'm working with a producer who's worked with some really big names, and I've got a part in all of it."
The now 23-year-old seems much more poised to determine his direction than he did at 19. He told us that he doesn't regret releasing his first project the way that he did, but now, with friends at his back and his own hands on the helm, he's prepared to make a re-entrance and a re-introduction.
---
Luke Martinez and Ilana Harris are DJs, interviewers, and general DIY enthusiasts on the Record Hospital. Follow their weekly show, MNMWLNL, via the WHRB website.